Real Time Adaptive Adjustment of the Masking Volume According to the Ambient Noise (Patent no US 8116 461 B2)
Superior Masking Quality and Acoustic Comfort
An office space is a dynamic site in which ambient noise and the volume of sound distractions vary considerably depending on schedules and ongoing activities. To be optimal, the sound masking must adapt to changes; it must increase during very active periods and become more discreet when the environment is calmer. SmartSMS makes this possible!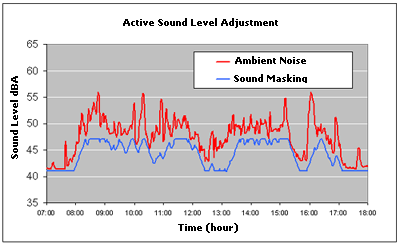 Effective Masking at All Times
Our adaptive adjustment system (sometimes called active adjustment) identifies variations in ambient noise in real time from signals supplied by sound level sensors installed in the ceiling of the targeted area. Also, thanks to an advanced signal-processing procedure, it automatically adjusts the masking volume, higher or lower, depending on the intensity of conversation noise and other noise distractions.
Simplicity and Flexibility
The control unit includes one or several ambient-noise sound level sensors installed in the sector where active adjustment is desired. This sector may span one or several masking zones. Depending on the size of the sector to be covered, the acquisition system is composed of 8 sound level sensors. In general, one sensor is used per 1,000 sq. ft.
The acquisition system is linked to one of the four dedicated inputs to the SmartSMS control unit.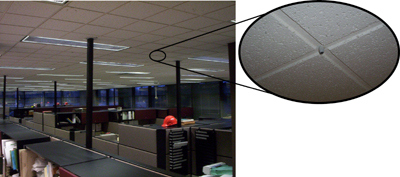 Example of installation of the SmartSMS adaptive acquisition system
Each SmartSMS unit is equipped with four independent control units, thus offering the possibility of controlling four sectors independently. In addition, the data obtained by an acquisition system installed in a specific sector may be used to adjust the masking levels in several zones, enabling effective sound masking at a lower cost.
The SmartSMS is the only sound masking system which integrates a real time adaptive adjustment system, thereby providing guaranteed masking quality and unequalled acoustic comfort.