Aeroacoustics Engineering Services & Flow-Induced Noise Control
It's acoustics meets aerodynamics. Airflow-induced noise typically occurs in HVAC systems, industrial chimneys, vehicle exhausts, wind turbines—even on building facades. Our engineers have the technical know-how and the advanced software to help you simulate, visualize, predict, and solve even the most complex aeroacoustics noise issues.
Ask our experts
Reduce Flow-Induced Noise Through Complete Product Lifecycle
Industrial blowers, rooftop HVAC units, cooling fans, alternators, high pressure valves, and vehicle exhaust systems all generate noise that can prove difficult to mitigate. The main source of noise is often the turbulent flow producing acoustic waves, known as aeroacoustics. Aeroacoustics noise is a complex and sensitive multi-disciplinary science involving airborne and structure borne acoustics, aerodynamics and structure vibration and deformation. But just because flow-induced noise is complex and hard to predict doesn't mean we can't do anything about it. We love solving complex noise issues.

Our Acoustical Engineers Support You With Flow-Induced Noise Problems
Soft dB partners with product development engineers and assists end customers in solving their aeroacoustic noise issues. Soft dB combines state-of-the-art measurement and computational techniques to offer unique consulting services covering all aspects of aeroacoustics, from practical mitigation solutions to expert engineering support during the product design stages.
Vehicle exhaust noise simulation produced with SIMULIA PowerFLOW and PowerACOUSTICS software. Image courtesy of SIMULIA by Dassault Systèmes®.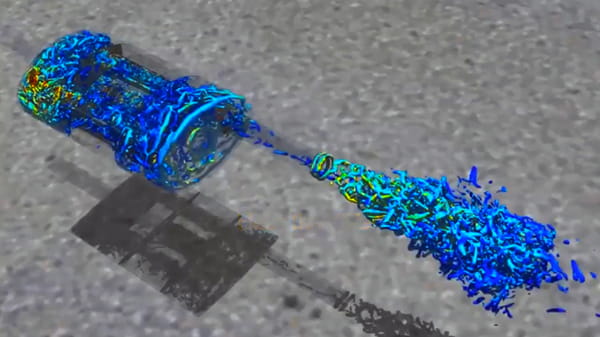 What Typically Generates Flow-Induced Noise?

Blowers

Vehicle Exhausts

Fans

Heavy Equipment

HVAC Systems

Industrial Chimneys
Aeroacoustics Noise Mitigation
When noise levels have to be reduced in an industrial, architectural or environmental context, efficient passive or active countermeasures such as silencers, acoustic panels, heavy duty soundproofing or enclosures can be dimensioned. But these solutions can sometimes be difficult to install and not effective enough to achieve stringent regulatory standards.
Computational Aeroacoustics Simulations
A cost-effective alternative is to tackle the flow-induced noise sources associated with geometry details and complex fluid/surface interactions. These noise sources are invisible and typically hard to track, but high accuracy Computational AeroAcoustics (CAA) simulations enable us to visualize them. CAA simulations provide us with clear, actionable insights into complex flow-induced noise sources, making it much easier to zero in on specific issues and recommend mitigation solutions that really work.
Vehicle HVAC system noise simulation produced with SIMULIA PowerFLOW and PowerINSIGHT software. Image courtesy of SIMULIA by Dassault Systèmes®.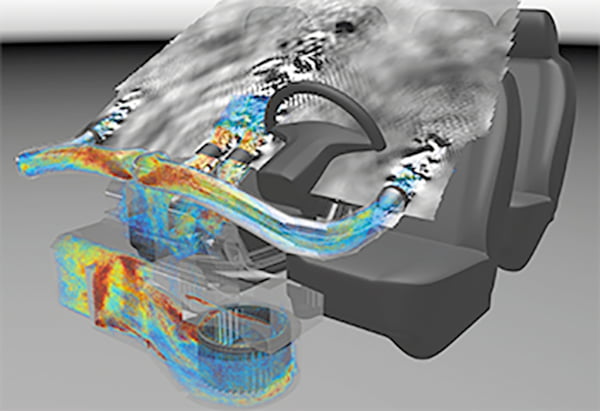 Reducing Flow-Induced Noise Through Better Designs
During the design phases of the development, engineers need guidance on the acoustic levels of their future product in order to comply with regulations or to satisfy customer expectations. Engineers also need to investigate and optimize the performance of different designs to ensure key standards are met.
On one hand, prototyping and measurements can be used to determine noise levels in acoustic rooms, wind-tunnels or even in the environment. On the other hand, geometry models combined with computational methods provide highly accurate insights into complex noise sources while making it possible to simulate and validate a wide range of potential solutions without the need for an actual prototype.
Aeroacoustics Consulting Services
Noise and vibration measurements:
Sound pressure levels
Wall pressure fluctuations
High performance acoustic intensity
Beamforming
In-duct acoustic power
3-axis vibrations
Sound mapping
24/7 noise and weather monitoring
Evaluation and optimization of equipment designs using computational methods:
Computational AeroAcoustics (CAA) based on Lattice Boltzmann and Navier Stokes methods
FEM, BEM, SEA methods complementing CAA
Advanced building HVAC system noise modeling and simulations
Passive and active mitigation measures for noise and vibrations:
Custom-made active noise control systems
Silencers and dampeners
Soundproofing panels and curtains
Heavy equipment soundproofing blankets
Noise enclosures
Aeroacoustics Is a Complex Science, but We'll Make It Sound Easy
Whether you wish to develop the world's quietest HVAC unit, improve an existing vehicle exhaust system, silence industrial chimneys, or bring your wind farm noise mitigation program to a superior level, our acoustical engineers are up to the challenge.
Ask our experts