Office Sound Masking System
Multizone Sound Masking Controllers
Controllers are the brains of our sound masking system. Powerful and networkable, they generate a perfectly tuned broadband acoustic signal and ensure that each group of speakers emits just the right amount of ambient sound in the office area it covers.
View system specifications
Meet the Brains of Your Sound Masking System
Our sound masking controllers include all key components required to generate the perfect broadband audio signal in an economical, compact form factor. They can be installed in the plenum space above the ceiling tiles or rack-mounted in your electrical/server room.
Controllers can be combined with one another, allowing high flexibility and scalability in the design of either very small or very large sound masking systems. Need to manage many small independent masking or paging zones across many office floors? We make it simpler than ever. Soft dB Controllers can be securely connected over a wired or wireless network, enabling you to easily manage them from wherever you are.
And because environmental sustainability matters, all our controllers are designed to keep energy consumption at a bare minimum. They can be put in sleep mode at night, reducing the energy consumption to zero. What's more, they all integrate safely with your fire alarm systems, your paging and ambient music systems, as well as Crestron building management systems.
Office Sound Masking Made Simpler and More Flexible Than Ever
All Our Controllers Are Network-Ready and Include:
Independently adjustable output channels for flexible multizone control
Dedicated auxiliary inputs for paging and/or music systems
Independent 340 narrow band and 1/3 octave band equalizers
High-power amplifiers delivering up to 92 dBA at 1m
Built-in wireless connectivity and wired ethernet ports
Adaptive volume control based on how noisy or quiet the room gets
Automatic equalization ensuring the optimal sound masking spectra in any acoustic environment
Multizone Sound Masking Controllers for Large and Mid-Sized Office Spaces Over 5000 Square Feet
ML-Series Sound Masking Controllers
The ML-Series consists of compact network-ready controllers ideal for decentralized, multi zone sound masking systems.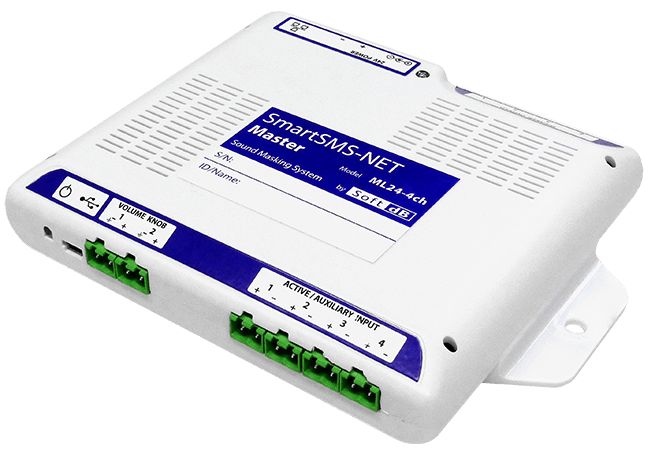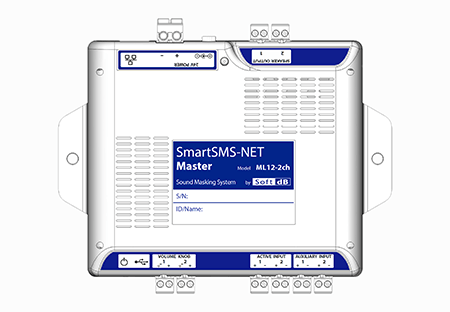 ML12-2ch Controller
2 independently adjustable output channels
2 dedicated auxiliary inputs for paging system and/or ambient music program
2 inputs for active volume control sensors
Powers up to 12 sound masking speakers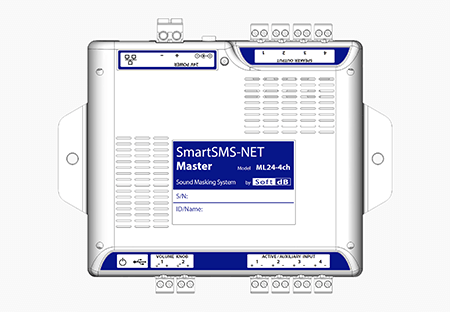 ML24-4ch Controller
4 independently adjustable output channels
4 shared auxiliary inputs for paging system, ambient music program, and/or active volume control sensors
Powers up to 24 sound masking speakers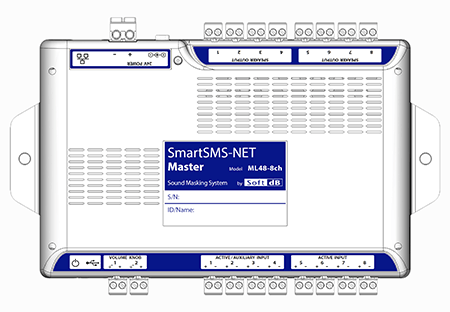 ML48-8ch Controller
8 independently adjustable output channels
4 dedicated auxiliary inputs for paging system and/or ambient music program
4 inputs for active volume control sensors
Powers up to 48 sound masking speakers

RL96 Rackmount Sound Masking Controller
The RL96 controller delivers a whole new level of acoustic performance in a sleek 1U compact footprint. Specially tailored to office spaces above 5000 square feet, the RL96 has 8 output channels capable of powering up to 12 speakers each, for a total of 96 speakers. Each channel has its own independent equalizer making it possible to control eight separate masking zones independently from one another.
What's more, a built-in touch screen interface gives you the convenience to quickly adjust both sound masking and paging/ambient music volume on the spot, as well as choose from a selection of preset equalizer settings for each zone. When dealing with vast open spaces or warehouse-style offices, sound masking doesn't get any better than with the RL96 controller.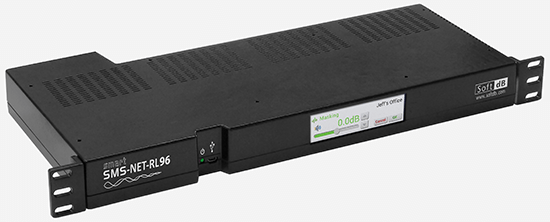 RLCTL2 Externally Powered Controller
The RLCTL2 is essentially a RL96 controller pairable with an external power amplifier. Given enough power, the RLCTL2 can drive up to 75 speakers per channel. That's a total of 600 speakers managed by a single controller unit.
Volume Control Sensors & Accessories
At its most basic, a sound masking system is composed of speakers, installed in a grid-like pattern in the ceiling or under raised access floors, and controllers that drive those speakers' output. But why settle for basic when your office space isn't?
Like most of today's office spaces, yours is likely a dynamic environment where ambient noise and the amount of distractions vary constantly throughout the day. To be truly effective at all times, sound masking must increase as the office gets noisier and decrease back to recommended minimum level as things go quieter. Soft dB sound masking system is the only one that does so automatically, thanks to our unique adaptive volume control technology.
And to ensure optimal usability of your sound masking system, how about being able to manually adjust the volume in key office areas? We have touchscreen wall mounted control panels and volume knobs that make fine-tuning sound masking to your taste quick and easy.
SMS-CTP Centralized Control Panel
The SMS-CTP is a sleek, wall-mounted control panel that makes it easy to adjust the sound masking and ambient music volume in individual office zones through a user-friendly, 7-inch touchscreen interface.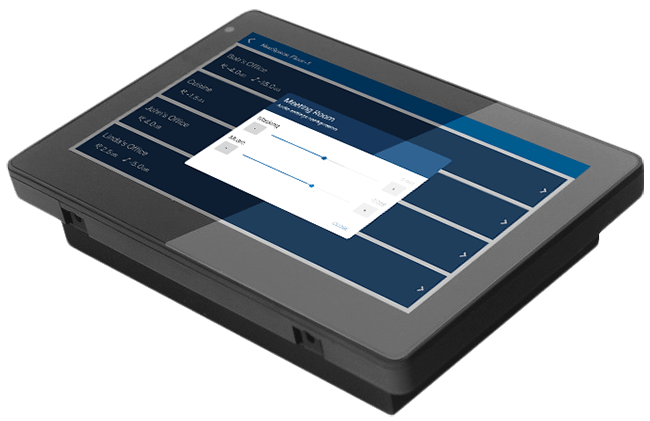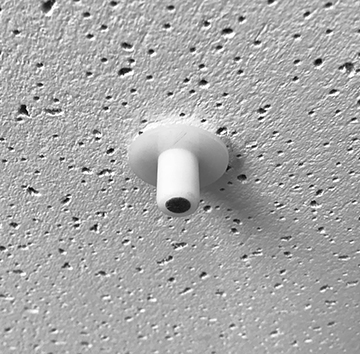 SMS-SEN Active Volume Control Sensor
Our sound masking system is the only one capable of automatically adjusting the masking volume based on the room's noise level which fluctuates unpredictably throughout the day. Installed in the office ceiling, our sensors mesure the room's noise levels in real-time and, thanks to our advanced signal processing technology, enable our controllers to automatically adjust the sound masking volume based on the average intensity of conversations and other noisy distractions happening across the room.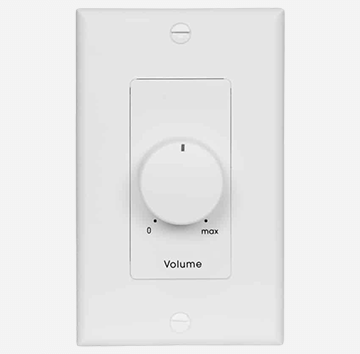 SMS-ZNVC Zone Volume Control Knob
The ZNVC in-wall rotary volume control knob can be connected to any of our sound masking controllers in order to enable office users to quickly adjust the masking volume, as well as background music or paging volume, for specific individual zones or groups of zones.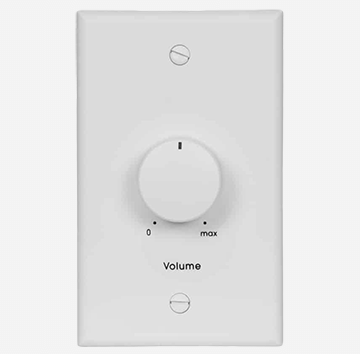 SMS-SKVC Speaker Volume Control Knob
It can be useful to have a volume control knob directly on the speaker line. The SKVC in-wall rotary volume control knob allows office occupants to quickly adjust the sound masking volume for each speaker line or for select subsections within a specific speaker zone.
Compact Sound Masking System for Small Offices
No space is too small to integrate sound masking technology. An employee's need for a distraction-free working environment and better acoustic privacy is equally as important in offices below 5000 sq.ft. as in larger workspaces that span hundred thousands of square feet. Whether it's a small call center that needs to keep phone conversations in the open work area from disturbing private meetings in an adjacent conference room, or a local health clinic looking for an effective way to keep exam room conversations from being overheard in the waiting area, sound masking should be simple and affordable.
So we've developed a standalone sound masking system that not only outperforms your typical white or pink noise machine out of the box, but can also handle paging and ambient music distribution. Small offices get the same quality of sound masking as the big players, without the need to calibrate the system, and with all basic controls at the user's fingertips for straightforward, no fuss operation.
CMS-II Compact Sound Masking System
The CMS-II is a full-featured sound masking system on its own, specially tailored for small offices below 5000 ft2. This standalone controller delivers Soft dB's renowned sound masking performance straight out of the box, no calibration needed.
Passcode lockable touchscreen control panel
1 or 2 independently adjustable output channels (12 speakers/channel)
1 auxiliary input for paging or ambient music source
12 preset sound masking spectra to match any environment  
Versatile enclosure for multiple installation types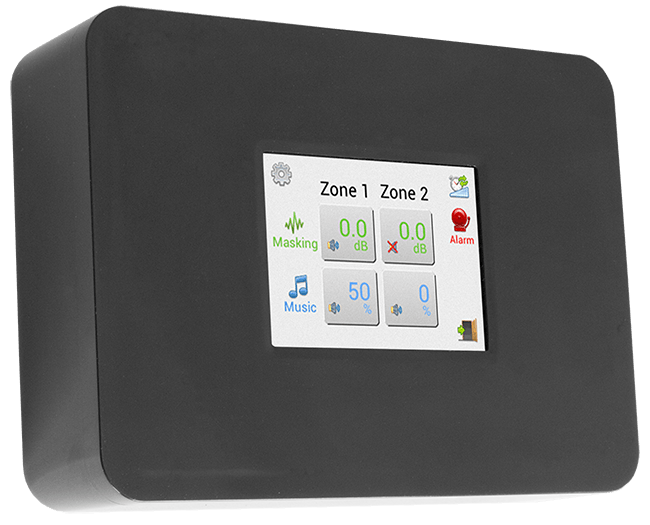 Sound Masking Diffusion & System Management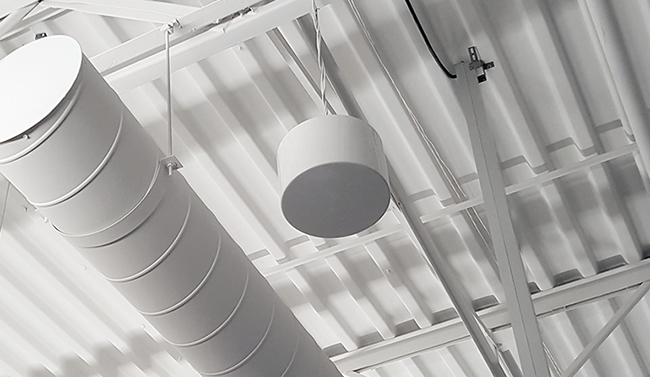 Sound Masking Speakers
Whether they're installed in the plenum space, hidden under raised access floors, or hung gracefully in exposed ceilings, our speakers are specially engineered to emit a soft and diffused sound without any variations in intensity anywhere. Regardless of room finishes and acoustic response, they deliver smooth sound masking and crisp, clear voice paging.
Learn more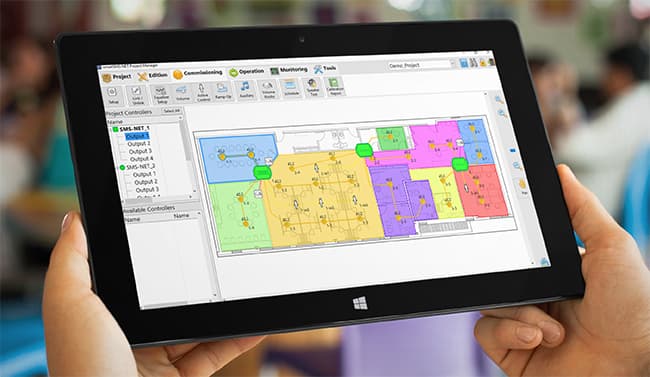 System Management Software
Think building automation system, but for sound masking. Our management software integrates the design, commissioning, and daily operations stages of sound masking in a graphical interface showing all system components and wiring schematic on top of the office layout. Adjusting the volume and equalizer for select masking/paging zones is simpler than ever.
Learn more
We Make Sound Masking Simpler Than Ever to Implement Anywhere
Nevermind those antiquated white and pink noise systems requiring frequent trips to your office's electrical room and calls to your IT department for even minor adjustments. Let us show you a sound masking system designed with convenience in mind—one that you can either confidently set-and-forget or easily control from wherever you are.
Tell us about your project