Specialized and Customized Digital Signal Processing (DSP) Boards
SignalRangerTM DSP board Series have been designed to perform a wide variety of signal processing operations to match your needs. Our boards are developed, tested and peer reviewed by specialists, professionals, teachers and individuals.
Tell us about your project
Signal Ranger Analog and Conditioning Expansion Boards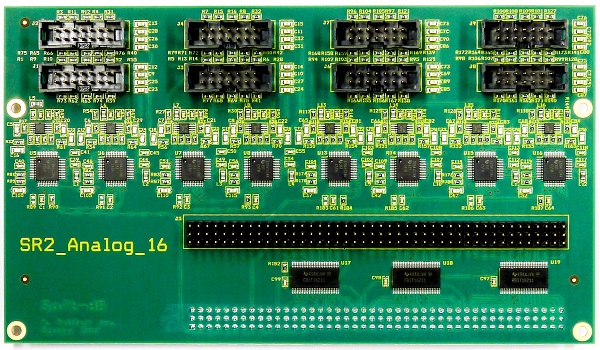 SR-Analog16
SR2-Analog_16 add-on board for SR-MK2 provides two functions: •    16 analog inputs and 16 analog outputs. •    bus switches on Signal Ranger MK2's FPGA I/Os. These bus switches provide protection to the I/Os and to external circuitry that is connected to them, making I/Os configured as inputs 5V-tolerant.
See more
Our Clients

Digital Signal Processing
Brazil
Fundaçao de Desenvolvimento da Pesquisa
Canada
Andromed Inc.
Camoplast Corp.
Canadian Heritage
CANMET Energy Technology Center
CG Air Systèmes inc.
CHUS (Sherbrooke University Hospital Center)
D-Box Technology
ETS
ICP Dettson Group
RDDC Val-Cartier
Ryerson University
Technolor Instruments inc.
University of Sherbrooke
Watertec
China
CEIEC-FJ (China National Electronics Import and Export Fujian Company)
France
CSTB
ENCP (Bridges and Roads National School)
ENTP (Public Works National School)
Mediterranean University
Germany
OFFIS – Institut fuer Informatik Oldenburg
India
Biss Technologies
Japan
ELC Co., Ltd.
Iwate Cube R&D Co.,Ltd.
Roinos Co., Ltd.
Science Laboratories inc.
Toshiba Tec Corporation
Lithuania
Festo UAB
Norway
Norwegian University of Science and Technology
Singapore
Institute for Infocomm Research
South Korea
KRISS (Korea Research Institute of Standards and Science)
Spain
University of Madrid
Switzerland
JT Systems
Ferrovac GmbH
Sweden
Lulea University of Technology
Royal Institute of Technology
Taiwan
Osiris Technologies Corp.
United Kingdom
Plint & Partner Limited
Tiab Limited
VJ Tech Ltd.
USA
Cleveland Medical Devices
Counter Trade Products, inc.
Hysitron Inc.
Lansing School District
Michigan State University
National Instruments
Simtel Inc.
Taylor River Real Time
TestResources Inc.
UCLA
Vortex Holding LLC
Some OEM clients:
TIAB technologies
Testressources
JT Systems
Mecanum
Specialized and customized DSP cards
SignalRangerTM DSP boards are designed to perform a wide variety of processing operations to meet your needs. Our boards have been developed, tested and evaluated by specialists, professionals, teachers and home users.
Get a quote