Office Sound Masking System
Sound Masking Speakers
Whether they're installed in the plenum space, hidden under raised access floors, or hung gracefully in exposed ceilings, our speakers are specially engineered to emit a soft and diffused sound without any variations in intensity anywhere. Regardless of room finishes and acoustic response, they deliver smooth sound masking and crisp, clear voice paging.
View system specifications
The Perfect Sound Masking Speaker for Every Situation
Today's office space comes in a variety of layouts from open plan concepts to closed offices and hybrid, activity-based workplace (ABW). The modern workspace integrates diverse interior design trends and materials such as exposed ceilings, movable glass walls, sliding doors, skylights, acoustic tiles or clouds, etc.. The right sound masking system needs to gracefully integrate into your office design while providing optimal masking sound throughout the day. Having developed the widest selection of sound masking loudspeakers on the market is one of the many things enabling us to generate the optimal masking sound in an almost infinite number of office layouts.
SMS-STR
Open Ceiling & Plenum Sound Masking Speaker
The SMS-STR is a specially designed upward-firing speaker that shoots sound to bounce off the ceiling, resulting in a smooth, diffuse ambient sound layer that drapes the entire room seamlessly. It's typically used in open ceiling designs but it's equally as effective when hidden in the plenum space, suspended between the acoustical tiles and the deck. Its great flexibility and superior acoustic performance make this speaker the top choice in most sound masking projects.
Generates a perfectly diffuse masking sound with no dead or hot spots
Clear and crisp sound quality for paging and ambient music distribution
Built-in rotary switch power tap selector makes it easy to adjust the output level of individual loudspeakers
Compliant with City of Chicago Environmental Air (CCEA) regulations
Available in matte white and black finishes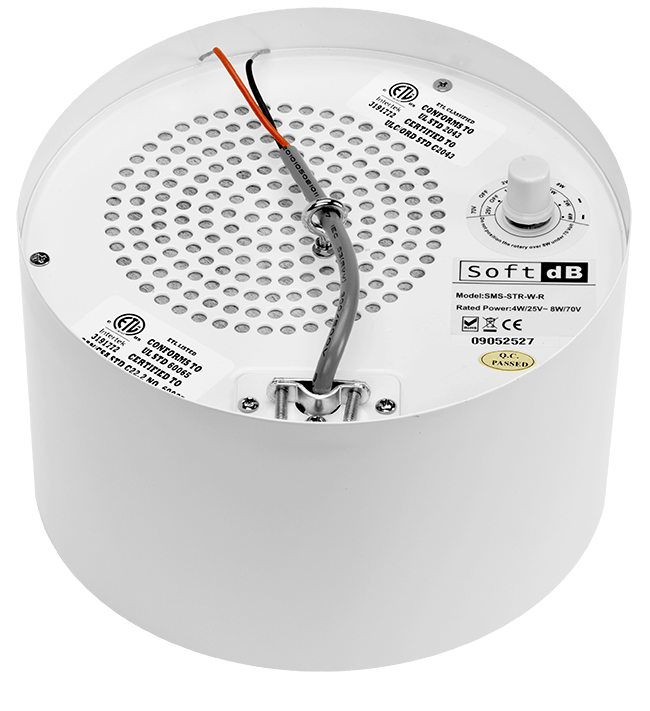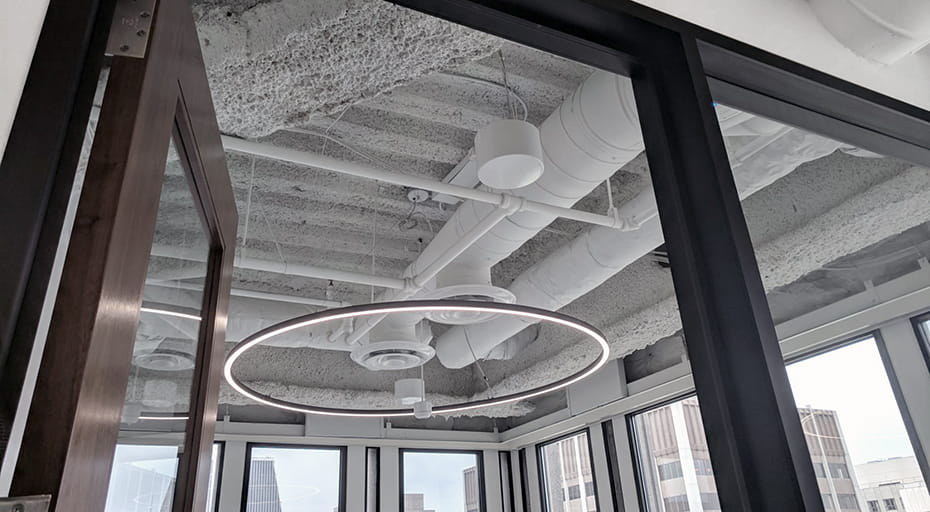 SMS-STX
Open Ceiling & Plenum Sound Masking Speaker
Powered by our smart multizone controllers on 25V constant voltage lines, the SMS-STX speaker sets a whole new efficiency standard in open ceiling and plenum-based sound masking system installations. It delivers the very same unrivaled acoustic performance and sound masking uniformity as the SMS-STR speaker, but in a significantly smaller footprint—almost 40% smaller and 35% lighter than regular up-firing sound masking speakers.
With its simplified electronics, streamlined wiring interface, and low-profile contemporary design, the SMS-STX speaker makes the world's simplest yet most advanced commercial sound masking system even easier to integrate anywhere—with minimal visual impact and cabling effort.
High-performance sound masking workhorse designed with versatility, simplicity of installation, and spatial uniformity in mind
Lightweight and highly durable Lexan polycarbonate shell
Clean, easy, error-free wiring with Phoenix connector blocks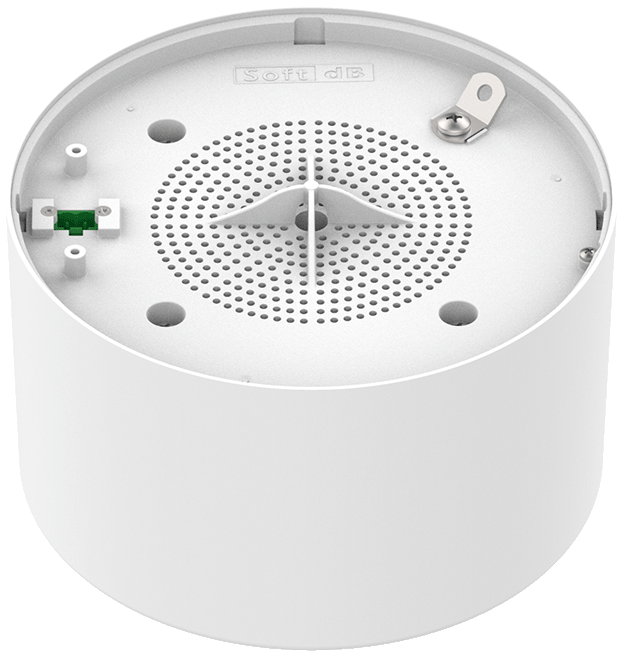 Ditching Integrated Transformers and Power Taps for Simplicity and Efficiency
Fewer integrated electronic components means lighter sound masking speakers with a potentially longer lifespan. Given how we carefully plan and custom design each of our client's office sound masking systems—based on each space's own unique acoustical parameters, design attributes, and zoning considerations—do we absolutely need a selectable power tap switch built in each and every loudspeaker? The answer is no. A well-designed and, more importantly, well-zoned sound masking system shouldn't typically require much power tapping on invididual speakers. But it's sometimes unavoidable.
SMS-STXATT Plug-In Sound Power Attenuator
We've eliminated the multiple power taps and built-in switch selector on the SMS-STX speaker, but not the convenience and occasional necessity of making on-the-fly adjustments of individual speaker sound levels. We've simply traded built-in for plug-in. Need to make select individual SMS-STX speakers quieter? The SMS-STXATT plug-in attenuator lets you do just that.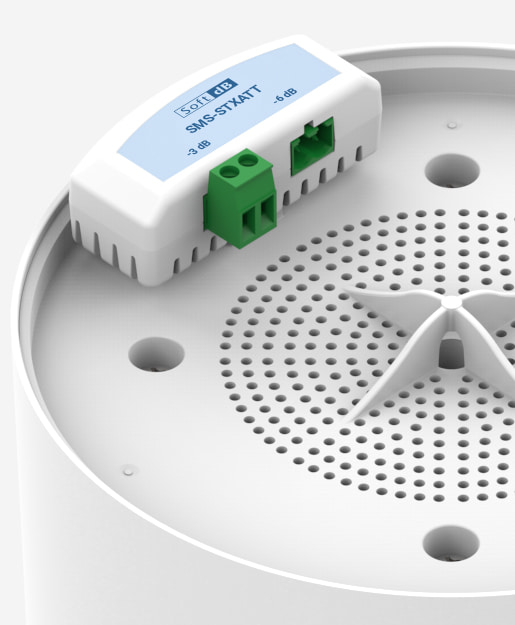 The ideal sound masking system is one that nobody notices except for the sonic comfort it provides—reduced noise distractions and increased speech privacy. Efficient speaker design focused on delivering superior masking sound field uniformity plays a vital role in achieving this inconspicuous ideal. We didn't invent office sound masking. But we continuously strive to re-invent it.
SMS-SURF4
Direct Field Sound Masking & Paging Speaker
The SMS-SURF4 is a compact sound masking speaker designed to be flush-mounted on ceiling tiles or drywall ceilings. It's best suited for offices with limited plenum space, or when ensuring superior paging/background music loudness and clarity through drywall or suspended gypsum-board ceilings is important. SMS-SURF4 speakers can be powered by a 25V/70V constant voltage amplifier and daisy chained to achieve very large office sound masking/paging installations at very low costs.
Delivers ideal performance for playing background music and public announcements alternatively with sound masking
Better sounding alternative to Biamp's QT emitters for sound masking applications requiring a direct field approach
Built-in rotary switch power tap selector makes it easy to adjust the output level of individual loudspeakers
Compliant with City of Chicago Environmental Air (CCEA) regulations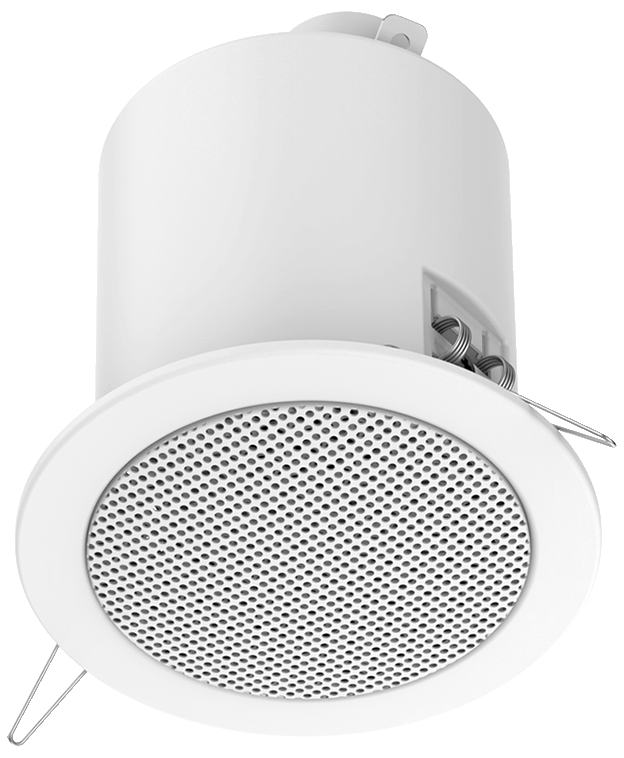 Sound Masking Speakers Firing Upward or Downward: What's the Best Approach in Terms of Spatial Uniformity?
Direct field or plenum speakers: which are better in terms of sound masking coverage and uniformity? There's a lot of marketing hype out there. But as acoustical engineers, we prefer scientifically proven facts. At the fall 2018 InterNoise Conference in Chicago, we've presented a research paper based on measurable and repeatable experiments to demonstrate how the two main speaker approaches in sound masking compared in terms of spatial uniformity achieved throughout a given workspace. The conclusions of the study are quite interesting.
Up-Firing Plenum Speakers
Leveraging the plenum space height to achieve a wider coverage and better uniformity of the sound masking.
Superior spatial uniformity of the masking sound, paging, and ambient music, with virtually no dead spots across the space.
Even if the plenum space is obstructed, spatial uniformity is significantly better than with direct-field type, downward firing speakers mounted in the drop ceiling or drywall ceiling.
Allow for more flexible, cleaner, faster, and cheaper installation without the need to make holes in the ceiling and acoustic tiles.
Perfectly adapted to exposed ceiling designs and suspended ceiling systems alike, in terms of sound masking performance, coverage uniformity, electrical safety, and visual aesthetic.
Down-Firing Direct Field Speakers
Achieving effective sound masking along with paging and background music in office spaces with drywall ceilings.
Down-firing sound masking speakers make most sense in office designs where the plenum space height is limited or heavily obstructed.
Typically a better approach with drywall ceilings and suspended gypsum-board ceilings: upward firing speakers are no match in such conditions since the sound output bouncing off the ceiling deck may become too weak as it enters the space through the thick gypsum.
Can deliver louder, clearer sound in paging and background music applications, making them a better option when the need to broadcast highly intelligible public announcements through the sound masking system is mission critical. They're really paging-friendly speakers.
SMS-DIRECT
Multi-Directional Sound Masking Speaker
Mounted on a U-bracket, this versatile speaker is typically suspended in the plenum in up-firing position, but it's equally as effective in down-firing position, either in very high plenum or exposed ceiling designs.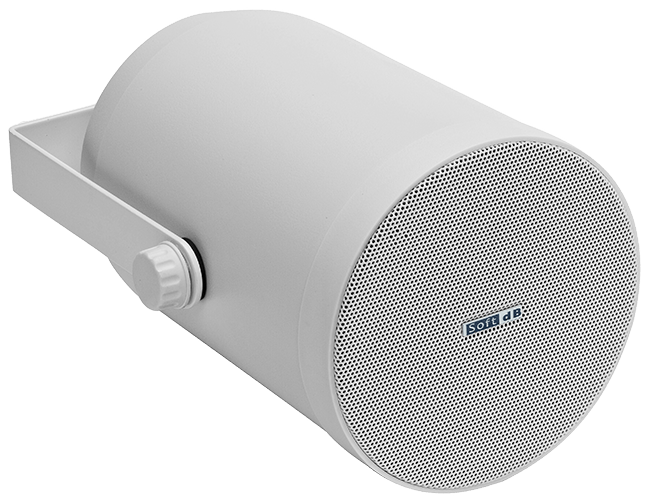 Integrating Sound Masking Speakers in Tricky Office Designs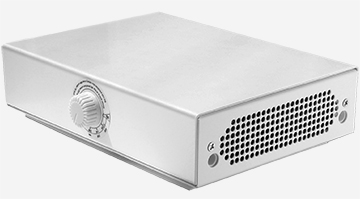 SMS-FLAT Compact Loudspeaker
You want sound masking but have limited access to the ceiling plenum? Your radiant ceiling tiles make it impossible to install speakers up there? We've designed the SMS-FLAT speaker to deliver effective sound masking from tight spaces where standard speakers don't fit. You have raised access floors and speech privacy issues? This is the right speaker for you. With its two drivers in dipole configuration, the SMS-FLAT packs a punch in a very compact form factor and makes it possible to integrate sound masking systems virtually anywhere.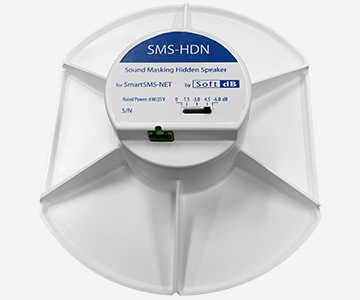 SMS-HDN Hidden Loudspeaker
The SMS-HDN hidden speaker provides an innovative alternative to flush-mount ceiling speakers to obtain uniform sound masking, clear paging and background music without any compromise on the esthetic of the ceiling. Hidden within the plenum, mounted to the back of suspended ceiling tiles or gypsum board drop ceilings, the SMS-HDN converts these surfaces into large, high-dispersion loudspeakers that generate a remarkably smooth, diffuse, and clear sound field that's ideal for sound masking applications.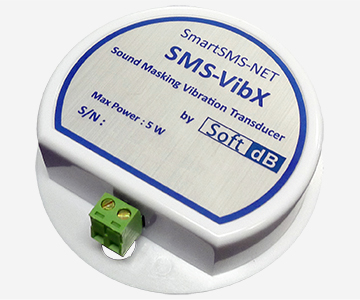 SMS-VIBX Vibration Loudspeaker
The SMS-VIBX is a transducer that conducts vibrations into any surface you press it against: drywall partitions, ceiling tiles, even desks and windows. Simply put, it converts any surface into a high-dispersion sound masking speaker. Typically concealed in the plenum space, mounted on top of acoustic tiles or gypsum ceiling panels, the SMS-VIBX speaker is a viable alternative to regular down-firing, direct field ceiling speakers. It delivers an impressively diffuse and clear sound field, without compromising space aesthetics.
How Are Sound Masking Speakers Powered & Controlled?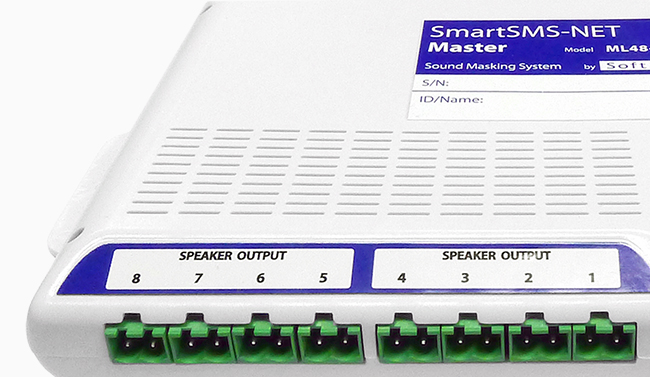 Multizone Sound Masking Controllers
Controllers are the brains of our sound masking system. They communicate with each other and generate the perfect broadband sound signal, ensuring that each speaker group emits just the right amount of masking sound across the select office zones covered. They're also powerful multi-input amplifiers that can handle paging and ambient music channels.
Learn more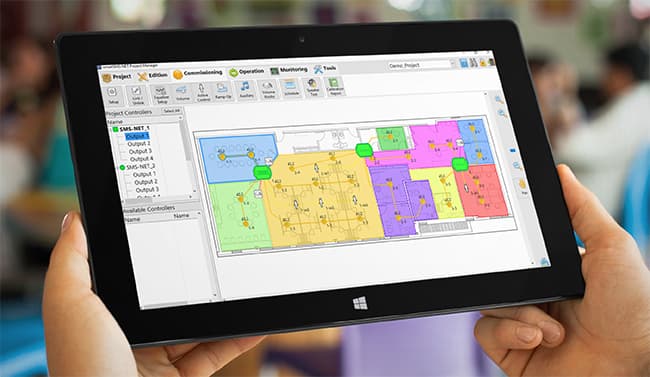 System Management Software
Think building automation system, but for sound masking. Our management software integrates the design, commissioning, and daily operations stages of sound masking in a graphical interface showing all system components and wiring schematic on top of the office layout. Adjusting the volume and equalizer for select masking/paging zones is simpler than ever.
Learn more
We Make Sound Masking Simpler Than Ever to Implement Anywhere
Nevermind those antiquated white and pink noise systems requiring frequent trips to your office's electrical room and calls to your IT department for even minor adjustments. Let us show you a sound masking system designed with convenience in mind—one that you can either confidently set-and-forget or easily control from wherever you are.
Tell us about your project