Office Sound Masking System
Sound Masking System Tailored for Today's Ever-Changing Workplace
Discover the key features that earned our sound masking system the reputation of being one of the most innovative and cost-effective solutions for achieving better acoustic privacy wherever it matters most and reducing employee distractions in all types of office environments.
Get the brochure
Adaptive Volume Based on Office Noise Levels
Your office space is a dynamic environment where ambient noise levels and the amount of distractions vary a great deal depending on the schedule and activities underway. To be truly efficient at all times, sound masking must continuously adapt to the ever-changing office soundscape: it must subtly increase during busier, noisier periods of the day, then get back down to its minimum effective volume level as the office gets quieter.
Sound Masking That's Never Too Loud, Never Too Weak, Always Efficient
It's the mid-morning rush at work and the office is buzzing with activity, conversations and potential distractions? The sound masking volume gently goes up. That mid-morning rush ends and the office space goes practically silent? The sound masking volume decreases back to where it was before the rush. And it'll continuously move up and down like that: up to its maximum allowed level, down to its minimum effective level, and anywhere in between, in reaction to changes in office activity level over time. Simple enough? Our sound masking system is the only one in the world that makes this possible.
How Does Adaptive Volume Work?
Adaptive volume makes use of ceiling-mounted noise sensors and the advanced signal-processing technology embedded in our controllers to automatically adjust the sound masking volume up or down based on how loud or quiet the office gets throughout the day. Auto volume adjustments are virtually unnoticeable and only occur for sustained variations in office noise levels—never for sudden noise or short activity spikes.
What About Timer-Based Volume Adjustments?
While adaptive volume makes sense in most office sound masking applications, our system still includes a timer function just like the older sound masking technologies out there. It lets you preschedule exactly when and by how much the sound masking volume should increase or decrease for each day of the week, for each independent office zone.
Adaptive Sound Masking is Real-Time Office Noise Monitoring Meets Advanced Digital Signal Processing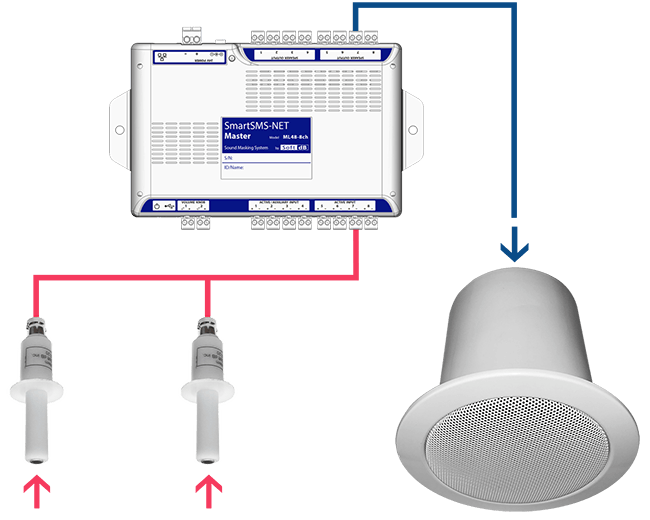 Timer-Based or Adaptive Sound Masking: What's Best for Acoustic Privacy and Comfort?
It's scientifically proven that allowing the sound masking volume to vary continuously based on office noise levels improves the occupant experience more than sound masking with a preset timer function. At the 2017 NoiseCon Conference held by the Institute of Noise Control Engineering of the USA, we've presented a research paper to demonstrate how sound masking systems with self-adjusting volume consistently achieved the same levels of speech privacy as older systems relying on a 45 dBA volume timer function. But that was just the first half of the study.
When it came to surveying the acoustic comfort of office occupants, the timer-based sound masking systems were simply no match for the newer systems with adaptive volume. In periods of moderate office activity, acoustic comfort improved 50% in comparison to timer-based systems.
What's more, setting the maximum sound masking level to 48 dBA (CNRC-recommended upper limit) instead of 45 dBA improved speech privacy by 15% in comparison to timer-based systems, without any impact on perceived acoustic comfort. In other words, the average office worker didn't feel a difference between 45 dBA and 48 dBA sound masking, but slighlty louder sound masking made overhearing conversations and eavesdropping 15% less likely.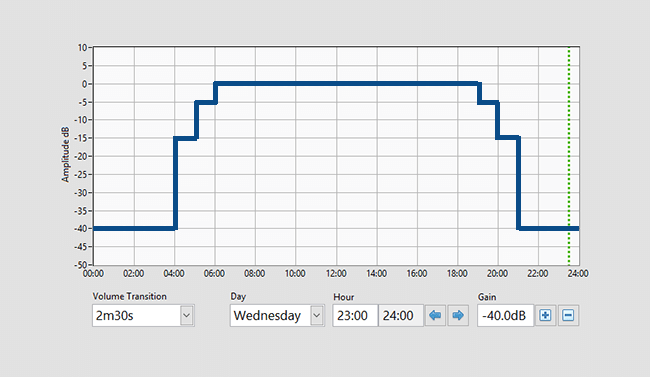 Timer-Based Sound Masking
Prescheduled Volume Adjustments
At what exact times in the day should the sound masking volume get louder and back to its regular, minimum level? When are the busiest and quietest periods in the office, in terms of employee interactions?
Does this schedule apply to any day of the week? What about weekends?
Does it apply to the entire office space or should certain work areas run a different volume schedule at certain times, on certain days?
How smooth should the volume level transitions be? Would office occupants like to experience a 10 dB variation in sound masking volume within a mere few seconds? Take our word for it: they won't.
Timer-based volume control wrongly assumes that office activity levels and intensity of conversations are always on schedule. In today's highly flexible workspace, it's rarely true. Noisy distractions can arise anytime and so does the need for more speech privacy.
Timer-based sound masking was a thing 20 years ago. Today, the only valid reason for preferring it over adaptive sound masking is running an old-fashioned system without adaptive volume control. There, we said it.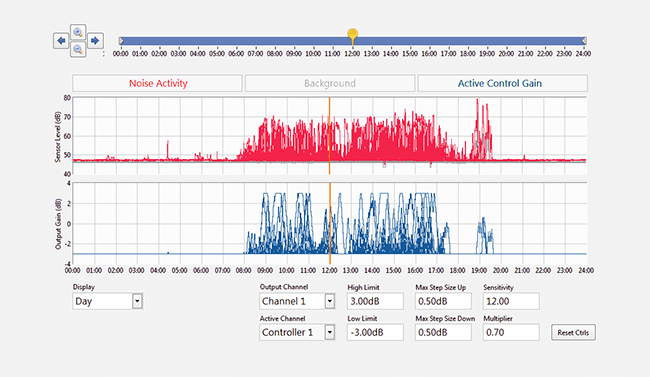 Adaptive Sound Masking
Automatic Volume Adjustments
The sound masking volume is always as loud or quiet as it needs to be, and always within recommended standards.
No need to figure out in advance how busy or calm the office space will be at any given hour, on any given day. The system measures office noise levels in real-time and adjusts itself without anyone noticing.
It's the active control sensors that do all the work: they continuously measure the noise levels across the room and tell the controllers to increase or decrease the sound masking volume in order to ensure optimal acoustic comfort and speech privacy at all times.
You're always in control as volume reactivity (how sensors perceive variations in office noise), adjustment rates, high limits, and low limits are programmable separately, for each sound masking/paging zone.
Why one of our most notable competitors, Biamp's Cambridge Sound Management, relentlessly speaks badly of our adaptive sound masking technology is beyond us. What is it about having made sound masking more effective and simpler for all that Biamp doesn't like?
Automatic Sound Masking Equalization Process
The greatest challenge in any sound masking project? To generate the recommended ideal sound masking spectrum while taking into consideration the space's unique design attributes. Room size, ceiling type, acoustic tiles, wall finishes, and office furniture all have an impact on how efficient sound masking is at drowning out distractions and improving acoustic privacy. If the masking system is not perfectly calibrated according to the acoustic response properties that are unique to the area it covers, it'll be ineffective at best and irritating at worst.
The Perfect Sound Masking Spectrum Anytime, Anywhere
Our system's automatic equalization process allows it to adapt itself to an endless array of office environments. It analyzes the acoustic response and the background noise in the space covered and uses this data to figure out the spectrum needed to generate a soft, neutral and pleasant masking sound. So whichever sound masking spectrum is right for your space and the acoustic comfort of occupants, whether it's our default CNRC-recommended spectrum or a custom spectrum specified by your own acoustician, our system's automatic equalization process continuously ensures that this ideal spectrum is exactly what comes out of the sound masking loudspeakers in the end.
 
Calibrating Entire Sound Masking Systems Takes Minutes, Not Hours
Did we say minutes? Actually, our patented technology makes it possible to calibrate individual sound masking zones in less than a minute, with equalization done in both 1/3 octave and 340 narrow band spectra. The process is fast, very precise, and guarantees a remarkably smooth sound masking output throughout the covered area.
The quality of calibration is assessed in real-time by our system's integrated frequency analyser. At a glance, the person running the initial system calibration gets a clear indication as to whether the sound masking signal generated is consistent with the desired spectrum.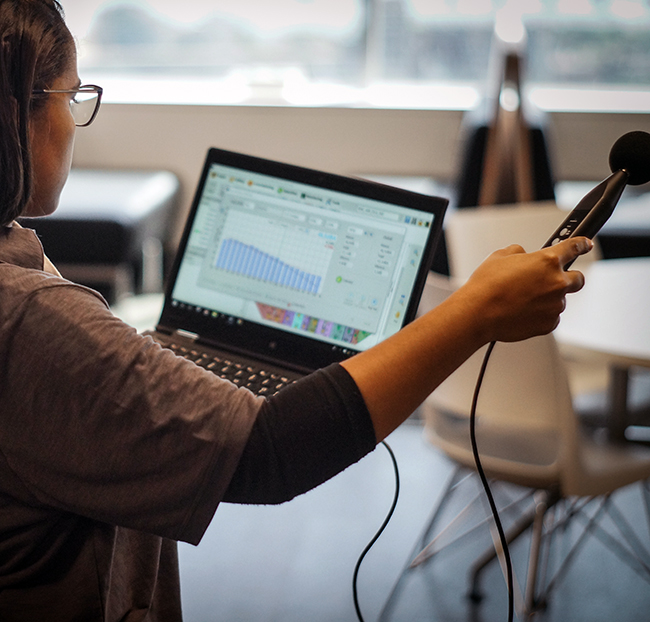 Soft dB's networked sound masking system and installation plan met our challenging office space requirements. We're very pleased with how our system is working and making a positive impact on the quality of our work environment.
Karen Appelbaum, Operations Director, Northwest Area Foundation
Network-Ready Multizone Sound Masking & Paging
Soft dB sound masking combines both the flexibility of networked systems and the cost efficiency of more traditional centralized systems. It can simultaneously distribute sound masking, paging and ambient music throughout an endless array of distinct office zones—each of which with their own specific volume levels, input mixing and EQ settings—across multiple office floors or buildings even. Wired or wireless, our network-ready sound masking system allows secure remote control over individual office areas while keeping installation and cabling costs to a minimum.
Your Entire Sound Masking Network Always Right at Your Fingertips
Our management software gives you control over your entire sound masking network from wherever you are, through a simple touch-enabled interface that visually integrates all sound masking system components and wiring schematic on top of the office layout.
Volume control, equalizer settings, paging/music input mixing, schedule programming: the software lets you apply every imaginable adjustment instantly on a system-wide or per zone basis. Having a networked sound masking system takes on a whole new meaning, doesn't it?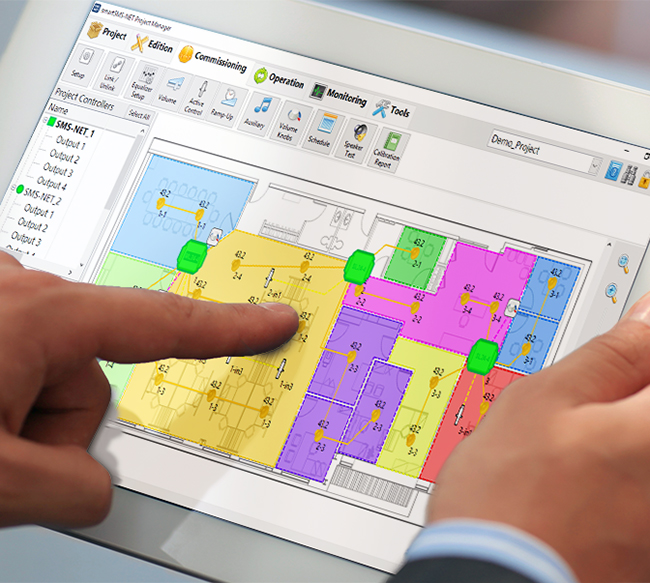 Volume Control on Your Smartphone
Adjusting the volume of sound masking or ambient music playing above your head shouldn't require a trip to the office's electrical room or calling in the facilities manager. That's why our sound masking system comes with a simple mobile application that makes changing the volume levels in select office rooms a very intuitive experience even for the less tech savvy users. Things are getting a little too loud or too quiet in your area? Your iPhone or Android phone is your remote control.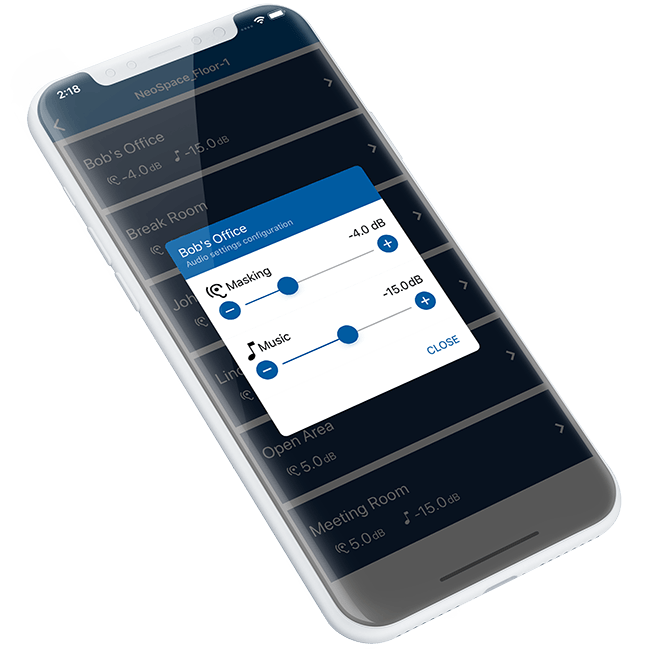 Basic Features That All Sound Masking Systems Should Include
Gradual Volume Ramp Up
Our system's gradual volume ramp-up function lets you progressively and subtly increase the sound masking volume over a couple days or weeks so as to ensure a smooth and seamless sonic experience for space occupants.
Scheduled Power Saving Mode
Reduce your system's power consumption to virtually zero outside regular operating hours. Our power scheduler lets you automatically put sound masking controllers in energy-saving mode on a daily and hourly basis.
Paging & Background Music
Our system lets you simultaneously distribute public announcements and background music along with sound masking, each with their own zoning, equalizer and volume control, through the same network of loudspeakers.
Individual Speaker Control
The volume of each sound masking speaker can be adjusted independently of the system-wide or zone-specific volume settings. Need to make specific speakers louder or quieter? Simply adjust their individual built-in power taps.
Fire Alarm System Integration
Soft dB sound masking system integrates with your fire alarm system without ever interfering with it during emergencies. We've ensured that NFPA 72-2019 requirements were met under all possible operating scenarios.
Simple Graphical User Interface
Sound masking, paging, and background music volume levels, including key EQ settings, can quickly be adjusted, across the entire system or in select office zones, through a user-friendly, password protected control panel.
Sound Masking Performance, Comformity and Safety
ASTM Standards for Speech Privacy and Sound Masking
We're a member of the ASTM E33 Building and Environmental Acoustics and ASTM E33.02 Speech Privacy technical committees where we actively contribute to the development of international standards for the measurement of speech privacy and the performance of office masking systems.
ASTM E1374-06 (11) – Standard Guide for Open Office Acoustics and Applicable ASTM Standards
ASTM E1573-09 – Standard Test Method for Evaluating Masking Sound in Open Office
ASTM E1130-08 – Standard Test Method for Objective Measurement of Speech Privacy in Open Offices
ASTM E2638 – Standard Test Method for Objective Measurement of the Speech Privacy Provided by a Closed Room
LEED & WELL Standards for Sound Masking Systems
As an active organizational member of the U.S. Green Building Council, we take special pride in helping green building project teams leverage sound masking technology to achieve LEED v4 acoustic performance credits with less soundproofing materials, less compromise on core design values, and better occupants comfort survey results.
Meets the requirements of LEED v4.1 and WELL v2 for sound masking adjustability, uniformity and spectrum comformity
1/3 octave and 340 narrow band equalization generates the National Research Council of Canada's COPE optimum sound masking spectrum by default while making it very easy to generate any alternative spectrum recommended by your own acoustical engineers
Sound masking controller units integrate high-efficiency amplifiers and electronic components to minimize energy consumption
System includes an auto shutdown function for zero energy consumption outside of normal operating hours
Product Safety Standards
We work hard to future-proof our sound masking components and ensure the safety of our end-users worldwide.
ETL Listed IEC/EN/UL/CSA 62368-1: Audio/video, information and communication technology equipment – Part 1: Safety requirements
ETL Listed UL/ULC 60065: Audio, Video and Similar Electronic Apparatus – Safety Requirements
ETL Listed UL 2043: Standard for Fire Test for Heat and Visible Smoke Release
EN 55103-1/-2: FCC Electromagnetic Compatibility for Audio/Video Apparatus
CCEA Approved - Sound masking speakers meet all requirements of the City of Chicago Electrical Code for Plenum Installations
2002/95/EC Restriction on Hazardus Material and Waste Electrical and Electronic Equipment (WEEE) Directives
Technical regulations of the Eurasian Customs Union (EACU)
What Do Sound Masking Systems Consist Of?
All sound masking systems have the same purpose: artificially increasing the ambient background sound level of a space just enough to even out its sonic landscape, eliminate awkward pin-drop silent moments, and decrease speech perception within and between different office areas. This is achieved by spreading a specially engineered broadband sound—similar to the sound of air flowing in HVAC systems, but smoother and much more consistent—across the space through a network of loudspeakers strategically positioned to ensure seamless, uniform coverage.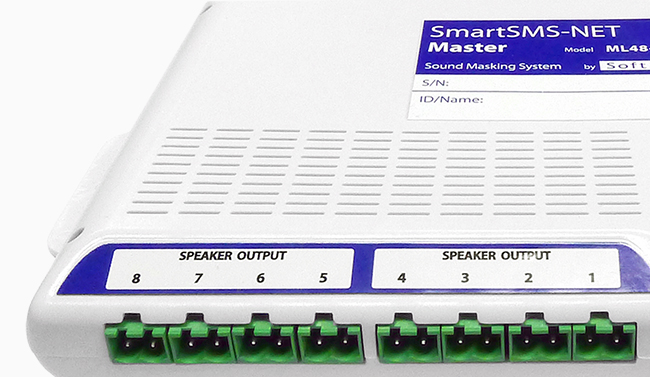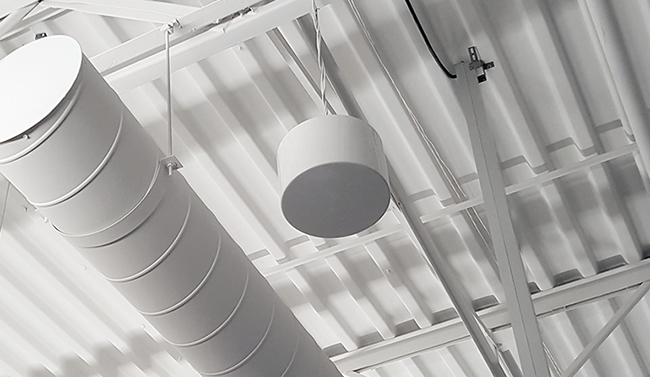 Want to Integrate Sound Masking in Your Office Design Project?
Whether you're building something new or retrofitting an existing office space, we'll make sound masking one of the simplest parts of your project. From providing accurate, transparent price quotes and free system schematics based on your office plans, all the way through commissioning and fine tuning stages, we'll be a valuable partner.
Tell us about your project