Monitoring Web Platform by Soft dB
Remotely manage all your Soft dB monitoring stations in real-time, and simultaneously analyze noise, vibration, dust, and other data using our advanced monitoring web platform. You and your stakeholders gain immediate access to all your project information. Take complete control of your mining, industrial, and construction operations, ensuring compliance with current standards efficiently and effortlessly.
Request a demo
A Powerful Monitoring Web Platform for Efficient, Real-Time & Remote Monitoring
Our cloud-based platform enables you to remotely access all your environmental monitoring projects, analyze your data in real time (noise, vibration, dust, and more), share key data with stakeholders and control your Soft dB monitoring stations and sensors, all from a single interface, without having to go on the field.
The Soft dB monitoring web platform has been designed to provide real-time insigths to our clients in the mining, industrial and construction sectors, who need to be instantly informed of critical data to ensure the continuity of their operations. Integrated Features
Essential Features for the Success of Your Environmental Monitoring Project
Easily visualize in real time your data and configure your Soft dB monitoring stations, alerts, reports and more, remotely, in one place with the Soft dB web monitoring platform.
Automated, Customized Reports
Receive automated reports at the frequency of your choice for a quick overview of your measured levels, while highlighting periods of exceedance and key trends over time.
Configurable Alerts (SMS, Email)
Customize your alerts according to the criteria of your choice and receive real-time notifications (email, text message): alert levels, schedules, station status, signal quality, % battery, etc.
Sharing Data With Various Stakeholders
Share data with the users of your choice and other stakeholders in your project. They can receive important alerts on the status of your stations, such as when the battery is low.
Interactive, User-Friendly Dashboard
Access a personalized, comprehensive and user-friendly dashboard for better monitoring of your environmental data, including histograms, spectral analysis, audio playback and photo/video image viewing.
Interactive, Personalized Mapping
Benefit from a dynamic map and gain an overview of your projects and monitoring stations.
Easy User Management
Efficiently manage all your users, both internal and external to your projects, along with their access levels.
Customized Web Interface
Customize the web interface to suit your precise needs and the types of data collected.
Compatible With Cell Phones, Tablets and Computers
Access your surveillance network 24/7, from any device.
Advanced Features
Automated Post-processing of Your Noise and Vibration Data
Add intelligence to your vibration and noise data thanks to the cutting-edge technologies developed by Soft dB.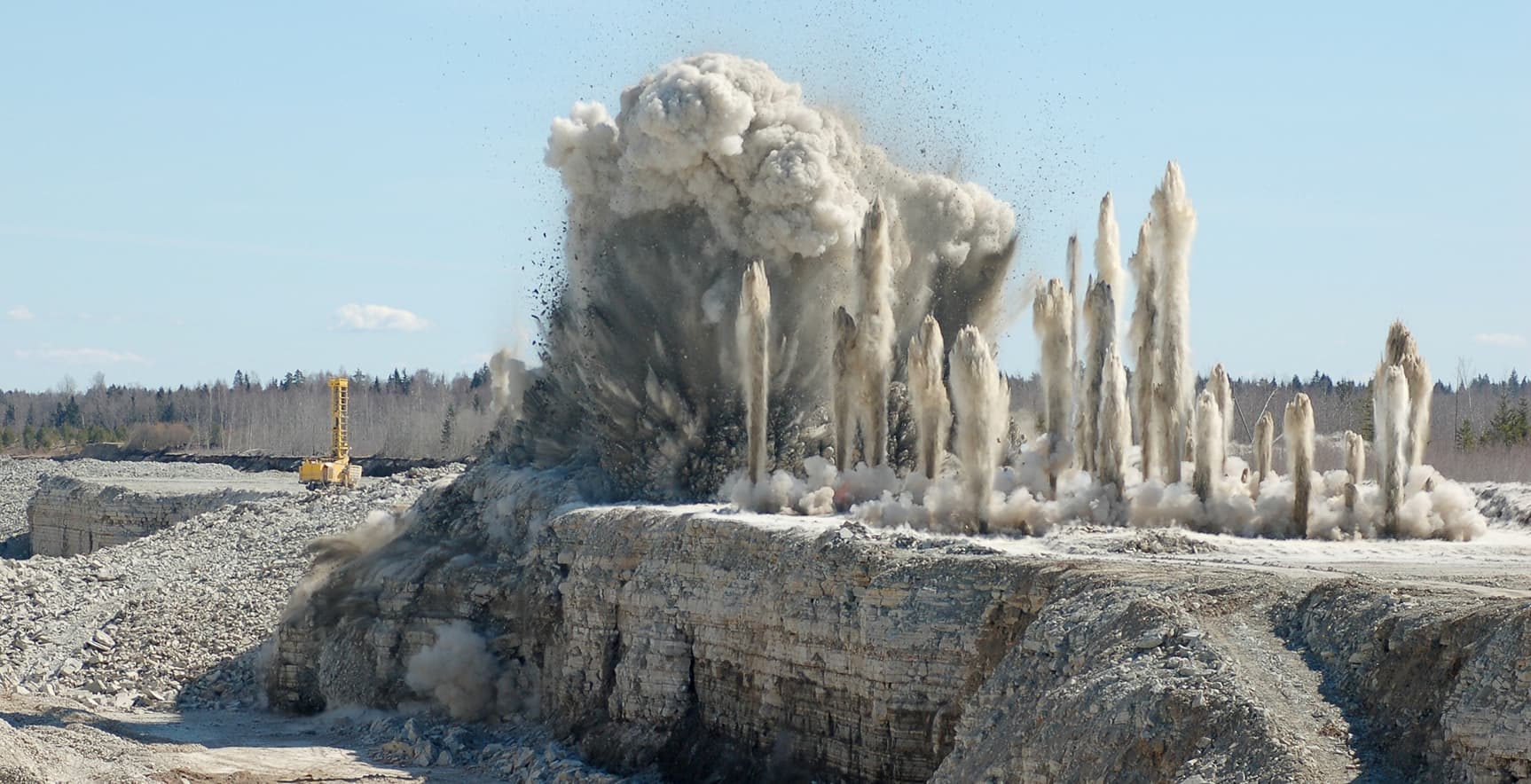 Our alerts are designed to keep you informed in real time when your activities cause overruns and require your attention. You also have all the information you need to understand the cause of these exceedances, enabling you to react quickly. Your time is precious, and that's why Soft dB offers total flexibility in configuring alerts, so that you're neither overwhelmed nor disturbed by unnecessary notifications unrelated to your activities. Your notifications can be customised, whether by using our patented real-time analysis solutions or by defining different validity criteria, whether they depend on a single contaminant (noise, vibration, dust, etc.) or several.
—Pierre-Claude Ostiguy, Eng, PhD, Director, Monitoring Division, Soft dB
Make Informed Decisions Quickly With Reliable, Accurate Data
Observe the outcomes of your mitigation efforts in real time, no matter where you are.
Simplify your compliance assessment with current standards and regulations.
Enhance relationships with local communities through a proactive approach to your activities.
Minimize the environmental impact of your projects by ensuring 24/7 compliance with standards.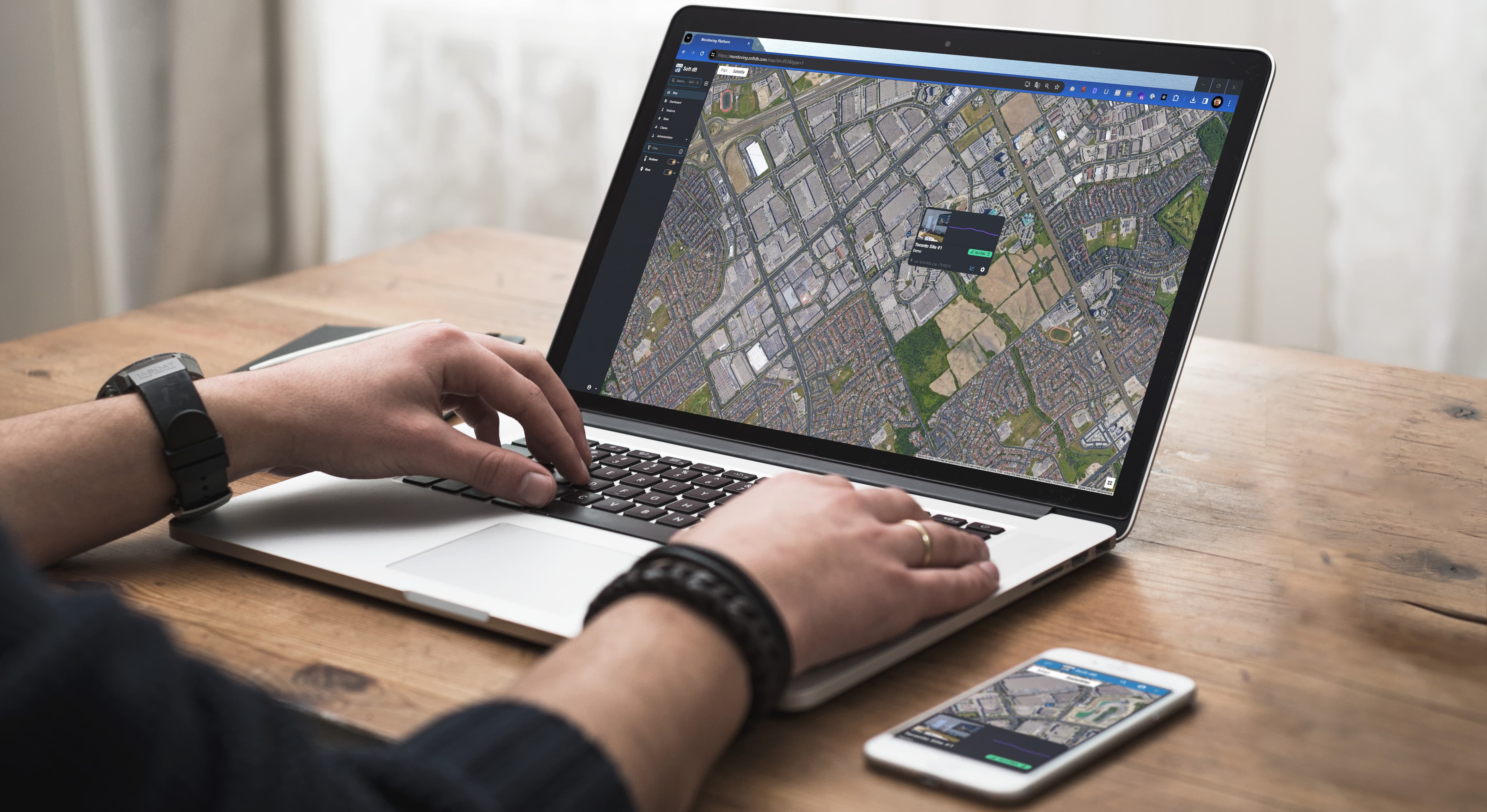 Benefits
The Only Web Monitoring Platform You'll Ever Need
Facilitate data analysis and comparison by visualizing all your environmental data (noise, vibration, dust, etc.) on the same graph, simultaneously, from a single platform.
Utilize a single subscription to access all your environmental data. No need to subscribe to multiple online monitoring platforms. All your data, even from different contaminants, is centralized via a single Soft dB Web Monitoring Platform, requiring just one subscription, not two or three.
Download your measured data for easy processing and analysis.
Access your continuously recorded soundtracks, essential for managing noise complaints and relations with neighboring communities.
Focus on your core business and receive notifications only for overruns related to your operations.
Get your data instantly and continuously, without having to wait an hour to find out about the status of your site or the correct operation of your station.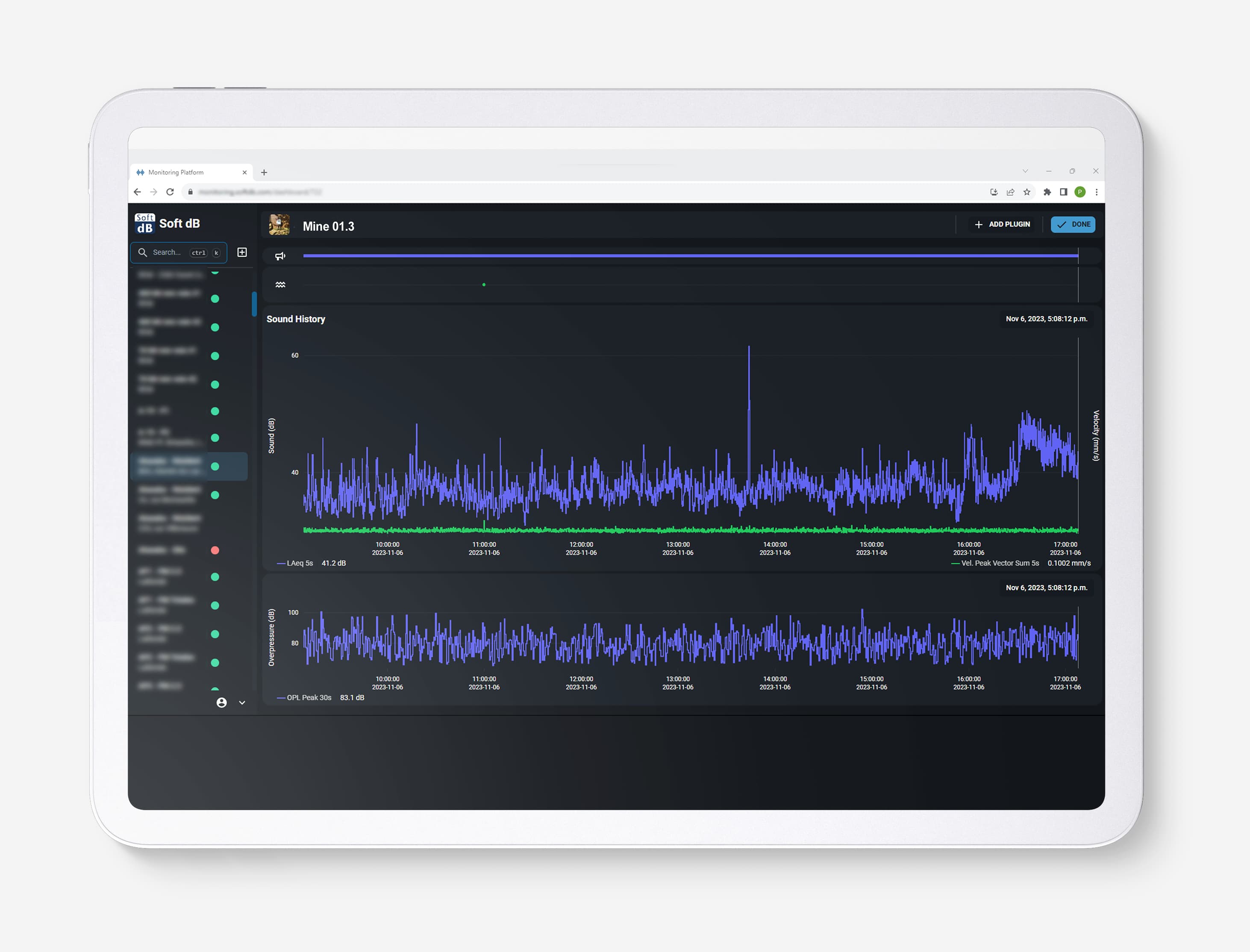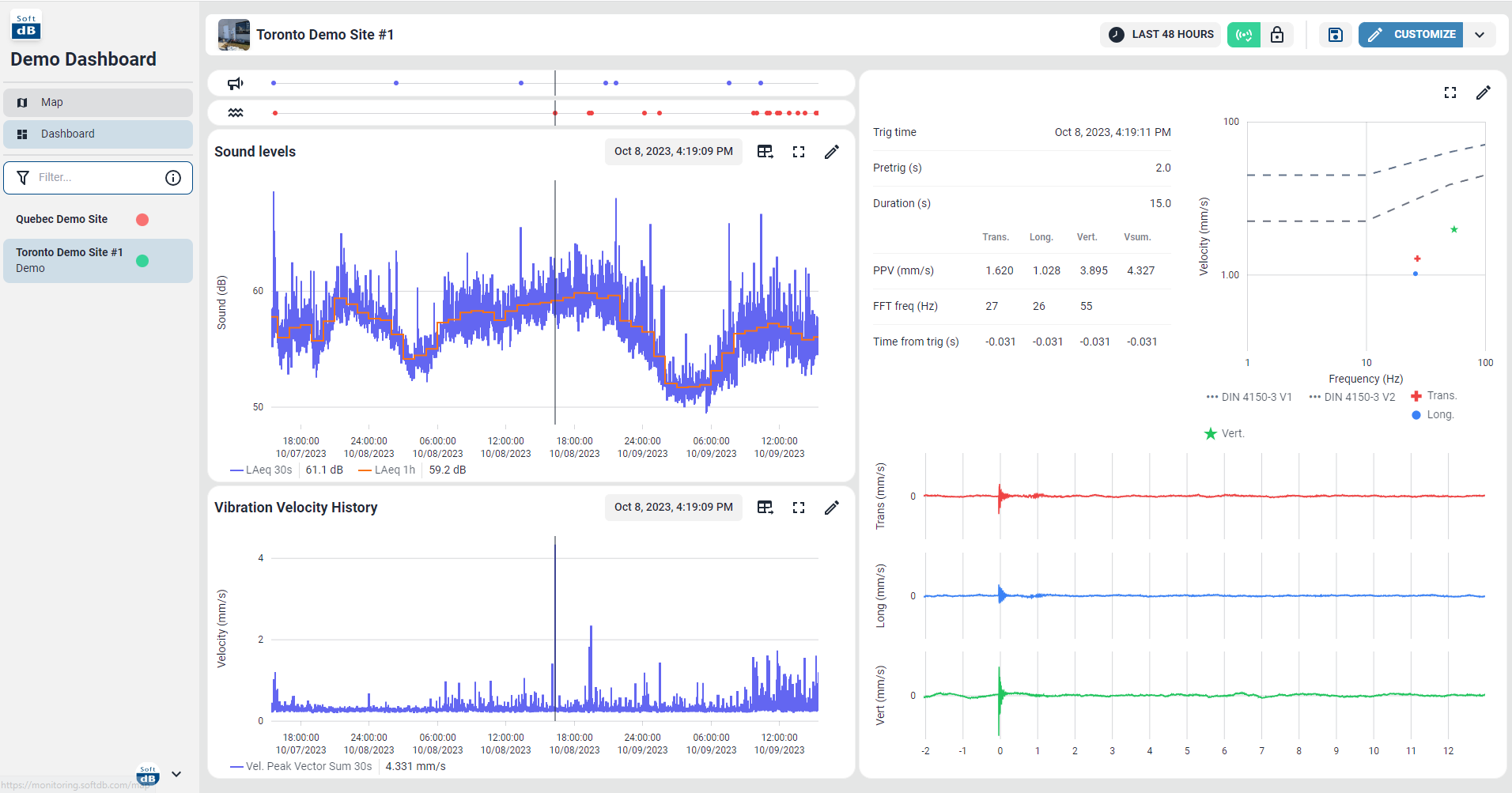 The Best of Both Worlds
Acoustics & Vibration Expertise at Your Service
A support and technical assistance team available for turnkey assistance.
Solutions to your noise and vibration challenges from our acoustics and vibration experts.
A complete maintenance service to keep your stations running smoothly along with an annual calibration service. We take care of everything.
A dedicated R&D team ensures the development of the web platform according to client needs.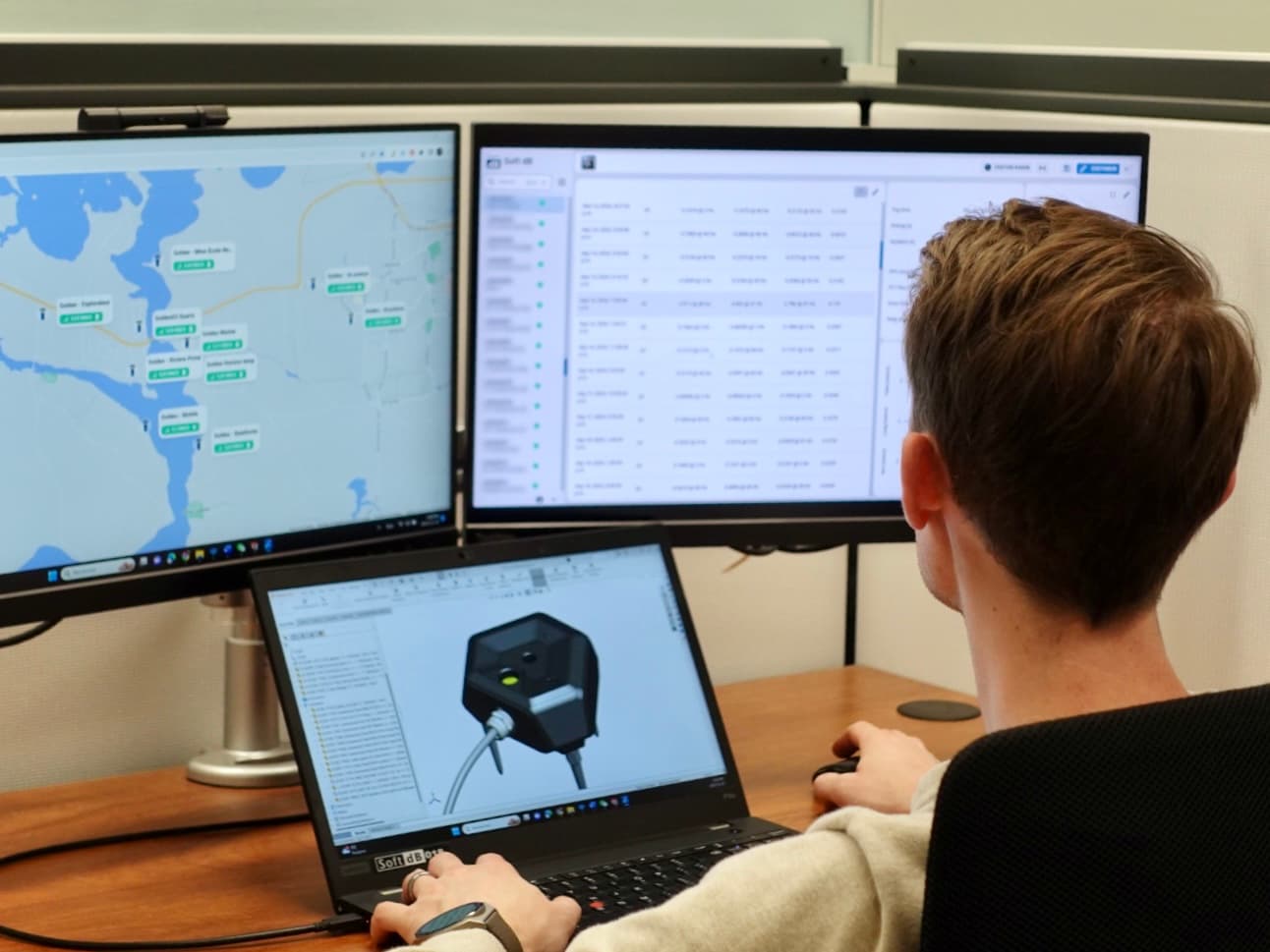 How Does the Soft dB Monitoring Web Platform Work?
Soft dB monitoring stations are strategically installed in the field, located by GPS coordinates, and use sensors to measure noise levels, vibrations and other environmental parameters. The measured data is transmitted live via a 4G/LTE network to our secure cloud server, where it is stored, enabling you to keep a history of your data. Relevant data is then transferred directly to our Soft dB web monitoring platform. This enables you to access your data and stations at any time, in real time, and remotely.
Real-Time Remote Monitoring. Now Easier Than Ever.
Simultaneously monitoring noise levels, vibration levels, dust concentrations, air quality, and much more, at different sites and for different projects, should always be simple and effective. That's our commitment at Soft dB. See for yourself.
Request a demo of the Soft dB monitoring web platform