Noise and Vibration Monitoring Station: Watch
Powerful. Mobile. Robust. Energy-efficient and competitively priced. Here is the Watch Soft dB monitoring station, ideal for remote, continuous, and real-time measurement of noise (Class 1) and vibrations. Ensure compliance with regulations in all sectors of activity, such as construction sites, with efficiency and simplicity.
Request a quote
 Watch Monitoring Station 
Overview of Our Noise and Vibration Monitoring Station
In a construction project, noise and vibration control is just one of the many important criteria to consider. We know this, and your time is precious. So here, in a nutshell, are the answers to your questions.
Does the noise and vibration monitoring station Watch allow you to know whether your activities comply with current regulations? 
Absolutely. And you get what you pay for.

Configurable alarms 

when thresholds are exceeded.

Automated, customized reports

at the required frequency.

Your data in real time and remotely via our

Web monitoring platform.

Simultaneous measurement of noise with Class 1 sound level meter and vibration.

Continuous soundtracks

for replaying critical periods.
And much more. Talk to our experts.
When the noise and vibration monitoring station Watch sends you an alert indicating that thresholds have been exceeded, will you be able to easily demonstrate whether the noise and vibration exceedances are caused by your activities or not?
Certainly. The Watch Soft dB noise and vibration monitoring station will be your best ally.
 
Remember: you are held responsible for exceeding noise and vibration thresholds at your site until proven otherwise, and the Watch monitoring station serves as your evidence to the contrary. It provides you with all the necessary information remotely, continuously, and in real-time in case of exceedances or complaints.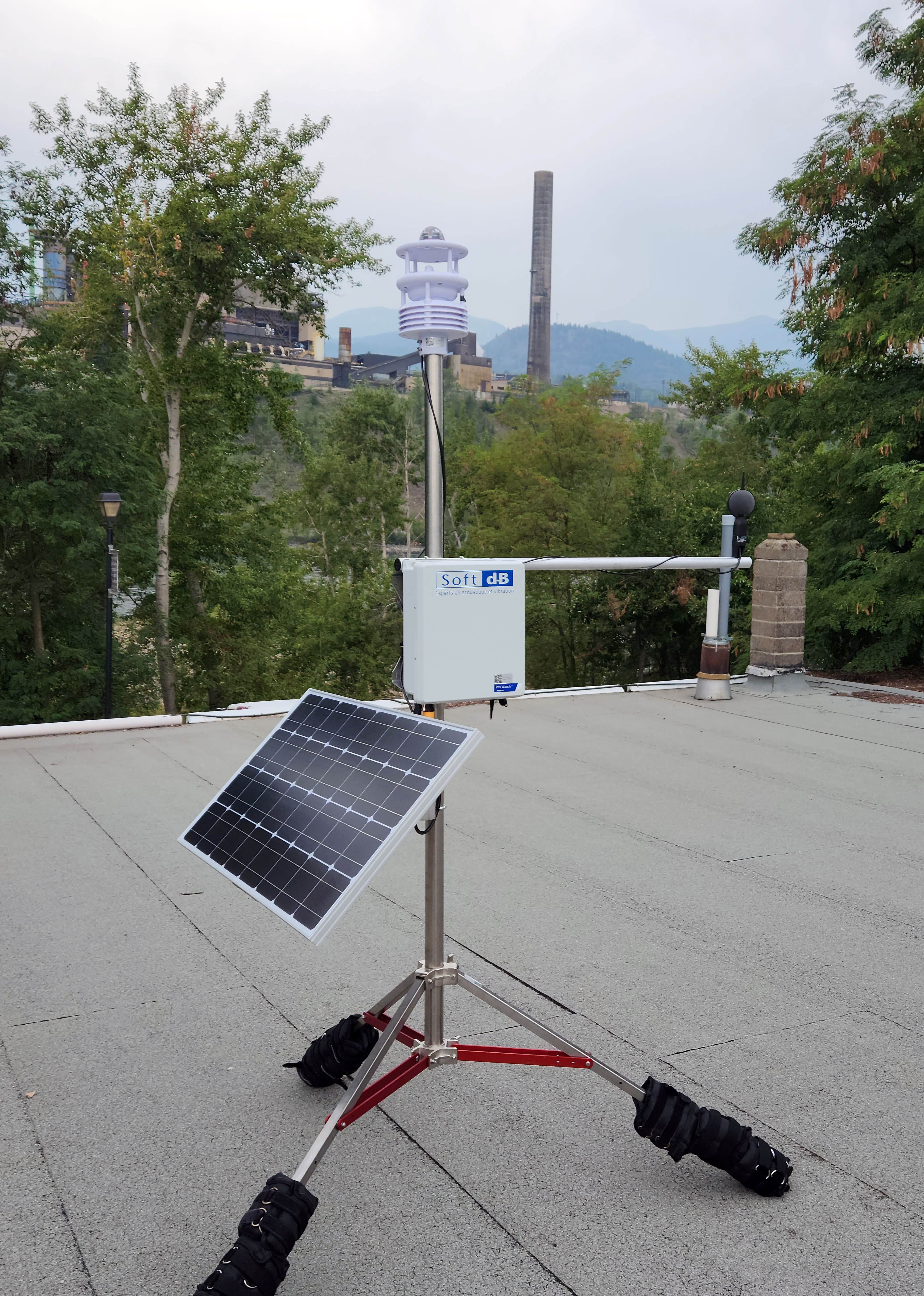 Our automated monitoring solutions are designed to make you forget about them once they are installed, as monitoring and tracking your noise and vibration levels will be so simple.
Noise and Vibration Monitoring Station for the Construction and Industrial Sectors
For Fast & Informed Business Decisions, Wherever You Are
When it comes to ensuring compliance with noise and vibration regulations, enhancing the public acceptance of your construction operations, addressing noise complaints, fostering positive community relationships, monitoring the condition and integrity of infrastructure, or even ensuring the safety and well-being of your workers, put your trust in our high-performance noise and vibration monitoring solution, the Soft dB Watch monitoring station. Developed by our world-class R&D team, the Watch monitoring station makes it easy to measure and monitor your noise and/or vibration levels continuously, in real time and remotely. It's the ideal solution for monitoring your noise and vibration levels, as in the construction and industrial sectors (e.g, bridges, tunnels), regardless of the project complexity and duration. You gain access to all the acoustic and vibration data required to make rapid, well-informed decisions about your operations, no matter where you are.
Environmental Monitoring Sensors for the Watch Monitoring Station
Up to 3 Types of Sensors Connected Simultaneously
The Watch noise and vibration monitoring station allows you to simultaneously connect up to 3 different types of sensors. This capability enables you to respond more effectively to the unique requirements of your project.

Vibration and Air Overpressure Sensors
Triaxial seismographs
Overpressure microphone
Compliant with ISEE, DIN, etc.
PPV, PVS RMS
Octave, 1/3 octave
Complies with several international standards and regulations directive (Directive 019, DIN 4150-3, USBM, RI-8507, DIN 4150-2 KB RMS, ISEE Seismograph, Toronto, etc.)

Perfect For:
Blasting, construction sites, road and rail traffic, microseismicity, and more.

Soft dB Exclusive Feature
Receive automated summary reports after blasting, 

thanks to the Master Trigger™.

Noise Sensors
Class 1 sound level meter
Meets the highest measurement standards (IEC 61672-1/ANSI S1.4 Class 1, etc.).
Complies with several international regulations (Ni98-01, Npc300, Directive 038, Directive 019, BC Oil and Gas Commission, RCS, MTQ construction sites, Toronto bylaw, etc.)
Frequency weighting: dBA, dBC, dBZ, LN%.
Real-time analysis by octave band, 1/3 octave, FFT, LAftm5

Soft dB Exclusive Feature
Continuous audio frame recordings for replaying critical periods, even if your thresholds have not been exceeded.

This feature is essential for managing noise complaints in the community effectively.

Weather Sensors
Temperature
Wind speed and direction 
Barometric pressure
Precipitation
Humidity

Why Measure Weather Conditions Alongside Noise Levels?
Most regulations mandate specific weather conditions for sound data to be deemed valid. Additionally, some of these conditions, like wind and rain, can themselves generate noise. By measuring both weather and noise levels with the same station, the analysis, data filtering, and alarm management processes are simplified and expedited.
Both a Class 1 Noise Monitoring Station And a Vibration Monitoring Station
We Adapt to Your Needs, Not the Other Way Around
Do your projects evolve? No need to change stations and suppliers; simply add or remove sensors to your Watch monitoring station.
The best part: all your collected data is accessible in real-time, continuously, and remotely through a single Soft dB Web interface, simplifying data comparison... and streamlining your daily routine!
Your Advantages With the Watch Station for Monitoring Noise and Vibration Levels
Noise & Vibration Measured Simultaneously
Save Time, Money and Efficiency
With the Watch measuring station, monitor your vibration and sound levels simultaneously, with exceptional performance. A complete, high-quality hybrid environmental solution with Class 1 sound level meter, at a competitive price.
Get the best of both worlds: vibration and acoustic expertise from a single station.
Combine your sound and vibration

data to facilitate simultaneous comparison.

Gain greater flexibility

in the information obtained.

Work with a single supplier

in your chain of operations.

Eliminate the middleman.

Dealing directly with Soft dB as the manufacturer ensures you the best prices.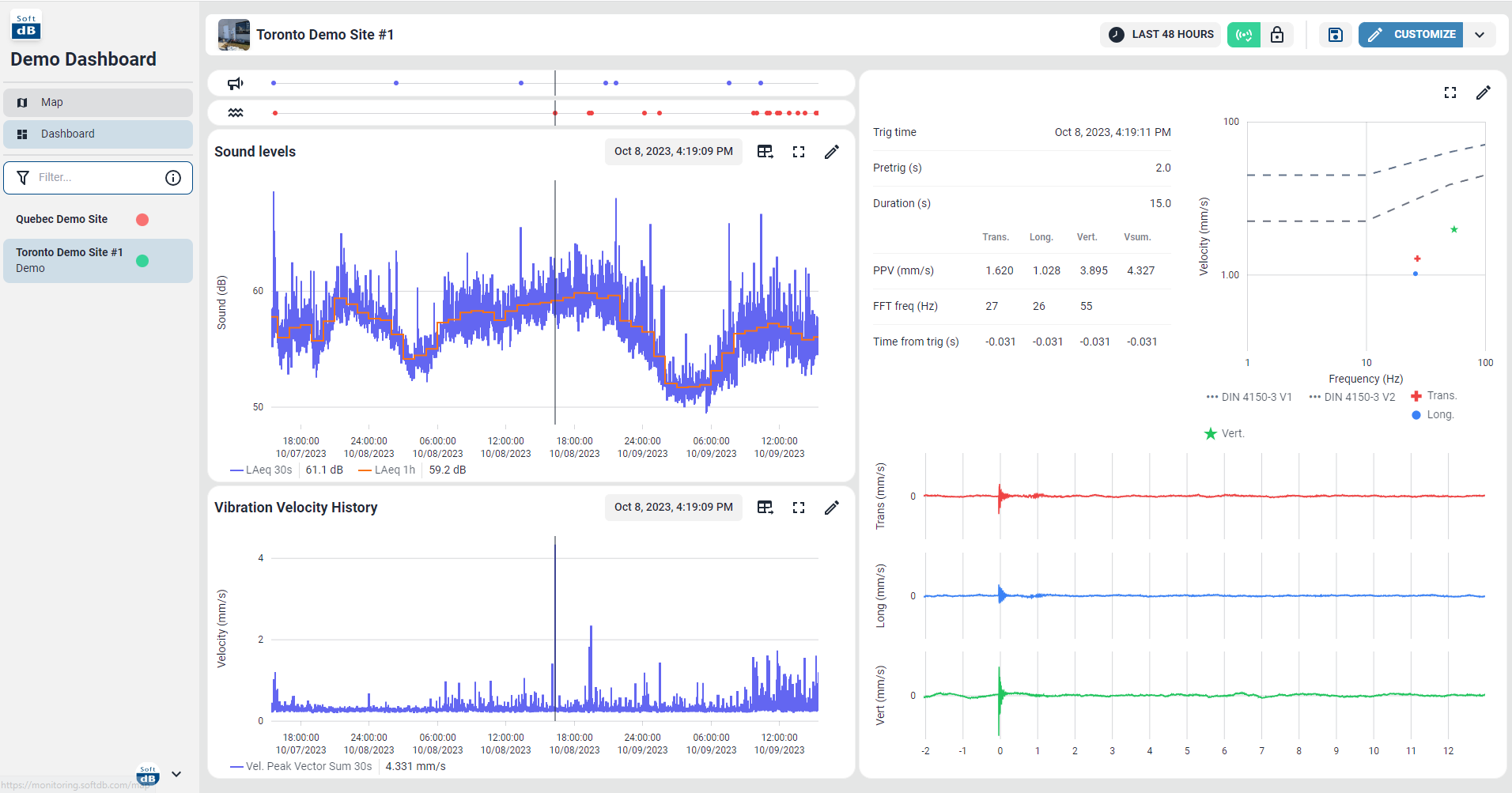 Continuous Audio Recording
Continue Your Construction Work Without Interruption
Your noise and vibration levels have led to a complaint or non-compliance? Continuous audio recording is essential to maintaining positive relations with the neighboring community. With uninterrupted sound frames, you can listen back to activities that were audible at the exact moment when the complaint occurred, even without having received a threshold violation alarm.
Can't afford to manage a site closure?
So you can't afford to measure audio intermittently.
Identify which equipment or activities triggered a complaint at the precise moment.
Verify if it's genuinely your site that's responsible.
Take immediate action. When it comes to noise and vibration issues, our experts are available to assist you with practical solutions.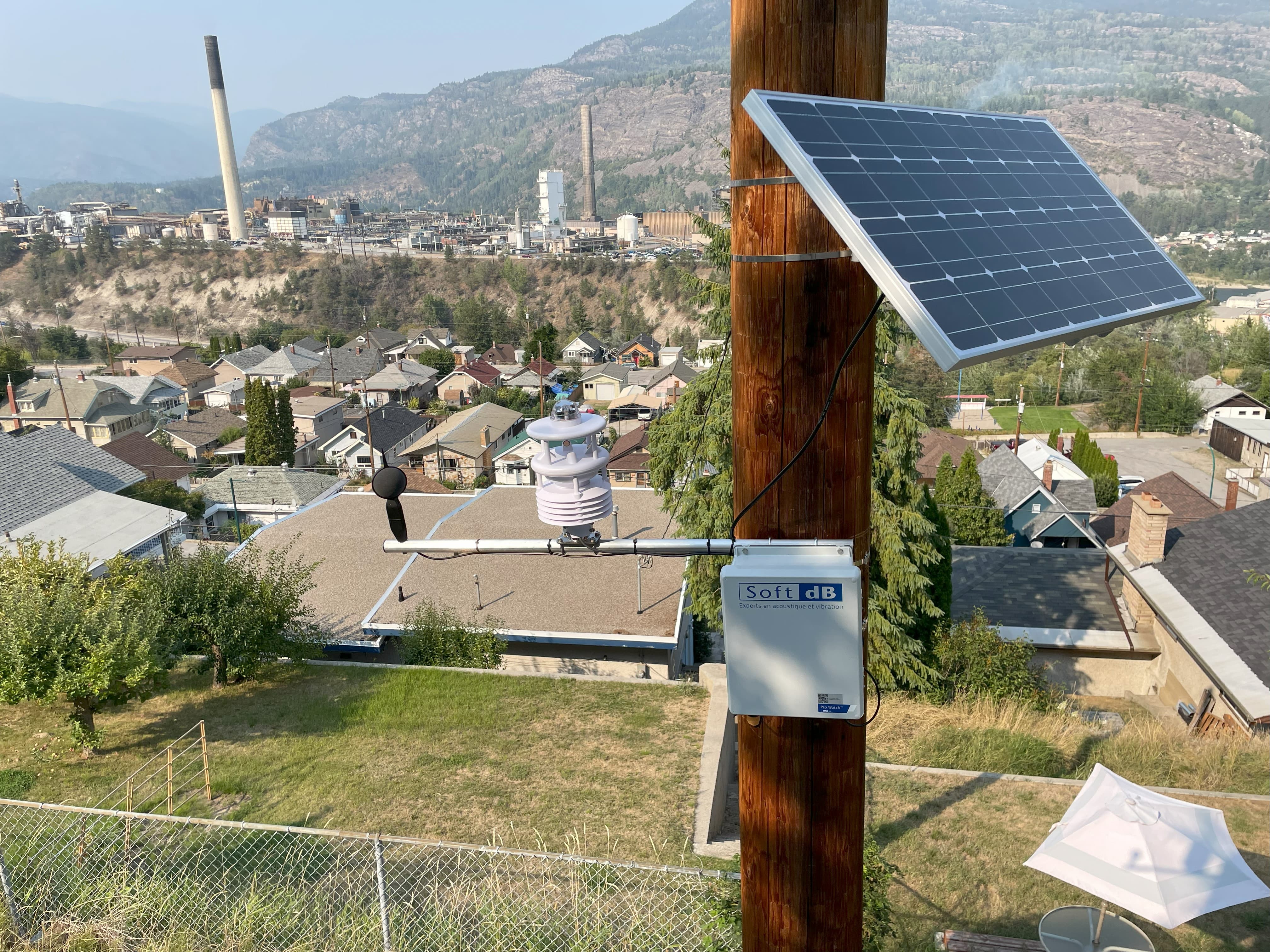 Automated Reports Within Minutes of Blasting
Optimize Your Time and Increase Your Efficiency Tenfold With the Master Trigger™
Don't waste any more time writing reports after blasting. With Soft dB's patented intelligent Master Trigger™ feature, everything is now automated.
Our algorithm collects real-time data from each station and generates a comprehensive summary report of your monitoring network in just a few minutes.
No more need to invest time and money in eliminating false positives or manually preparing reports.
Benefit from Soft dB's expertise today.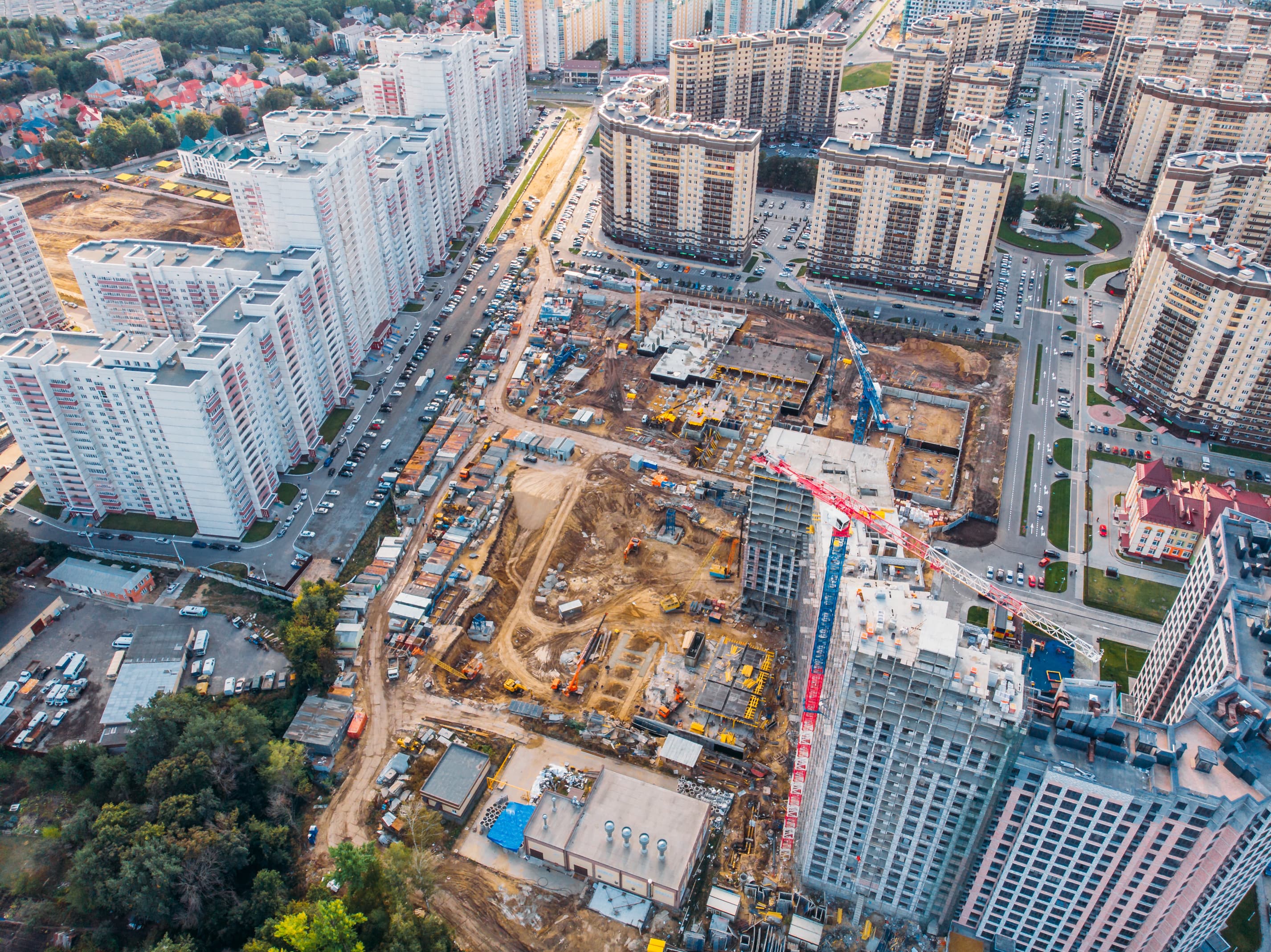 Concentrated Performance Without Compromising on Size
Robust

: withstands extreme environmental conditions (including very high and low temperatures).

Long battery life

: the off-circuit battery captures excess solar energy from photovoltaic panels.

Unrivalled performance

: Soft dB's cutting-edge expertise in real-time data processing and analysis, initially developed in the mining sector, is now applied to the Watch monitoring station, ensuring that this expertise also benefits construction sites.
Precise, uninterrupted data with Class 1 microphone, measured simultaneously

Easy to use

Easy to install and transport

Competitive prices

Compliant with numerous industry standards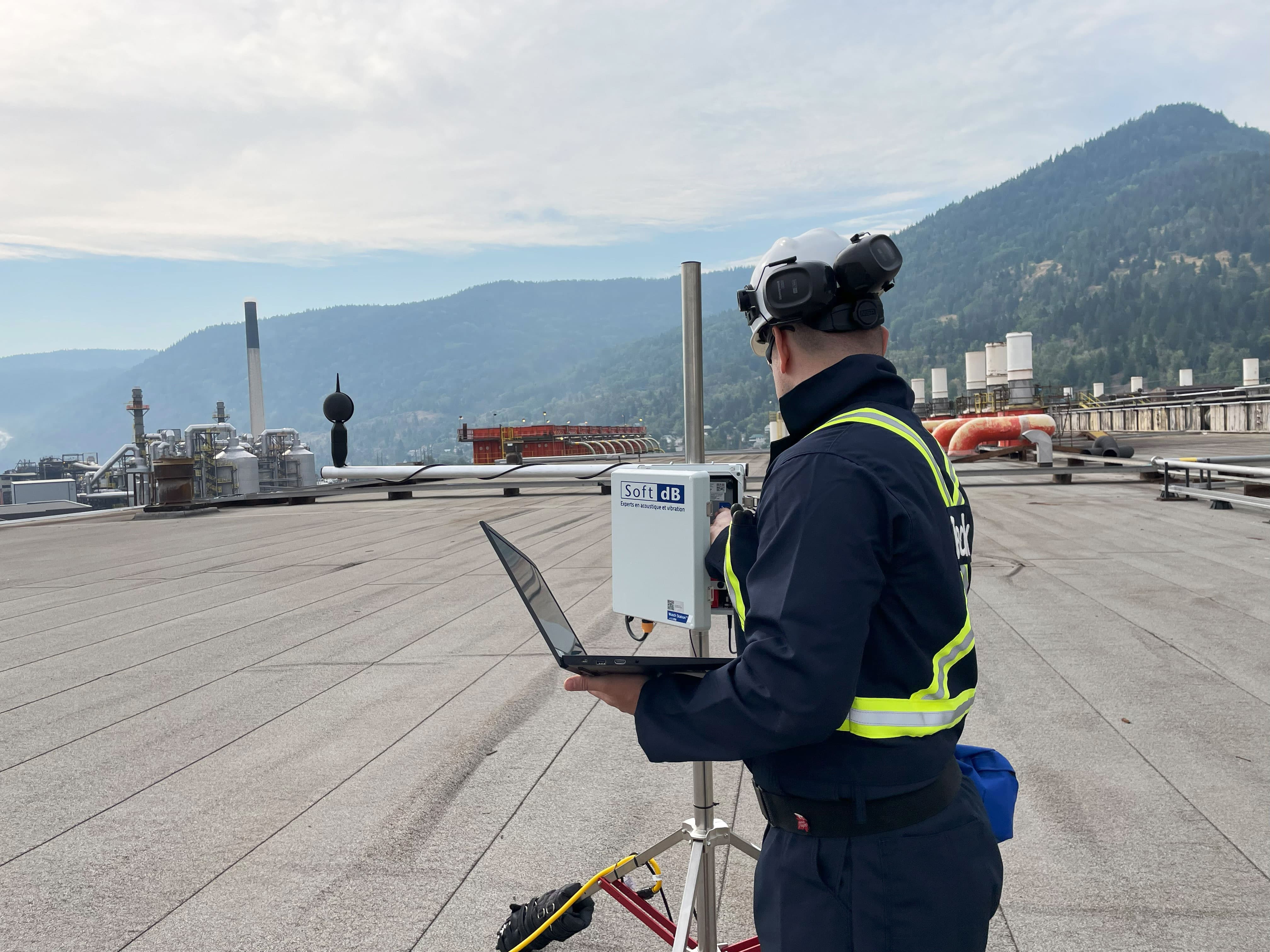 Always Achieve More With Soft dB Monitoring Solutions
Acoustics and Vibration Expertise
Technical assistance and expertise in acoustics and vibration available on request.

Noise management program
Noise control program
Acoustics monitoring plan
Vibration monitoring plan
Mitigation measures
And much more! Consult with our experts.

Over-the-air (OTA) updates

. Soft dB keeps your stations up to date remotely, with no intervention required on your part. It's entirely automated!

Access the latest technology for equipment

that's alway state-of-the-art, with no need for replacement.
High-Performance Web Monitoring Platform
Real-time access to your data from the Soft dB Web monitoring platform: configure various types of personalized alerts for multiple stakeholders, customizable reports to monitor your data in real time, remotely, continuously, and more.
Automated and configurable alerts (SMS, email) and reports.
Utilize advanced signal processing and data analysis tools.
Benefit from intelligent, patented Soft dB vibration and noise technologies for automated post-processing of your data. Find out more about our AI tool for noise monitoring.
Supplied Accessories for a Successful Installation
Robust cabinet
Sturdy tripod
Solar panels with support for unlimited power supply
High-capacity battery
Housing bracket
Tripod weight
Anchoring systems
 
By working directly with

Soft dB as the manufacturer

, you can be confident that you'll have all the necessary equipment and technologies for your noise and vibration monitoring projects.
Business Sectors and Projects
The Watch noise and vibration monitoring station is ideal for all sectors of activity that monitor their noise and/or vibration levels over short to medium durations. This includes projects in construction sites, infrastructure, urban areas, and heavy industry.
How Do Soft dB Environmental Noise and Vibration Solutions Work?
Our monitoring stations, such as the Watch Soft dB Class 1 noise and vibration monitoring station, are deployed at strategic locations to collect data using sound, vibration, air overpressure and/or meteorological sensors. This environmental data, measured by the sensors and collected by the stations, is then transmitted in real time via 4G/LTE network to our Web Cloud server, where it is securely stored. The Soft dB Web platform communicates with the Cloud server, enabling you to access your environmental parameters remotely, in real time, 24/7.
So, via the Soft dB web platform, it's very easy to set up notifications that are sent to you by text message or email as soon as the sensors and station measure a risk of exceeding your data, for example. And you receive automated log reports to keep you up to date with observed contaminants.
Choose a Solution. Not Just Hardware.
Choose more than just hardware; opt for a comprehensive monitoring solution where noise and vibration levels are never a concern. Choose the Watch Soft dB monitoring station. High performance. Competitive pricing. Durability. Mobility. Energy efficiency. Automated alerts. Customized reports. Real-time, continuous, and remote data access. What more could you ask for?
Request the Watch noise and vibration monitoring station