Learn How Sound Masking Technology Helps Create Better Workspaces
This accredited online course is intended for architects, commercial interior designers, LEED project managers and AV professionals looking to improve the acoustic privacy and comfort of office workers and health care users with the latest sound masking technology.
Achieving Speech Privacy: Practical Applications of Sound Masking in Architectural Design
This course is designed for architects and office designers seeking to enhance their understanding of sound masking and its valuable impact on architectural acoustics.
The presentation covers the fundamental concepts of sound masking and delves into its practical applications to achieve optimal speech privacy and acoustic comfort in various architectural settings. Attendees will gain insights into the benefits of sound masking solutions and how they contribute to creating more productive, comfortable, and confidential workspaces.
Learning Objectives
Develop a comprehensive understanding of sound masking principles and its application in architectural settings to enhance speech privacy and acoustic comfort.
Explore practical techniques for implementing sound masking solutions in various architectural designs, aiming to create more productive and confidential workspaces.
Assess the advantages of sound masking in achieving optimal acoustic conditions, and promoting occupants' well-being.
Gain insights into the effective integration of sound masking technologies into architectural acoustics, ensuring a more comfortable and secure environment for occupants.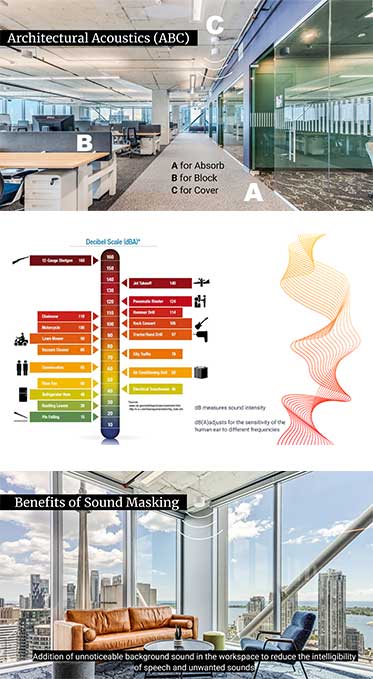 Approved Continuing Education Learning Units
AVIXA:
1 CTS/CTS-D RU (1.0 hour)
GBCI/USGBC:
1 LEED CE (1.0 hour)
IDCEC:
0.1 credit (1.0 hour)
AAA, MAA, OAA, OAQ, SAA:
Structured Learning (1.0 hour)
AIBC:
1 Core LU (1.0 hour)
NARI:
0.1 credit (1.0 hour)
This course is registered with the American Institute of Architects (AIA), Interior Design Continuing Education Council (IDCEC), Green Building Certification Institute (GBCI), Audiovisual and Integrated Experience Association (AVIXA), and the National Association of the Remodeling Industry (NARI) for continuing education credits. IDCEC credits are also accepted by the American Society of Interior Designers (ASID), International Interior Designers Association (IIDA), and Interior Designers of Canada (IDC). Members of The Alberta Association of Architects (AAA), Architectural Institute of British Columbia (AIBC), Manitoba Association of Architects (MAA), Ontario Association of Architects (OAA), Ordre des architectes du Québec (OAQ), and Saskatchewan Association of Architects (SAA) can self-report course completion to earn structured learning units.
Three Easy Ways to Learn About Sound Masking Technology
Office Sound Masking Course Overview
Introduction: the great disconnect in employee wellness
Studies are finding that the majority of employees dislike their work environment despite the ever-popular workplace wellness buzz.
In fact, an extensive international study by IPSOS, a global market research and consulting firm, found that 85% of office workers are dissatisfied with their working environments and have a hard time concentrating on their tasks. This strongly correlates with the fact that open floor plans have become the norm. Afterall, open offices are not only much cheaper to build but also break down silo mentality while encouraging team collaboration in a highly flexible way.
Meanwhile, this opportunity to work more closely with colleagues comes at the cost of less personal space, less oral privacy and more distractions stealing our focus away. So what does the average office worker has to deal with during work hours?
What are some of the most expressed complaints? Too many distractions, not enough privacy.
Office workers lose up to 86 minutes a day due to interruptions. For the most part, these interruptions are caused by loud conversations, ringtones, keyboard clicks, printer noises, mobile notifications etc..
Several studies show the negative impacts of workplace distractions on mental health and… workplace absenteeism.
The correlation between employee well-being and performance is extremely well documented. Meanwhile, what's often overlooked is how some of the key well-being contributing factors strongly depend on acoustics:
Being able to focus on cognitively demanding tasks, distraction-free.
Being comfortable to discuss sensitive information without being overheard across the entire office space.
Being able to collaborate effectively with colleagues on the spot, without disturbing neighboring workstations.
Understanding the basic science behind sound
Vibrations and sound waves: amplitude and frequency
How loud and how quiet some of the noises that surround us really are
Measuring sound levels: Decibel (dB) versus weighted Decibel A (dBA)
What is fragmented noise and why is it detrimental to concentration?
Understanding how sound travels in an office space
Architects and interior designers are increasingly turning to sound masking to override sounds that can't be absorbed or blocked by common design elements such as carpeting, acoustical wall panels, ceiling panels or partitions. They are also finding that sound masking significantly reduces the need for plenum barriers, insulation, and extra drywall layers in closed offices.
How does sound propagation influence the way you build?
Considering the ABC's of acoustic design: Absorb, Block and Cover
How Cover (C) is the most cost-effective and flexible way to achieve optimal acoustic environment.
Since constructing heavier walls to block noise is expensive, sound masking is the best alternative for achieving proper speech privacy without the need for more soundproofing materials.
What is speech privacy and how is it quantified?
How many times have you overheard conversations in the office? Or better yet, how many times have you felt like others were listening to your conversations? Can the words being spoken inside a closed office be heard outside? How private is your private office?
Quantifying the intelligibility of conversations using the SII index
Assessing the speech privacy provided by a closed room using the SPC index
Understanding Sound Transmission Class (STC)
All areas with an SII index higher than 20% should consider sound masking
Green buildings: how sustainability comes at the expense of acoustics
Post occupancy evaluations conducted by the Center for the Built Environment (CBE) at the University of California, Berkeley revealed that green building acoustics are typically worse than their traditional counterparts. Why is that?
Natural ventilation, day lighting, radiant heating and cooling, lightweight steel frames, etc. all lead to poor architectural acoustics.
Reduced indoor/outdoor sound isolation, and more acoustically reflective surfaces such as glass, wood, and brick mean less opportunities for sound absorption.
Less HVAC noise may be a good thing but it also means that office conversations are more easily overheard.
What is sound masking and how does it work?
Emitting a soft, inconspicuous background sound to make office sound level more uniform and speech less intelligible.
Making undesirable conversations and noisy distractions less audible to improve employee concentration and productivity.
Sound masking VS noise cancelling technology: learning the key differences and limitations.
Where, when, and how sound masking makes a positive impact
In what conditions should sound masking be considered? (minimum privacy levels, minimum background noise levels).
Open and closed offices (Eliminating distractions, Improving focus, Improving error rates/accuracy, Reducing stress).
Hospitals and medical facilities (Enhancing sleep quality of patients, Achieving compliance with HIPAA requirements at a lower cost).
How to integrate sound masking in new office construction and retrofits
Recommended sound absorbing material and ceiling design
Recommended minimum plenum height
Best alternatives when no plenum space or access is available
Calculating the cost and ROI of sound masking
Where to install sound masking speakers in an office space
Understanding the concept of Acoustic Room Response.
Plenum-mounted sound masking speakers VS direct in-ceiling speakers: distinguishing marketing hype from measurable performance.
How to specify and choose the right sound masking system
The advantages of choosing a network-ready system with a fully integrated management software.
How the system's acoustical calibration should always be based on the unique attributes of the individual zones covered.
How adaptive controls are necessary in a dynamic office space where the volume of noisy distractions vary constantly.
How the sound masking volume can automatically self-adjust based on the fluctuating background noise levels.
Why Should You Learn About Sound Masking Technology?
Why should you take this course? It's 100% free and you can take it at your convenience from the comfort of your home. It's also 100% objective as in we're not going to try to sell you our system or anything. We're passionate acoustical engineers first, sound masking system manufacturer and supplier second. Solving noise problems and acoustic privacy issues is all we do and we're best at what we do.
Raising Your Game in Workspace Acoustics
More importantly, this course is an opportunity to raise your game in workspace acoustics while gaining valuable insights into the most advanced sound masking technology available today. So the next time a sales representative or project manager contacts you about office sound masking, you'll not only know exactly what it is, but you'll also master the ins and outs slightly more than them. That's how comprehensive our course really is!
Sound Masking Greatly Improves Workplace Comfort, Acoustic Privacy, and Employee Productivity
In late 2019, Future Workplace and View surveyed 1601 workers to understand which wellness perks mattered to them most and how these perks impacted their productivity. What do you think office workers want more than anything? They want the basics first: better air quality, natural light, and distraction-free rooms where they can comfortably focus on their work.
In fact, noise distractions bothered more than a third of office workers surveyed, negatively impacting their ability to focus on their everyday tasks. Disruptive sounds like phones ringing, typing on keyboards, and conversations among coworkers all significantly impaired their concentration. Sound masking technology is all about helping these office workers. In particular, it's about the following, all too often overlooked, well-being contributing factors:
Being able to concentrate on cognitively demanding tasks and get into flow, distraction-free.
Feeling comfortable discussing private, sensitive information with managers and select teammates without being overheard across the entire office space.
Being able to take and make important phone calls without worrying about disturbing others.
Sound Masking Reduces Office Construction Costs and the Need for More Soundproof Materials
Sound masking can help you achieve more with less. You get more acoustic privacy with less need for plenum barriers, soundproof doors and extra drywall layers. Office construction costs can be reduced by up to $3 per square foot when integrating sound masking technology at the design stage.
Sound masking also helps you achieve better room acoustics without the need to rethink what's already working great in your design, whether in terms of sustainability, flexibility or pure aesthetics. It makes it easier for office workers to concentrate and be more productive without requestioning the open concept workspace, which is here to stay and grow whether we love or hate it.
Sound Masking Makes It Easier and Simpler to Achieve LEED and WELL Acoustic Performance Standards
Both LEED and WELL building standards reward design decisions made about thermal, visual, and acoustic comfort. Under LEED v4.1, projects can earn 2 points toward the Acoustic Performance credit in the EQ section of the Interior Design and Construction rating system (ID+C), and 1 point in the new Building Design and Construction system (BD+C).
Designing for healthcare? Sound masking can help you earn 1 LEED point by achieving superior speech privacy, acoustical comfort of patients, and minimal annoyance from noisy ward equipment.
In all cases, to ensure optimal acoustic privacy and comfort of spaces aiming for certification, both LEED v4.1 and WELL v2 standards not only recommend the use of sound-absorbing materials, but also explicitly encourage the use of sound masking technology. The S06 Minimum Background Sound Feature in WELL v2 outright requires it to earn points.
Sound Masking Plays Well With Office AV Technologies, Fire Alarm Systems and Building Automation Systems
If you're an AV professional with a weak spot for office audio done right—we're talking fully integrated paging, intercom, and ambient music systems performing multi-zone playback with crisp, clear sound across thousands of square feet—then you should learn about today's sound masking systems. Office audio systems and sound masking systems are a match made in heaven. They can actually become one and the same—sharing the same power, cables, and control panels.
In fact, some sound masking systems are so good at handling multi-source/multi-zone playback that they'll have you look upon office paging and ambient music distribution in new exciting ways. Sound masking, by its very nature, is a multi-zone thing. You're into building automation systems? Sound masking done right is also about automating mundane functions, such as power saver mode, signal equalization, and even playback volume adjustments based on space occupancy.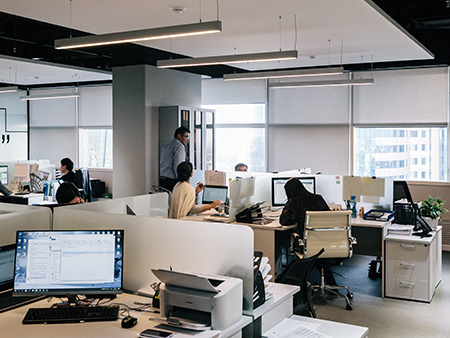 Over 33% of office workers are bothered by noise distractions, negatively impacting their ability to focus on important tasks.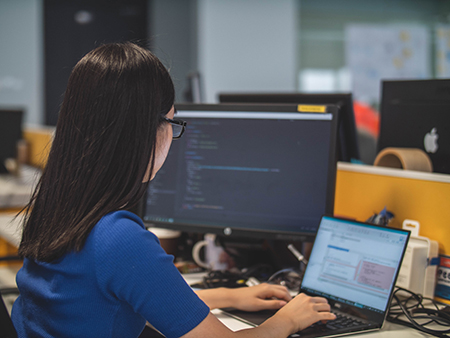 Being able to focus without interruptions is a top priority for employees when asked about their office design.
Don't Need CEUs? Watch Our Video Course Right Here
Learn about sound masking on your own terms, no registration and personal information needed, by watching the complete video course right here. You will not earn the course's CEU credit, but you'll definitely learn something of value for you as a professional and your clients. Is sound masking the right solution for achieving better acoustical privacy and comfort in your facilities? Let's find out today!
Need Help to Successfully Integrate Sound Masking Technology in Your Future Space Projects?
If one of your goals is to make your clients' space—be it a vibrant corporate office aiming for LEED and WELL certifications, a hospital's intensive care unit, or the city's new public library—more acoustically comfortable and private while keeping construction and soundproofing costs to a minimum, we should talk.
Tell us about your project