Office Sound Masking System
Sound Masking Application Software
Developed with touchscreens in mind, our system management software integrates the design, commissioning, and daily operations stages of sound masking in a simple graphical interface. Your entire sound masking system, however big or small, is literally at your fingertips.
View system specifications
Your Entire Sound Masking System at Your Fingertips
The perfect sound masking system is not just about providing greater speech privacy and acoustic comfort to office workers. It's also about empowering end-users to make the most of this technology through simple interactive controls and visually-rich graphical interfaces. Adjusting the sound masking and/or background music volume in a specific office area should be made easy for any occupant, regardless of skill level. Similarly, setting volume levels to automatically increase or decrease during scheduled times should be a simple process for anyone in charge. However large or small the sound masking system, it should be centrally manageable with all key components and parameters at your fingertips.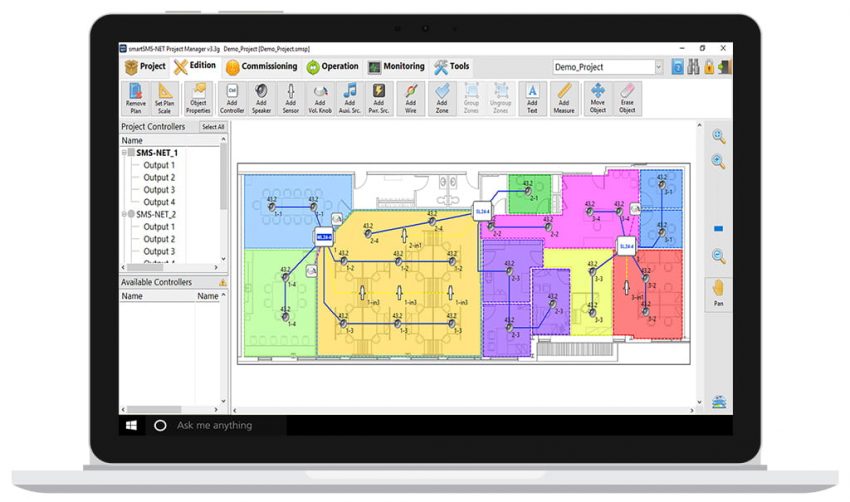 Sound Masking System Management Software
You like to keep things simple? So do we. Our dedicated system management software fully integrates your sound masking system design, zoning, calibration and daily operation stages in one convenient place. Regardless of how big and complex your sound masking installation, our software makes it easy to view, access and control each individual speaker or group of loudspeakers through a simple graphical user interface. Compatible with Microsoft Windows-based computers, laptops and tablets, this full-featured software is designed to leverage your device's interactive touch screen display, making your sound masking project management even more intuitive.
Place controllers, speakers, zones and wiring schematic directly on your office layout
Calibrate, equalize and fine-tune your entire sound masking system all through one convenient interface
Perform periodic system monitoring and self-diagnosis to ensure that all sound masking components are running smoothly
Convert sound masking project files into simple end-user control panels for everyday volume and EQ adjustments
A Single Interface to Manage Everything From Sound Masking Speaker Placement and Zoning to System Commissioning, Calibration and Quick Adjustments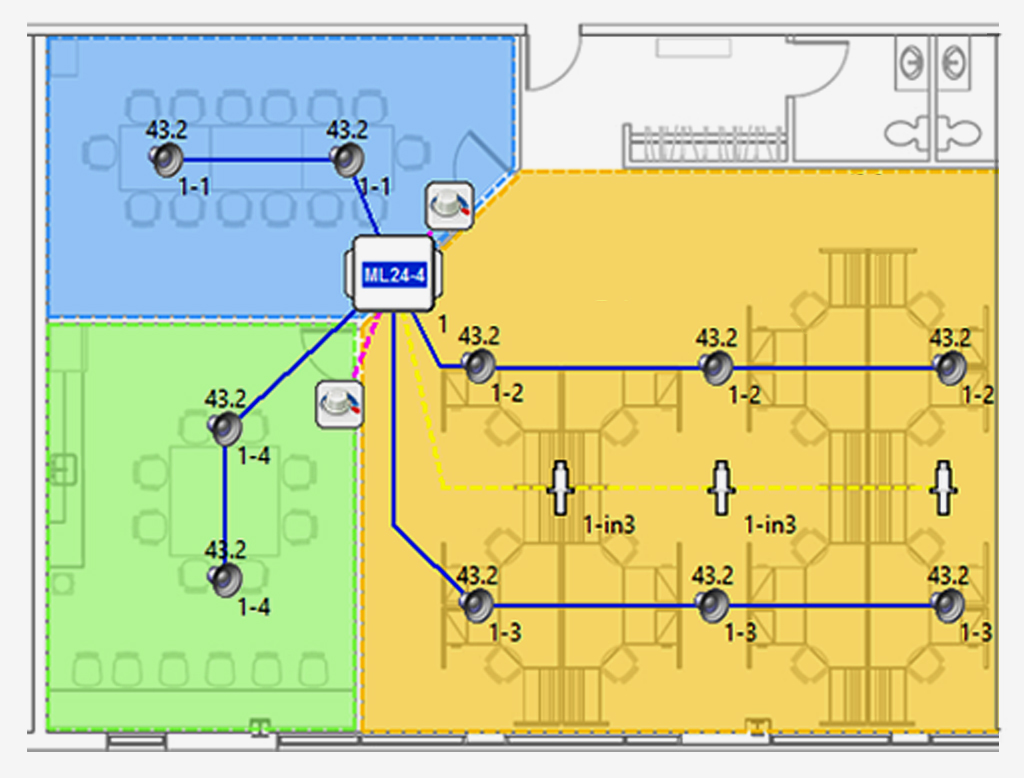 Design Your Sound Masking System Based on Your Office Layout
Import your office plan in PDF, JPG, BMP or PNG format, set it to scale, divide it into zones, and visually build your sound masking system by placing controllers, loudspeakers, sensors, volume knobs, auxilliary input and wiring diagram directly over your office layout. The software then lets you analyze each office zone for proper sound masking coverage.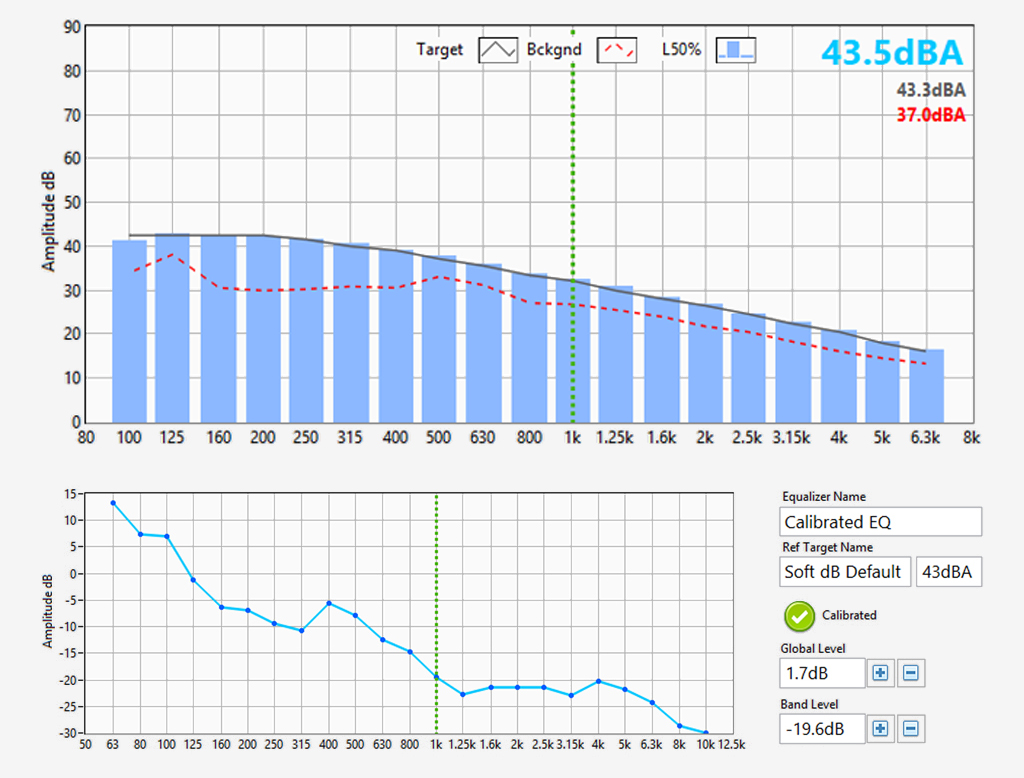 Automatically Calibrate & Equalize Your Entire System Within Minutes
Automatically calibrate your entire system based on the desired sound masking spectrum in a matter of minutes, whether it's specified by your own acoustician or selected from our recommended target curve library. Achieve the perfect sound by fine-tuning the equalizer settings to your taste or choose from our library of predefined equalizers.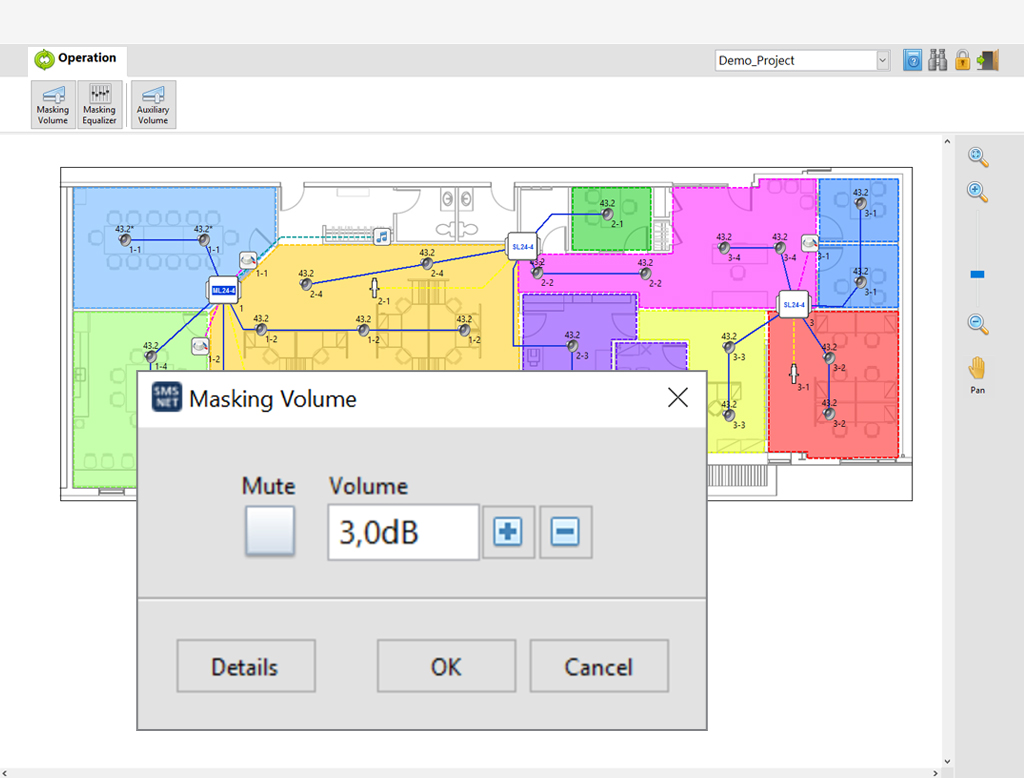 Make Quick Volume/EQ Adjustments and Preschedule Volume Changes
You can lock your project and convert it into a simple control panel giving end-users access to basic volume and equalizer settings for specific office zones or loudspeaker groups. You can also use the scheduling feature to automatically set the sound masking and/or background music volume to increase or decrease on select hours of a day or specific days of the week.
Mobile Volume Application
Office occupants can carry their own volume control with them at all times. Our user-friendly mobile app makes it easy to adjust the masking, paging and/or background music volume, for select zones within your workspace, straight from any Android or Apple smartphone.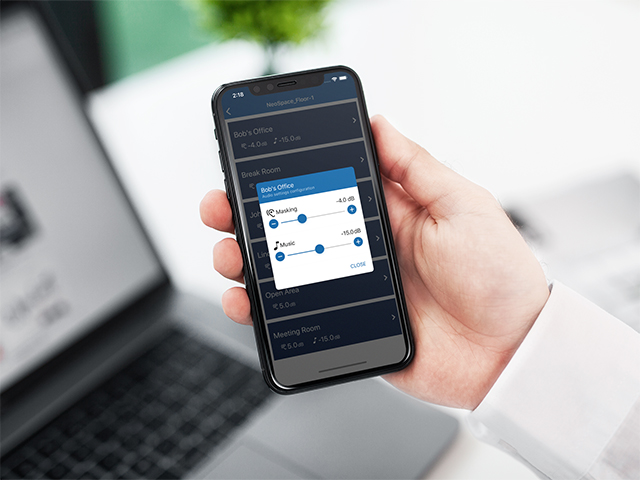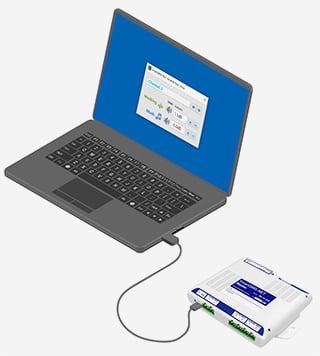 USB Volume Control Application
Adjusting your office sound masking system volume can be done by simply connecting any Soft dB controller to your computer's USB port. The USB volume application automatically detects the connected controller and lets you control the sound masking, paging and/or background music volume for select office zones through a very simple graphical interface.
Crestron System Integration
Soft dB sound masking system can communicate with your Crestron Building Management System. This simple integration enables any Crestron 3-Series® control processor to adjust sound masking volume levels and receive real-time volume feedbacks as well as useful hardware and software information.
Sound Masking System Components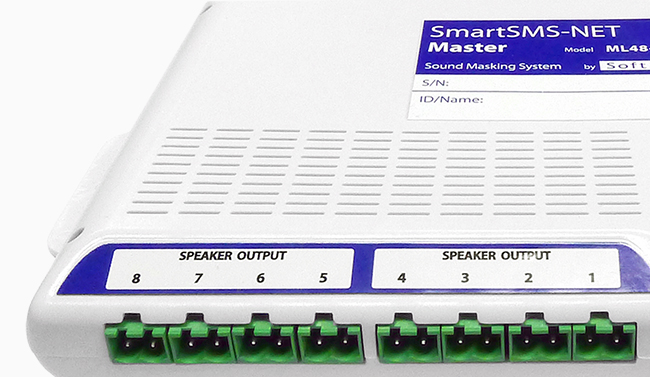 Multizone Sound Masking Controllers
Controllers are the brains of our sound masking system. They communicate with each other and generate the perfect broadband sound signal, ensuring that each speaker group emits just the right amount of masking sound across the select office zones covered. They're also powerful multi-input amplifiers that can handle paging and ambient music channels.
Learn more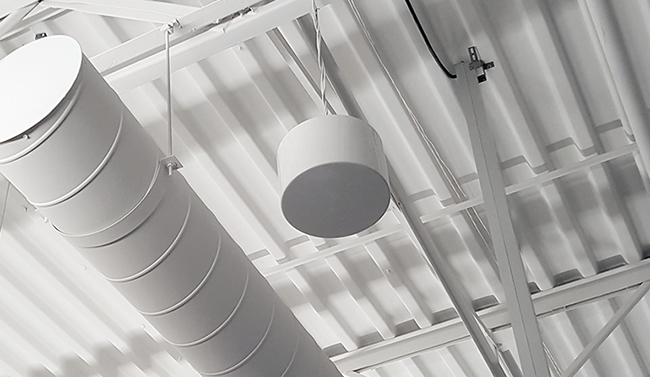 Sound Masking Speakers
Whether they're installed in the plenum space, hidden under raised access floors, or hung gracefully in exposed ceilings, our speakers are specially engineered to emit a soft and diffused sound without any variations in intensity anywhere. Regardless of room finishes and acoustic response, they deliver smooth sound masking and crisp, clear voice paging.
Learn more
We Make Sound Masking Simpler Than Ever to Implement Anywhere
Nevermind those antiquated white and pink noise systems requiring frequent trips to your office's electrical room and calls to your IT department for even minor adjustments. Let us show you a sound masking system designed with convenience in mind—one that you can either confidently set-and-forget or easily control from wherever you are.
Tell us about your project