Why Choose Soft dB Sound Masking?
Sound masking is about improving acoustic privacy and comfort in workspaces and healthcare facilities alike, so it only makes sense to rely on a science-backed technology developed by acoustical engineers—and trusted by design and building practitioners around the world.
Get the brochure
What Makes a Good Sound Masking Supplier?
When the goal is to deliver a workspace atmosphere that optimizes focus and promotes productivity while ensuring employee privacy and comfort, there are key differentiators that you should look for when choosing the right sound masking system supplier.
Actively Engaged in Acoustics Research
Firstly, the supplier you are looking for should be serious, dedicated and strongly involved in acoustics research and sound masking. We have been driving innovations in acoustical engineering, active noise control and sound masking technology for over 25 years. We're the only company employing such a large number of PhDs and acoustical engineers, pooling their accumulated knowledge and collective know-how to solve architectural, environmental and industrial noise problems for organizations of all shapes and sizes. Dealing with noise is all we do and we're best at what we do.
Soft dB is an active member of the ASTM E33 Building and Environmental Acoustics and ASTM E33.02 Speech Privacy technical committees, where our acoustical engineers continuously contribute to the development of international standards and best practices for the effective implementation of sound masking systems. We believe that having a set of standardized performance standards for sound masking helps eliminate the guesswork out of achieving the desired level of acoustic privacy and comfort in today's ever-evolving workplace.
Concrete Innovations in Sound Masking Technology
Secondly, the sound masking supplier should bring tangible technological innovations to the fields of sound masking and architectural acoustics in general. Soft dB is a recognized global leader in technical innovations in sound masking and has multiple patents proving it. In particular, our patented adaptive volume adjustment system identifies variations in ambient noise in real-time, from signals supplied by sound level sensors installed in the ceiling of the work space. And thanks to an advanced signal-processing technology, it automatically adjusts the masking volume based on the intensity of conversations and other noise distractions across the office space.
Flexibility, Adaptability, Scalability and Usability
We all know that the modern office space comes in a variety of layouts, from open plan concepts to closed offices and hybrid, activity-based workplaces. Each workspace integrates diverse interior design trends and materials such as exposed ceilings, movable glass walls, sliding doors, skylights, acoustic tiles or clouds, etc.. Your sound masking supplier has to offer a very flexible system that seamlessly integrates and scales with your existing infrastructures, all while providing better acoustic privacy and optimal comfort throughout the day. There isn't much room for error when ensuring that such system blends in the workspace design and ever-changing soundscape, performing its function unnoticed. We understand this challenge more than anyone.
What Sets Our Sound Masking System Apart?
Automatic Sound Masking Spectrum Tuning & Calibration
Our system's patented automatic equalization process takes into consideration each room's unique design attributes and acoustic response to generate a smooth sound masking signal that blends in perfectly with its sonic environment.
Self-Adjusting Sound Masking Volume Based on Office Noise Levels
Sound masking volume is never too loud nor too weak, but always just right for optimal acoustic privacy. It automatically goes up as the office gets busier, noisier and back down to minimum recommended level as things become quieter.
Network-Ready Sound Masking & Independent Zone Control
Wired or wireless, Soft dB smart controller units can simultaneously distribute sound masking, public announcements, and ambient music to multiple independently managed office zones, however big or small, across entire buildings.
We Understand That Each Workspace Is Unique
As experts in the science of sound, one of our missions is providing facilities managers, workspace design professionals and office builders with the most advanced yet simple sound masking technology to significantly improve the acoustic privacy and comfort of occupants—without disrupting what's already working well in terms of efficiency, sustainability and aesthetics. We believe that today's sound masking technology should be as discreet as it is flexible, and we take pride in making sure that our sound masking systems self-adapt to and complement the spaces they cover, never the other way around.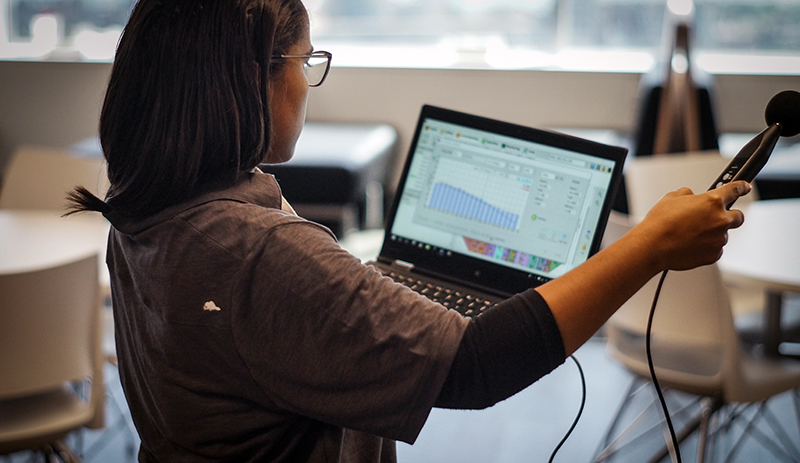 System Calibration Based on Your Workspace's Unique Conditions
A wide range of factors such as room size, ceiling type, wall coverings, and furniture have a direct influence on the propagation of sound masking. If the system is not properly calibrated based on the unique attributes of the space it covers, it becomes ineffective at best, irritating at worst.
Optimal Sound Masking Everywhere, at All Times
Our sound masking system's automated equalization process uses small sensors to measure the room's acoustic response and background noise levels. Based on this data, it automatically figures out the ideal frequency spectrum needed to generate a soft, uniform sound masking layer that room occupants barely notice except for the relief it provides.
Learn more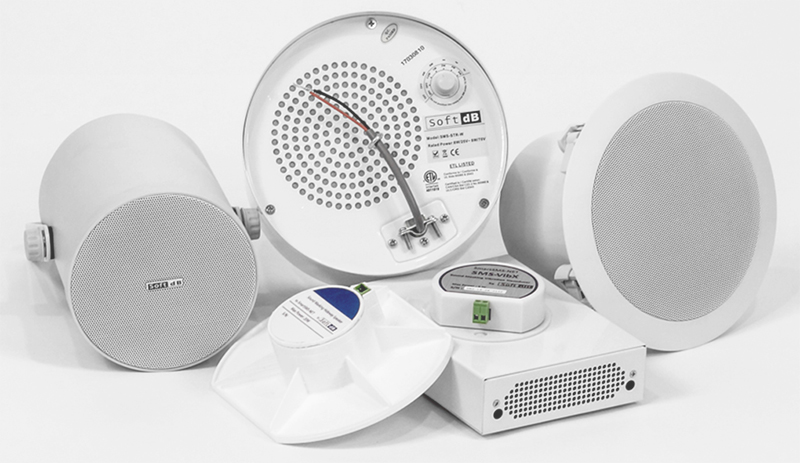 The Perfect Sound Masking Speaker Model for Every Situation
Good sound masking can't happen without the perfect signal and loudspeaker combination to diffuse it throughout the space. Our speakers can be installed virtually anywhere: hung from an exposed ceiling, in the plenum, mounted onto the ceiling tiles, or hidden behind office partitions.
Superior Acoustic Performance Meets Aesthetics
Our engineers have developed this wide variety of specialized loudspeakers to allow for sound masking system installations that blend in seamlessly with any interior design. However simple or complex your workspace layout, our speakers are all designed to output a remarkably smooth and diffuse masking sound, gracefully integrated into the areas they cover.
Learn more
Are Office Distractions and Lack of Privacy Affecting Your Employee Morale and Productivity?
The right sound masking technology can help you deliver the kind of working environment and soundscape that make people feel better, be better. Whether you're creating a new facility from scratch—be it a corporate office, a public library, or a hospital—or retrofitting existing spaces, we can't wait to work together on your next project and let you experience the Soft dB difference for yourself.
Tell us about your project