Acoustics & Vibrations
Acoustical Consulting Projects
Explore some of the most memorable projects our acoustical engineers have worked on all across Canada. Just as each of our consulting clients is unique, so too is our problem-solving approach to noise and vibrations. The common denominator: clear, science-backed, actionable recommendations leading to concrete, cost-effective results.
We Keep Noise & Vibrations Under Control Across All Sectors
Wherever noise and vibrations present potential challenges—be it a construction site in the middle of a residential area, an open-cast mine under strict environmental regulations, a green-certified hybrid office space lacking sonic privacy, or a school looking to improve classroom acoustics and achieve better speech intelligibility for students—our engineers can make a real difference.
Sure enough, acoustical engineering is a vast and complex field. Navigating through multiple concurrent environmental regulations, noise bylaws, and stringent building acoustics standards can be confusing, even for the most seasoned professionals out there. Our clients, many of which are repeat clients, all have this in common: the determination to protect the safety and comfort of their employees and community. But at the same time, the need to stay focused on what they do best. We take pride in ensuring that noise and vibrations remain one less thing for them to worry about.
Environmental Noise Control & Regulatory Compliance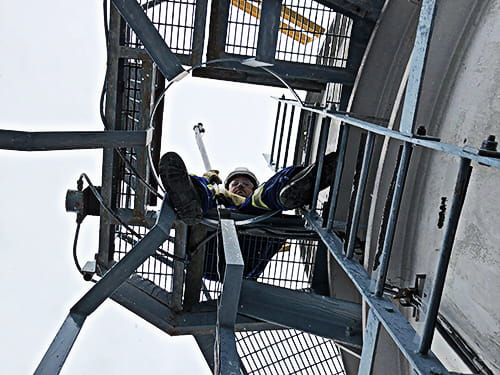 Alcoa–Hatch Northeast Alliance
Noise study and recommendations for the selection of silencers aiming to reduce the noise levels of exhaust fans in a gas treatment plant.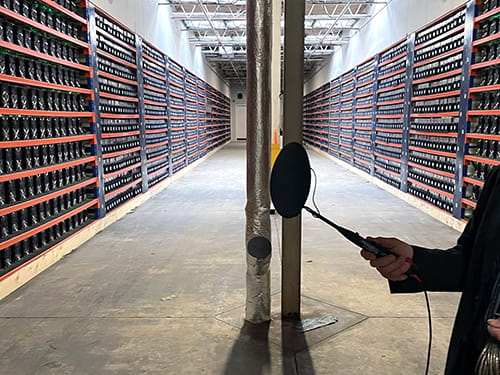 Bitfarms Data Centers
Project conducted to verify the theoretical noise compliance of a future data processing center destined for cryptocurrency mining.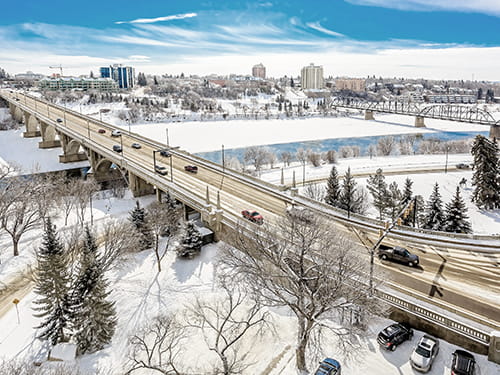 City of Saskatoon
Road traffic noise survey including regulatory compliance review, acoustic measurements, and vehicle noise mitigation strategy.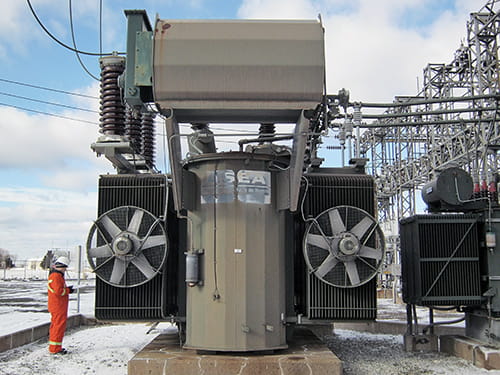 Hydro-Québec Power Plants
Electrical substation noise studies, equipment noise measurements and advanced acoustic simulations using the SoundPLAN software.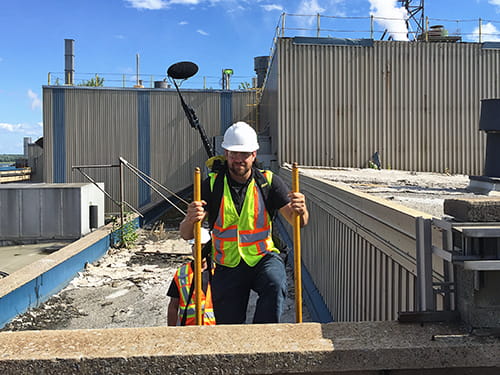 Kruger Paper Plants
Plant-wide noise survey, noise mitigation strategy, and soundproofing work on heavy equipment exceeding regulatory noise levels.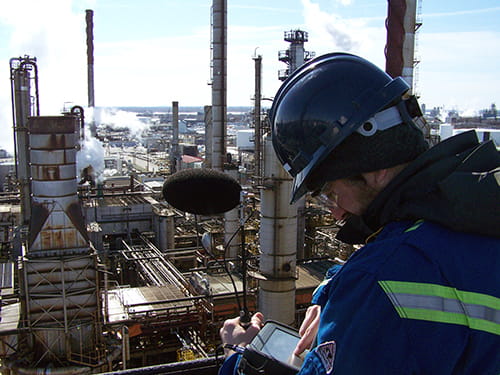 Suncor Montreal Refinery
Noise law compliance survey and abatement strategy to minimize the refinery's sonic impact on the surrounding neighborhoods.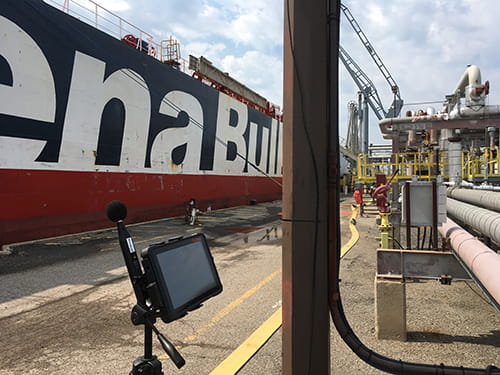 Suncor Montreal East Terminal
Evaluation of noise levels generated by the unloading dock operations and identification of excessive noise sources to be mitigated.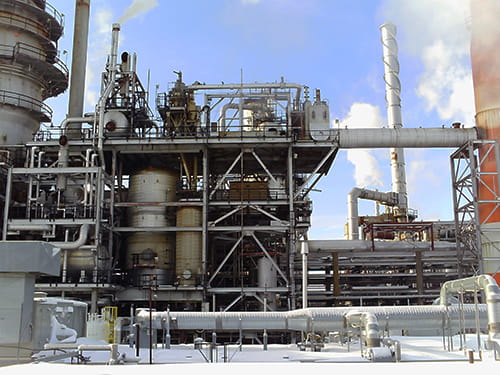 Valero Jean Gaulin Refinery
Theoretical noise impact assessment aimed at predicting noise levels generated by pumping operations on new crude oil tankers.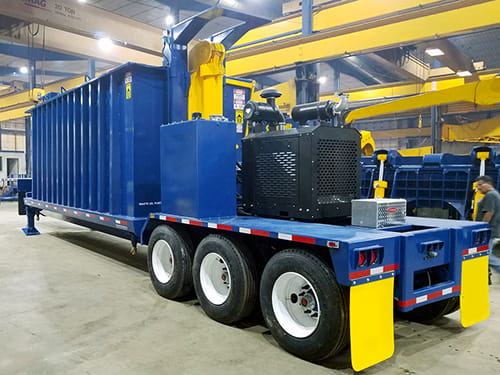 AIM Kingston
Noise Impact Assessment on the environmental noise impact prediction for the installation of a car crusher in a new auto recycling facility.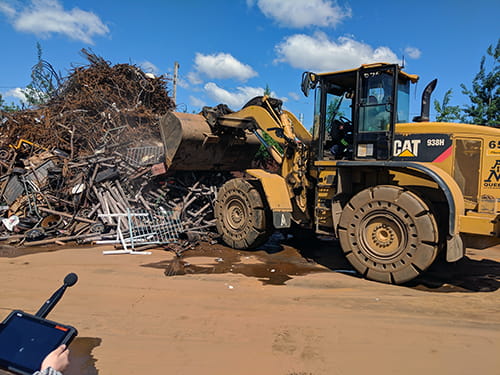 AIM Victoriaville
Community noise survey and noise law compliance assessment based on provincial regulations and municipal noise standards.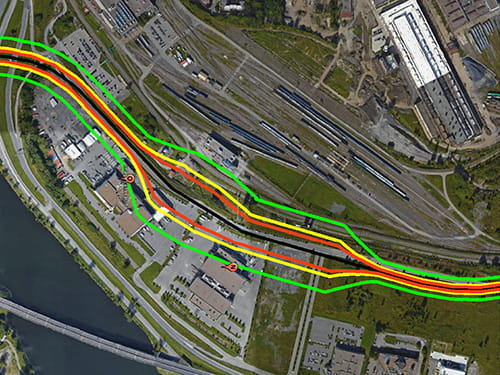 CIMA+ // Montreal LRT Project
Modeling of the vibratory contribution of a light rail transit system for a public transit project located in the A10/Downtown Montreal axis.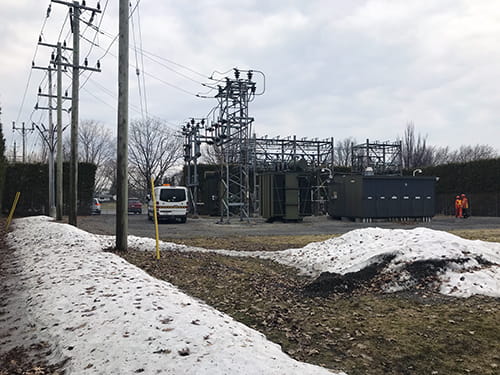 CIMA+ // Hydro Ottawa Substation
Noise impact assessment prior to installing new power transformers in an electric substation located at the heart of a residential area.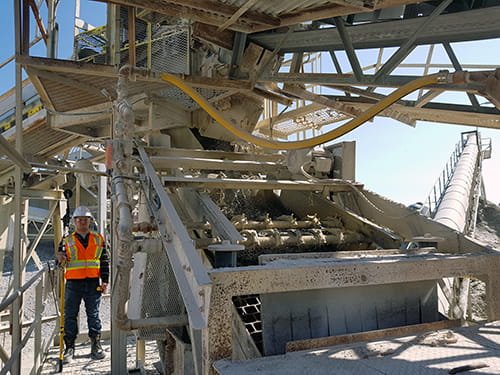 Graymont Lime Production Facility
Update of the Harmonie project noise impact study and proposal of measures to be deployed to prevent exceedance of the noise criteria.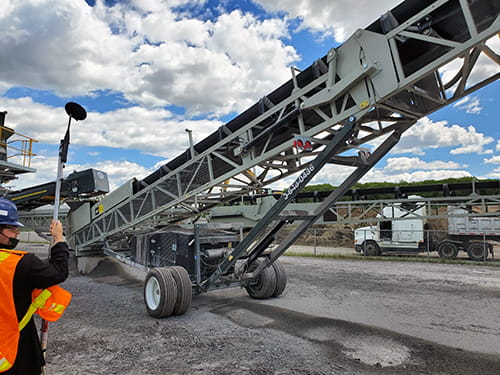 Nexus Construction
Noise impact study of a new rock crushing site including advanced noise level measurements in the surrounding residential areas.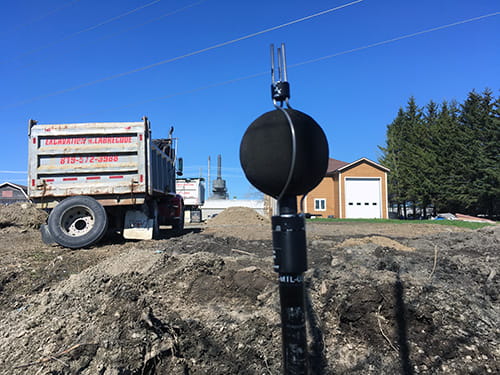 Animat Rubber Flooring Plant
Conduct an update of a noise conformity study and propose an action plan to in order to ensure compliance with provincial regulations.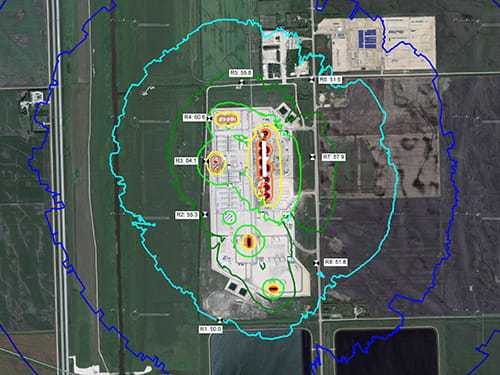 BBA // Manitoba Hydro Substation
Noise impact study and simulation of sound propagation for the installation of synchronous condensers in an electrical substation.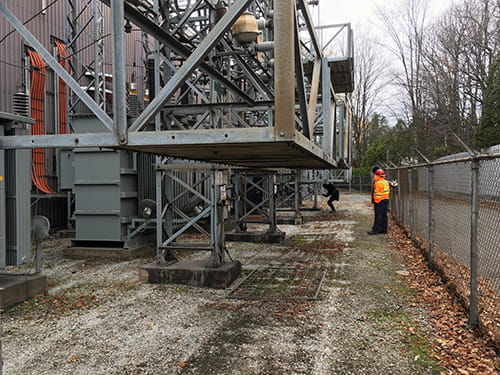 Magotteaux Group
Community noise compliance study of the plant's substation, including advanced acoustic measurements on loud industrial equipment.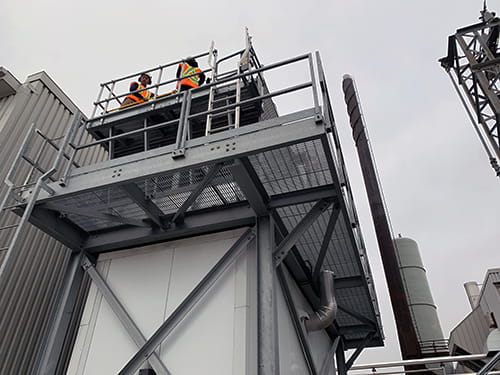 Saputo Production Facility
Community noise survey and heavy equipment noise reduction measures to minimize sonic impacts on surrounding neighborhoods.
Noise & Vibration Control in Mines, Quarries and Sand Pits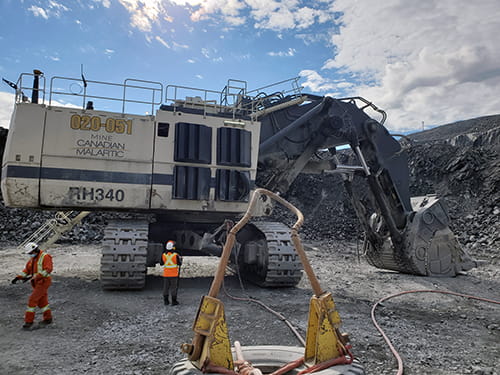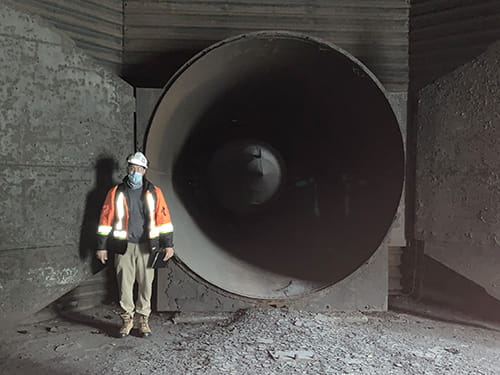 Wesdome Gold Mines
Noise impact assessment across the Kiena mining complex and noise mitigation strategies to help minimize its environmental footprint.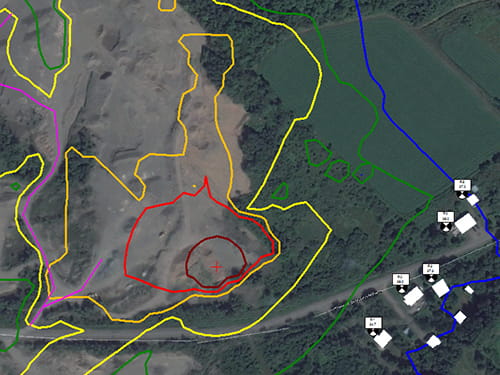 BBA & ACTIVA Environnement
Noise impact study of a sand pit as part of a proposed project involving the expansion of the operating site near existing residential areas.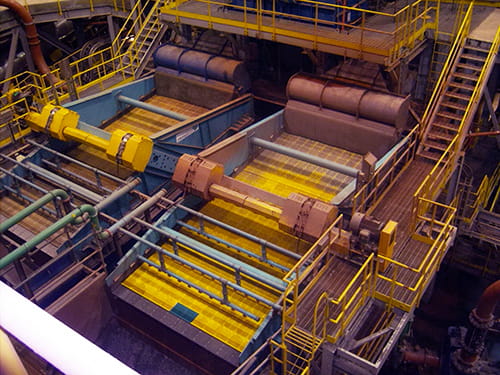 Bloom Lake Mining Project
Noise control solutions for the mine's screening equipment and vibratory impact assessment conducted before the installation of new chutes.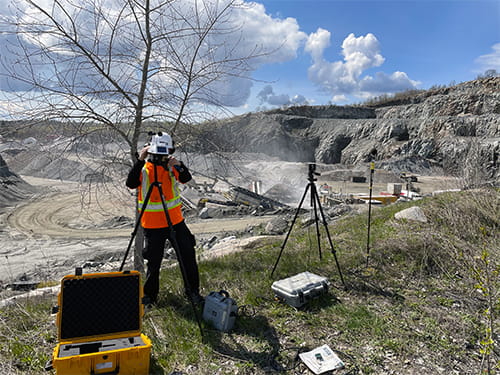 Eurovia Quarries & Sandpits
Multiple noise impact surveys and compliance assessments conducted every 3 years across quarries operated close to residential areas.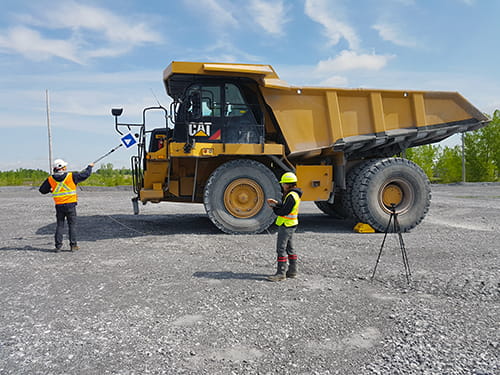 Graymont Quarries & Sandpits
Multiple quarry noise surveys, mitigation strategies, and recommendations to achieve compliance with provincial noise regulations.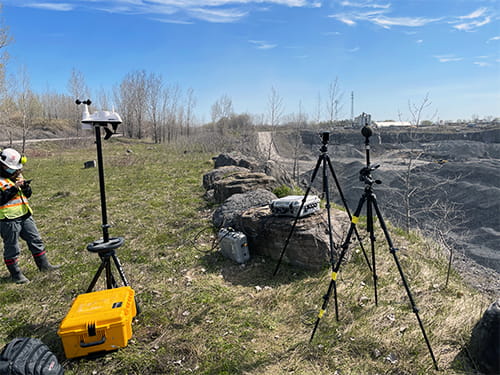 Sintra Quarries & Sandpits
Multiple quarry noise impact assessments aimed at ensuring that noise levels generated by daily operations are within regulatory limits.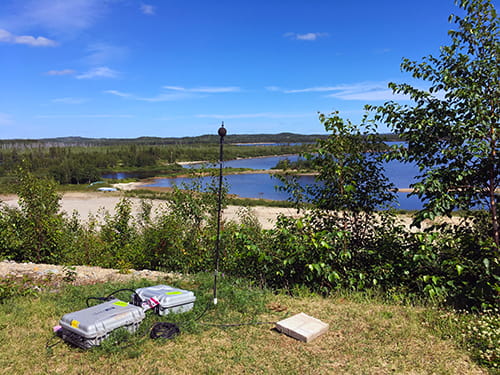 Nemaska Lithium Mining Project
Periodic evaluation of the Whabouchi mining project's noise and ground vibrations potentially perceived by the neighboring communities.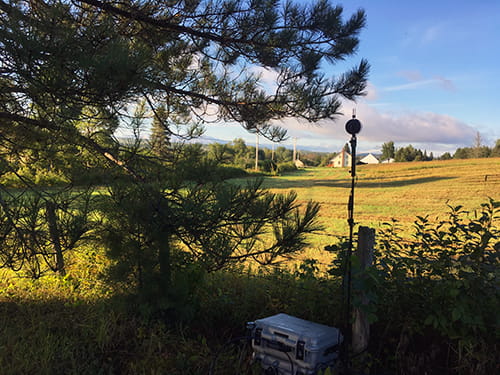 Nouveau Monde Graphite
Theoretical modeling of potential noise levels generated by the exploitation of a graphite mine and subsequent acoustic technical assistance.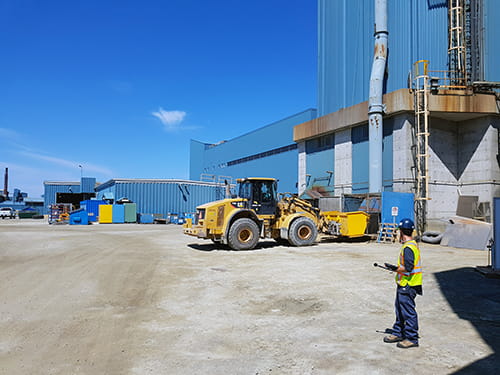 Agnico Eagle LaRonde Complex
Monitoring of noise and vibrations generated by mining operations and implementation of a fully-automated, real-time monitoring network.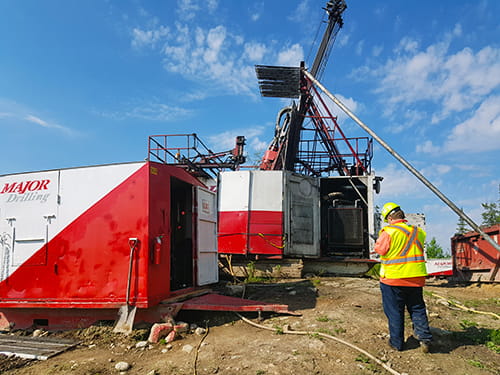 Agnico Eagle Upper Beaver Project
Cost-effective noise mitigation strategies aimed at helping HSE teams exceed requirements for health, safety and environmental protection.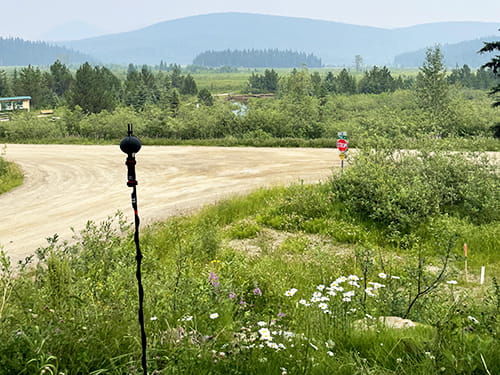 Barkerville Gold Mines
Expert guidance to accurately measure, analyse, and minimize the noise impact of the Cariboo gold mine project on the adjacent community.
Construction Noise & Vibration Control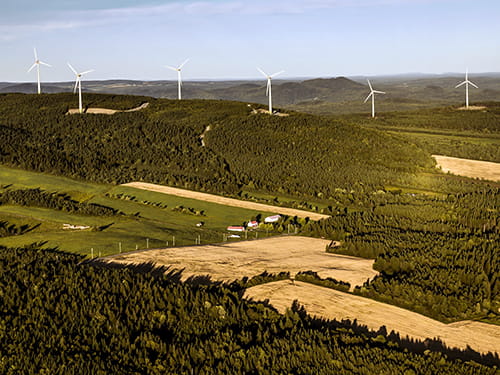 Boralex Wind Farm Project
Continuous noise monitoring and mitigation in residential areas during the transportation and construction of wind turbines.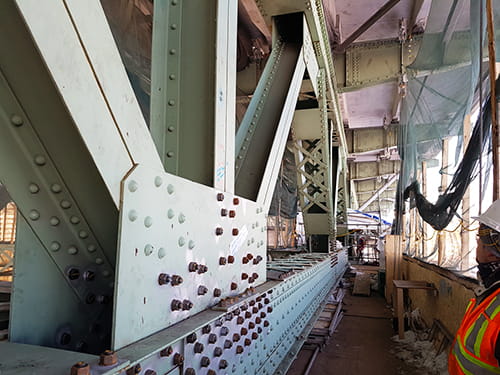 EXP // Jacques Cartier Bridge
Noise and vibration monitoring in residential areas near the construction site during steel repair work on Jacques Cartier Bridge.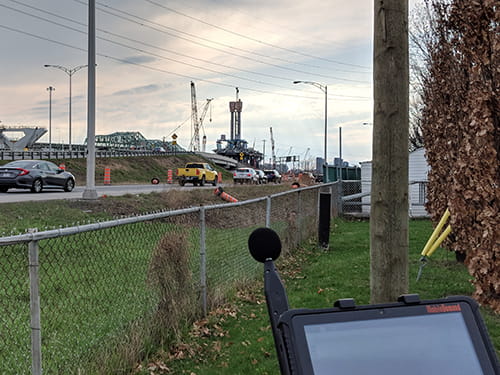 FNX-INNOV // Champlain Bridge
Large-scale noise monitoring plan aimed at reducing community noise impact from heavy construction work on Champlain Bridge.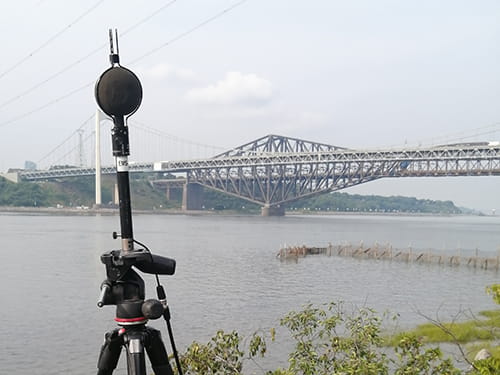 Pomerleau // Pierre Laporte Bridge
Heavy equipment noise evaluation, continuous noise monitoring in surrounding neighborhoods, and full-scale noise mitigation strategy.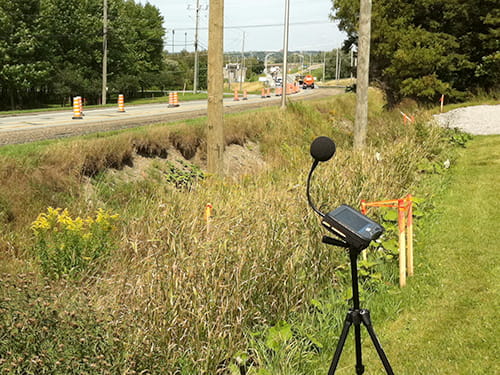 Sintra // A410 Highway Construction
Noise control program aimed at preventing the Highway 410 construction site from negatively impacting surrounding residential areas.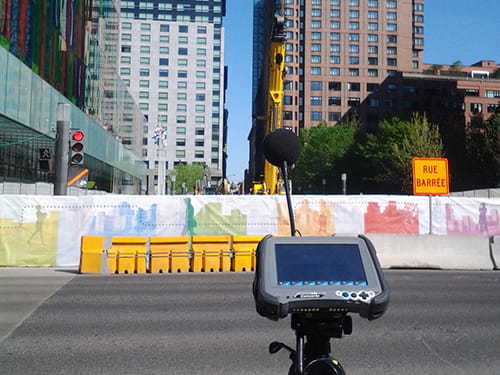 Transports Québec
Community noise monitoring and mitigation strategies during demolition/construction work on a bridge at the heart of Montreal.
Heavy Equipment Noise Control, Vibration Isolation, and Hearing Loss Prevention in Industrial Facilities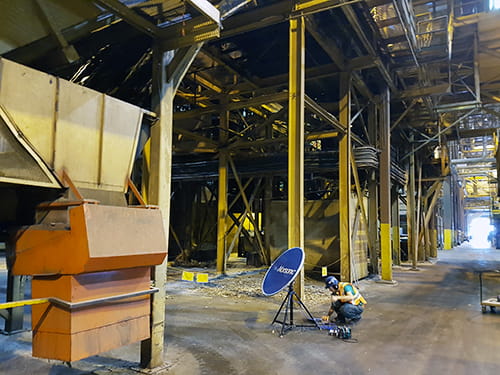 Alcoa // Lauralco Smelter
Development of a custom active noise control system and its associated sound monitoring software for an aluminum smelter stack.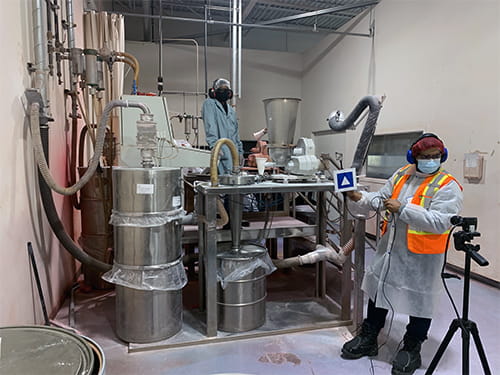 Cosmetica Laboratories
Advanced sound power measurements across powder processing rooms and expert guidance on reducing lab equipment noise levels.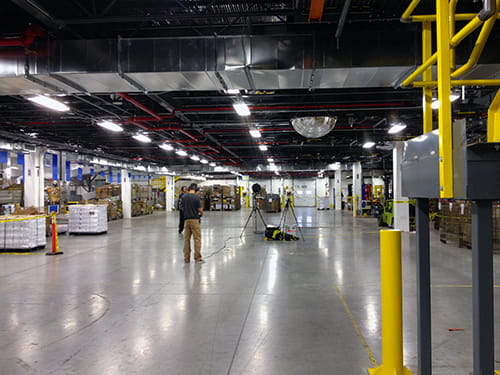 Honeywell Canada
Equipment noise measurements, sound propagation modelling, and recommendations for reducing occupational noise exposure.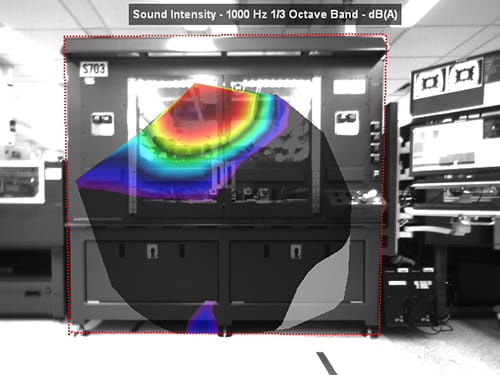 IBM Canada
Equipment noise reduction study conducted across the IBM Bromont plant and acoustic modeling/simulation of the clean room.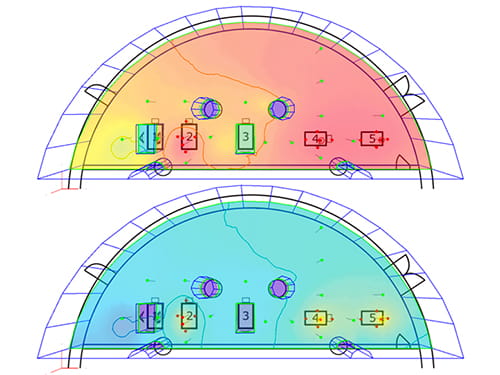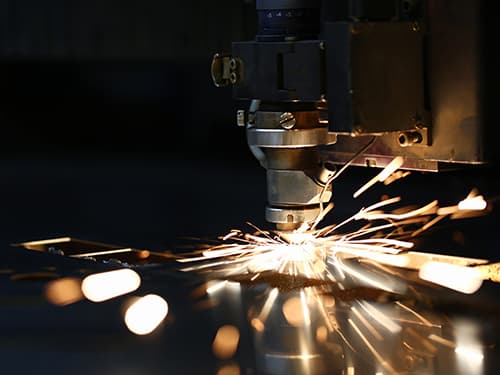 Rio Tinto // Alma Smelter
Assessment and reduction of noise levels in areas close to workstations located within the vicinity of furnace hoppers and melt fillers.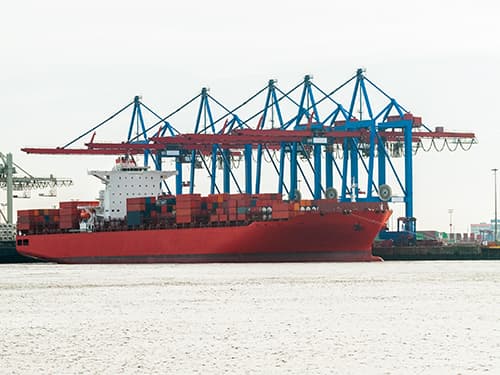 Rio Tinto // La Baie Port Facility
Evaluation of the exposure of crane operators to noise and vibration during a regular work shift in accordance with the ISO 2631 standard.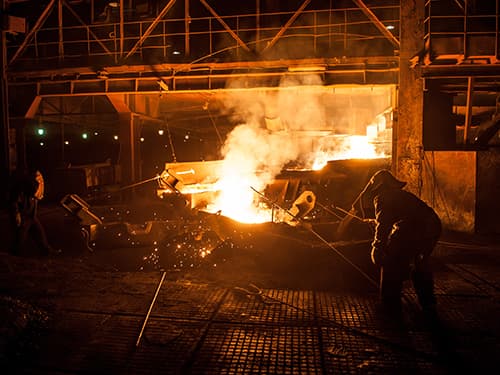 Rio Tinto // Iron & Titanium Plant
Development of a steel plant noise control strategy and implementation of noise reduction measures on loud industrial equipment.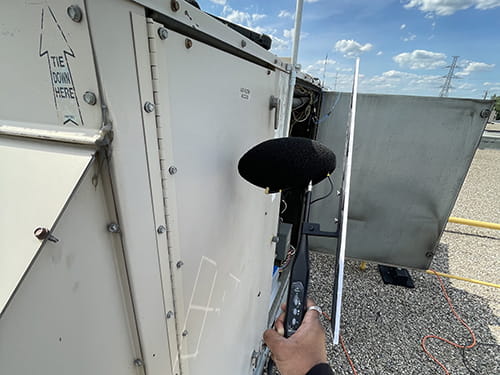 Turntide Technologies
Investigated and mitigated high noise levels generated by the rooftop HVAC units' electric motors to improve building occupant comfort.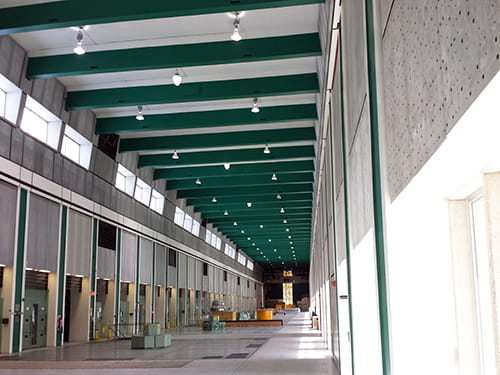 Voith Hydro Power Plant
Plant-wide sound pressure measurements before and after major retrofitting work at the Jean-Lesage power plant (Manic-2).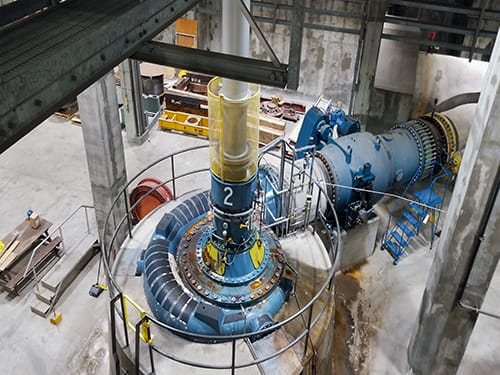 City of Montreal
Dosimetry study for the assessment of noise level exposure and impact on water treatment plant workers during a typical day shift.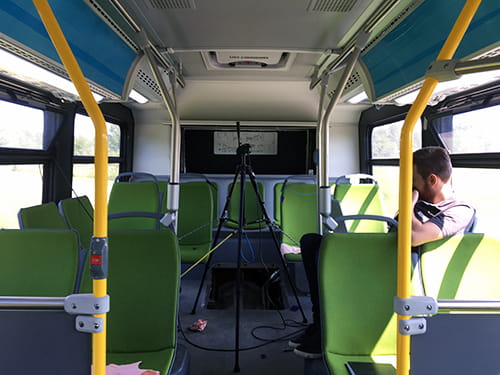 Volvo Group & Nova Bus
Vibro-acoustic analysis aimed at reducing noise and vibrations occuring within the passenger compartment of a new hybrid bus model.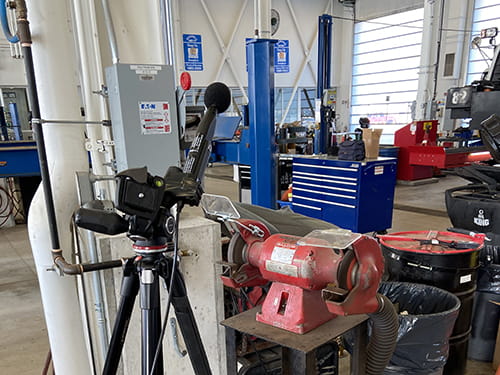 Brampton Public Work
Acoustic study for the noise impact generated by a large variety of equipment from Road Operation, Park Area and Fleet Maintenance.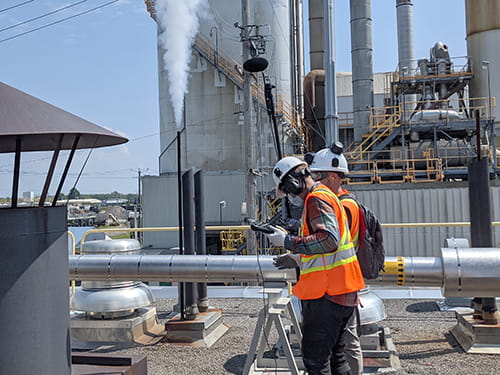 Davison Grace Canada
Plant-wide noise compliance assessment and noise control recommendations aimed at achieving the NI 98-01 ambient noise criteria.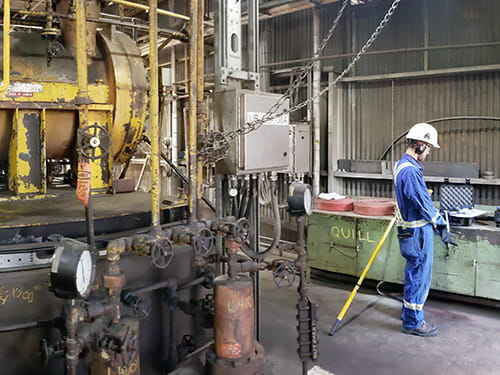 Suncor Montreal Refinery
Advanced sound power measurements, and room acoustics simulations aimed at reducing noise generated by industrial compressors.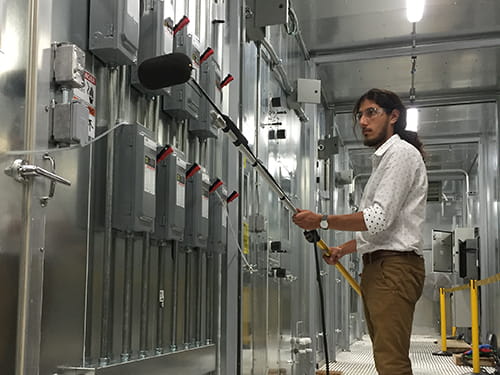 TMI Climate Solutions
In-factory measurements of sound pressure and sound intensity generated by an industrial air handling unit for various operation scenarios.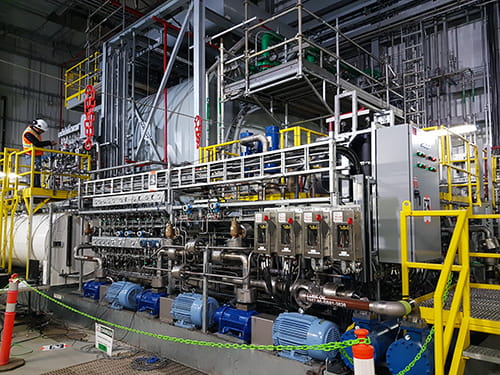 GE Renewable
Vibro-acoustical analysis of a condenser aimed at understanding the sound propagation paths responsible for high equipment noise levels.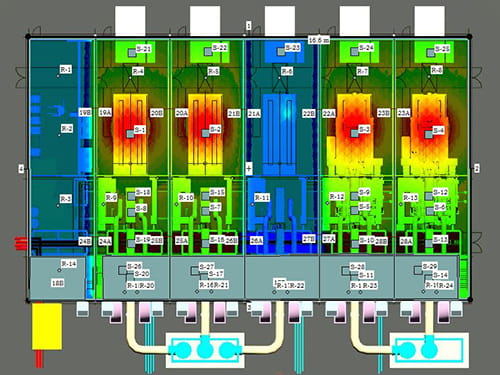 BBA // Grise Fiord Power Plant
Acoustical simulations of the predicted noise levels and most viable mitigation techniques for a generator building still in design phase.
Keeping a Close Watch on Site-Wide Noise & Ground Vibration Levels With Our Remote Monitoring Stations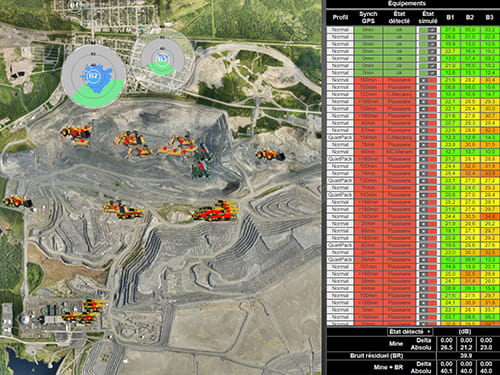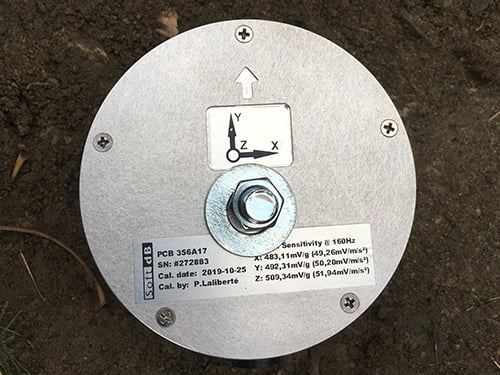 Agnico Eagle's Goldex Mine
Automated measurement station network for 24/7 monitoring of noise and ground vibrations generated by the Goldex mining complex.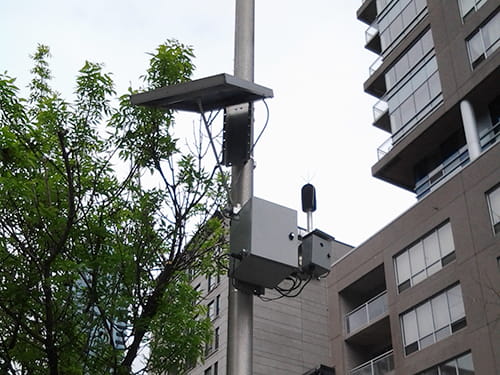 City of Montreal
Unmanned community noise monitoring campaign with Class 1 measurement stations throughout aqueduct construction work.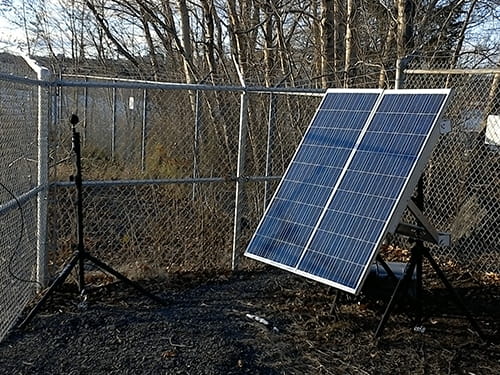 Valero // Jean Gaulin Refinery
Continuous monitoring of community noise impact generated by daily operations and heavy equipment at the Valero Marine Terminal site.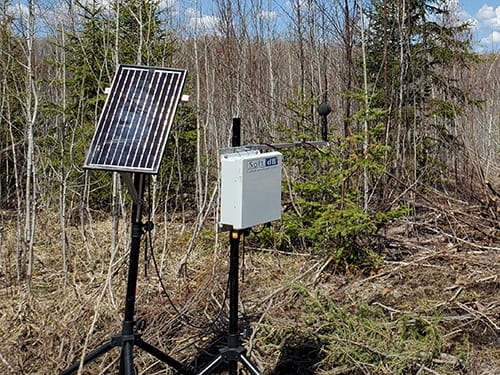 Yamana Gold // Wasamac Project
Environmental noise mitigation on exploratory drills based on real-time monitoring campaign with fully autonomous measurement stations.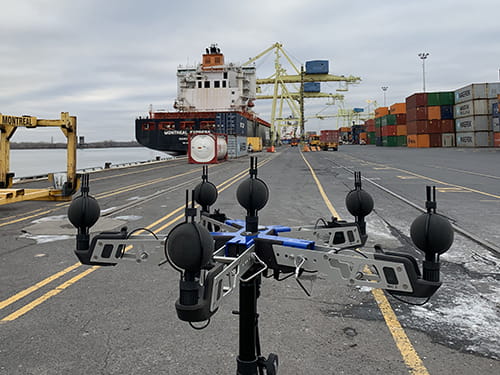 Montreal Port Authority
Noise law compliance assessment throughout construction work at the Port of Montreal using remote noise and dust level monitoring stations.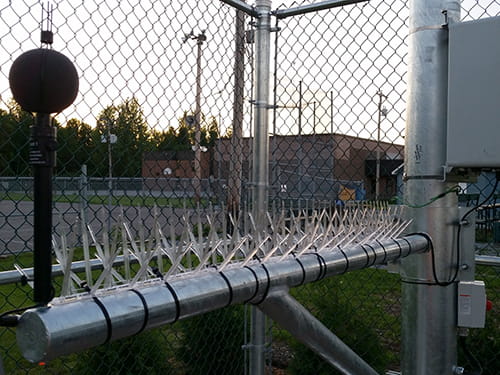 Graymont // Harmony Project
Custom-designed Class 1 noise monitoring stations to continuously assess the project's sonic impacts on surrounding neighborhoods.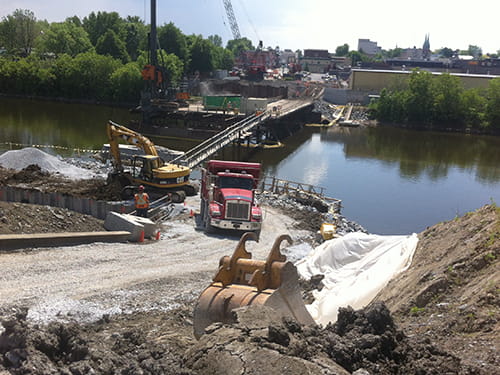 EXP Engineering
Underwater noise monitoring campaign aimed at measuring the acoustical impact of a bridge construction project on marine wildlife.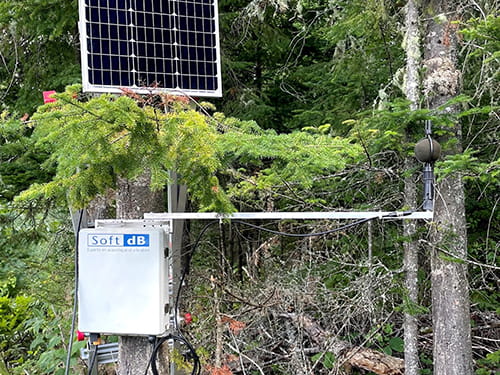 Nouveau Monde Graphite
Site-wide noise compliance and community impact assessment using 24/7 measurements collected by remote noise monitoring stations.
Building, Machinery, and Ground Vibration Control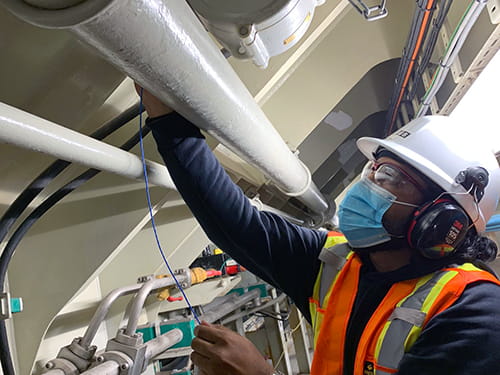 Algoma Central Corporation
Vibration measurement and analysis aimed at preventing industrial vibrators from inducing structural damage to hoppers and vessel.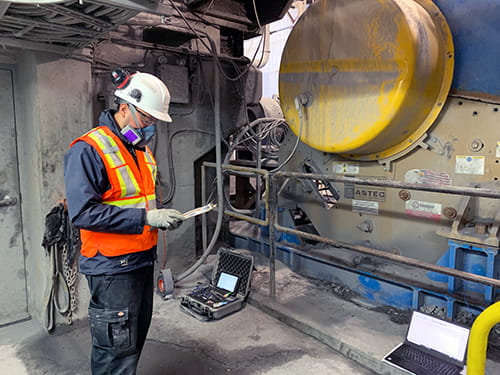 Hecla Mining Company
Measurement and analysis of high vibration levels generated by a jaw crusher to prevent potential damage to its outer steel structure.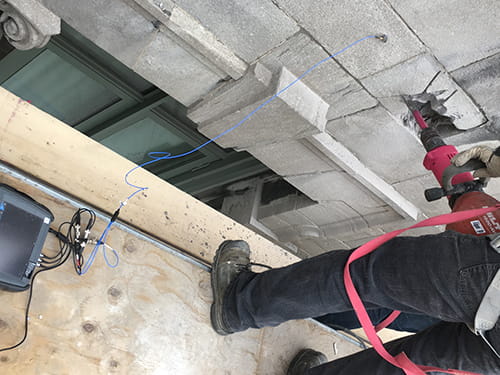 McGill University
Monitoring and mitigation of ground vibrations generated by building construction work near vibration sensitive laboratory equipment.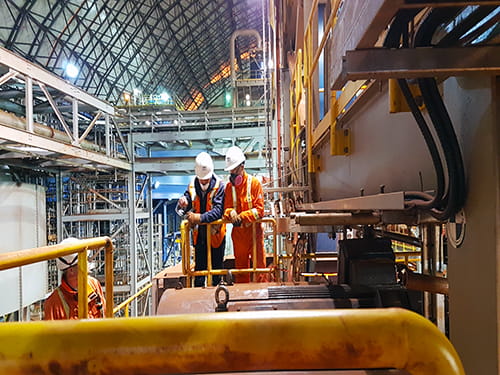 Tata Steel
Advanced vibration analysis through finite element method aimed at designing a better steel structure to support a vibrating screen.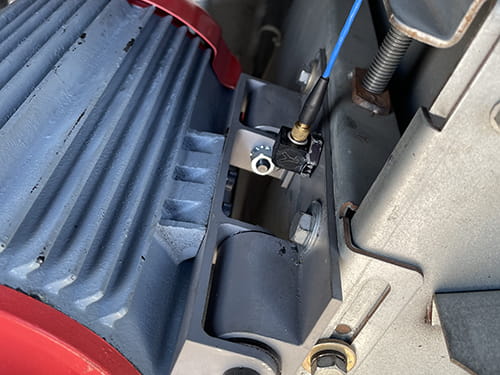 Turntide Technologies
Vibration and noise analysis of electric motor causing resonance on fan housing within rooftop HVAC unit which impacted indoor receptors.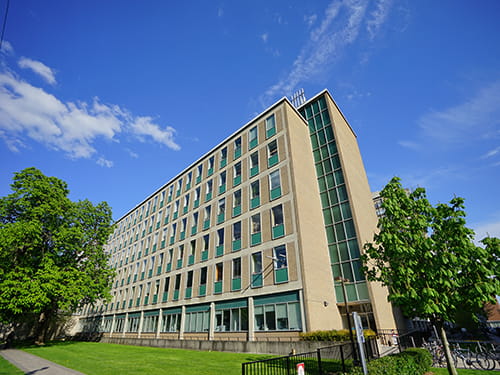 University of Toronto
Vibration measurements and VC-E criteria compliance review for laboratory equipment requiring extraordinary dynamic stability.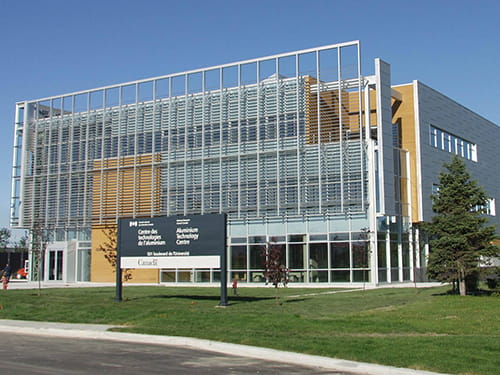 National Research Council Canada
Advanced vibration measurement and analysis before the installation of an electron microscope at the Aluminium Technology Centre.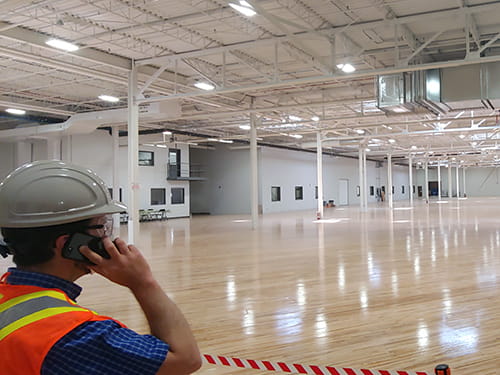 Canimex Group
Building vibration study performed prior to the installation of a vibration-sensitive coordinate measuring machine on a wooden floor.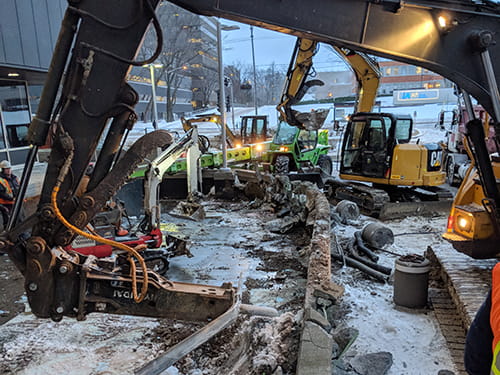 Société québécoise des infrastructures
Vibration monitoring of server rooms during demolition and repair work at the Régie de l'assurance maladie du Québec headquarters.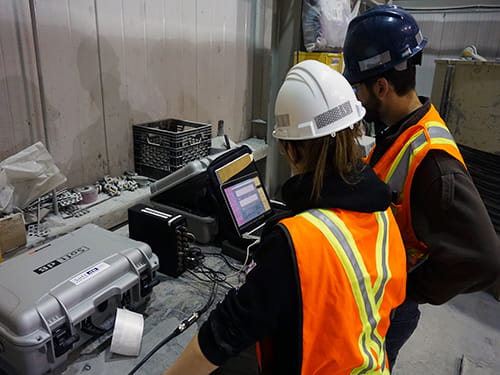 Agnico Eagle Mines Limited
Identification of induced vibrations and measurement of the resonance levels inside a building in which an ore crusher is operated.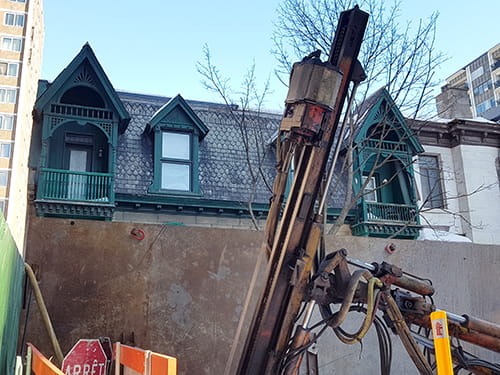 Montreal Transit Corporation
Regulatory compliance assessment for drilling and blasting work in urban areas and evaluation of the vibration impact on existing buildings.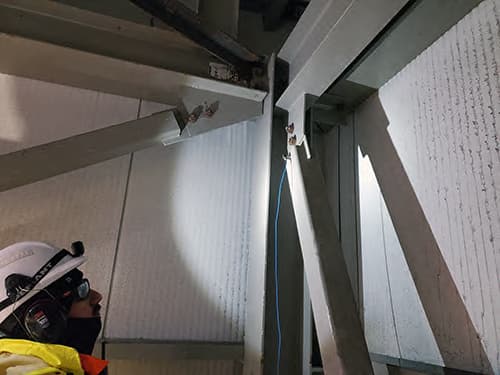 Agnico Eagle, Meliadine Mine
Field vibration assessment of a steel structure oscillating adversely. Finite element analysis of the structure to reduce vibration impact.
Architectural Acoustics & Indoor Noise Control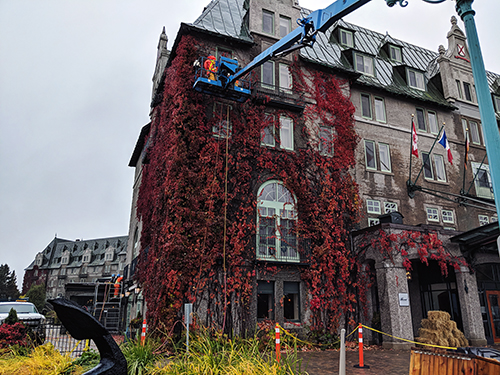 Fairmont Le Manoir Richelieu
Acoustical measurements and indoor noise mapping to mitigate the impacts of building facade construction work on hotel guests.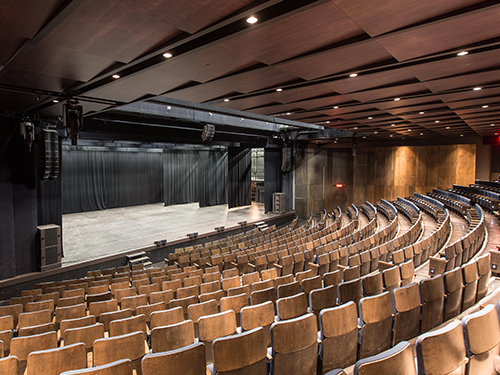 Grand Théâtre de Québec
Room acoustic design and soundproofing work for the retrofitting of a 500-seat multi purpose performing arts auditorium.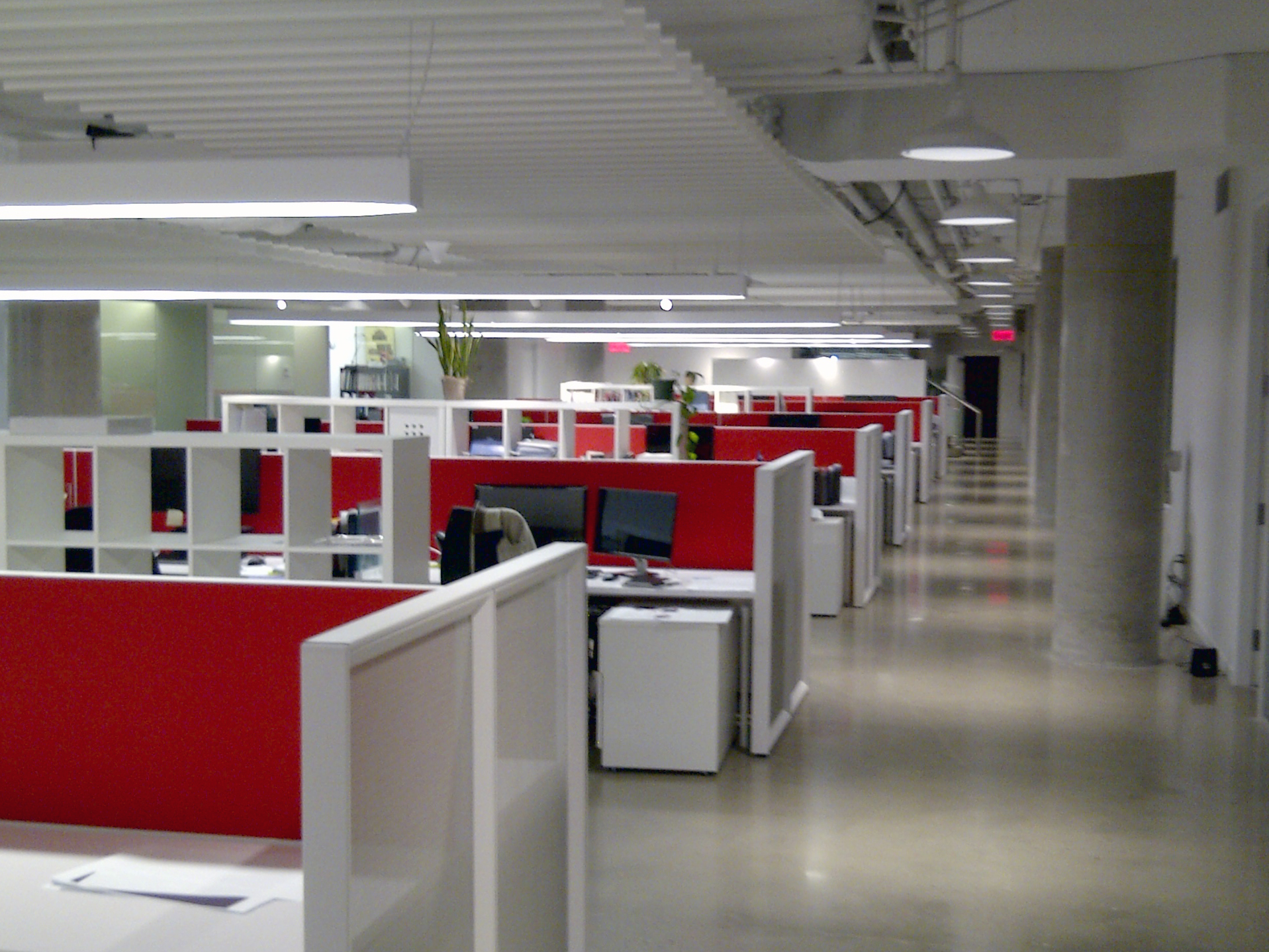 Montreal Symphony Orchestra
Measurements, analysis and recommendations for reducing office noise produced by HVAC system as per ANSI/ASA criteria.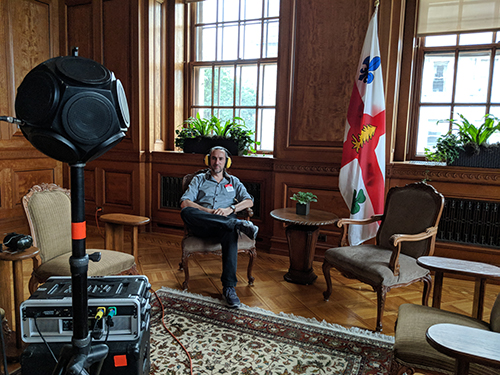 Montreal City Hall
Sound isolation performance, speech privacy, reverberation control, and HVAC system design review aimed at securing LEED v4 certification.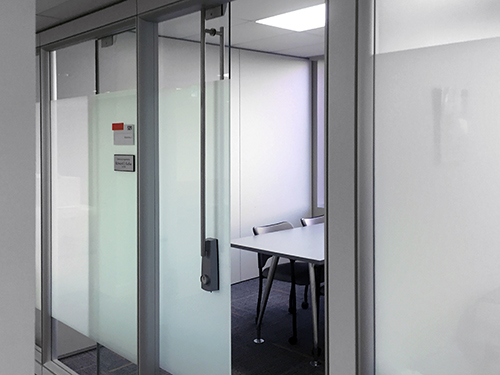 Queen's University Law Clinics
Speech privacy and acoustic performance evaluation plus recommendations to improve confidentiality in private office rooms.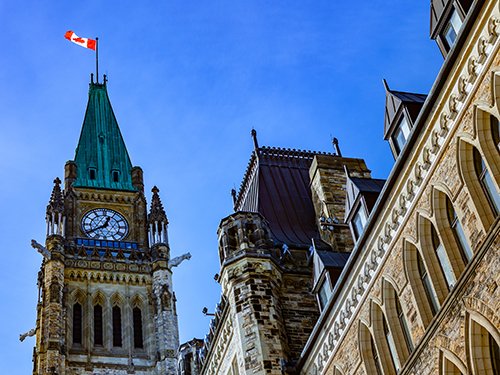 Parliament of Canada
Recommendations for limiting unwanted indoor noise and structure-borne vibrations generated by nearby transportation sources.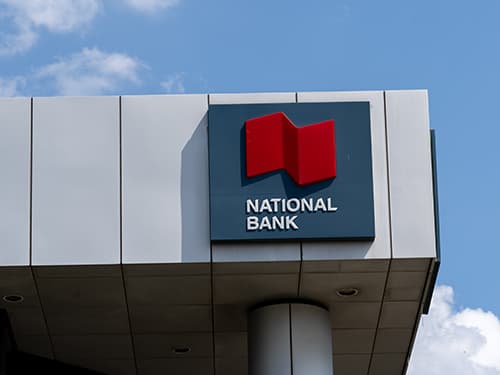 National Bank of Canada
Acoustical study on office noise reduction and speech intelligibility.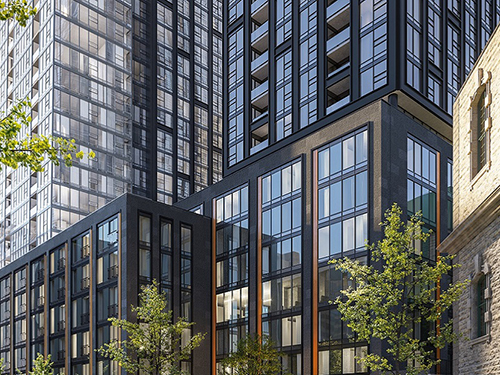 GWLRA's Multi-Residential Towers
Complete acoustical study for a 41-storey building project including exterior enveloppe calculations and interiors acoustic design.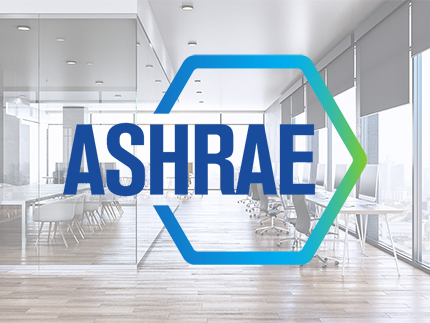 ASHREA 1852-TRP Research Project
Development of performance metric, criteria, and process to measure and predict speech privacy in high performance buildings.
Join Our Growing List of Acoustical Consulting Clients
Obviously, our client list below isn't exhaustive. But we sure hope it speaks for itself. Over the course of three decades, we've established solid relationships with thousands of clients in all industries. Each one of our acoustical consulting clients—be it a condo syndicate, a local school, a small metal workshop, an award-winning architectural design studio, or one of the world's largest aluminum smelters—is as important as the next. No noise and vibration problem is too big or too small when people's health and wellbeing is at stake.
Architectural Acoustics
AECOM
Ædifica
Air Canada
ASHRAE
AvranceCorp Developments
Broccolini
CANY
Clyde & Co
Desjardins
EVOQ Architecture
First Capital Realty
FORM Studio Architects
Government of Quebec
GWL Realty Advisors
JLL
L'Oréal
Lemay
Lu Vesta Homes
Masonite
Miller Thomson
NFOE Architecture
Privy Council Office
Provencher Roy
Queen's University
Sun Life Financial
Construction & Transport Noise Monitoring
BBA
Boralex
Canam Group
CIMA+
City of Montreal
City of Saskatoon
City of Toronto
Concordia University
Duroking Construction
Ecosystem Energy
Eurovia
EXP
FNX-INNOV
Hatch
McGill University
Morguard
Pomerleau
QDI
Renouveau La Fontaine
Sintra
Transports Québec
WSP
Industrial Noise Control & Environmental Compliance
Alcoa
Birla Carbon Canada
Bitfarms
Bombardier
Davison Grace Canada
Glencore
Honeywell Canada
Hydro-Québec
IBM Canada
IPEX Group of Companies
Kemira Water Solutions Canada
Kruger
Lactalis Canada
Leonardo Canada
Magotteaux
Michels Canada
NB Power
Port of Montreal
Port of Quebec
Rio Tinto
Siemens
Suncor Canada
Tetra Tech
Valero Canada
Waga Energy
Mining Noise & Vibration Control
Agnico Eagle Mines Limited
Barkerville Gold Mines
Canadian Malartic Partnership
Graymont Limited
Hecla Mining Canada
KN Equipments
Nemaska Lithium
Nouveau Monde Graphite
Osisko Development
RJLL Drilling
Wesdome Gold Mines
Yamana Gold
Equipment & Vehicle Vibration Control
Algoma Central Corporation
Metso Outotec
National Research Council Canada
Norsk Hydro ASA
Tata Steel
University of Toronto
Volvo Group
We've Been Solving Noise & Vibration Problems for Over 25 Years
Making your spaces feel more comfortable and private acoustically goes a long way to helping occupants be the best they can be. Mitigating noise and vibration levels at work can help you optimize your operations while protecting your most valuable assets: your employees and your community.
Explore our services