Industrial Noise Control
How Rio Tinto Made Their Noisy Compressor Room 16 Times Quieter With Custom Soundproof Enclosures
For Rio Tinto, there's no such thing as a small health & safety concern—only a big commitment to making their industrial facilities safer and better places to work each day. Acting on loud air compressors negatively impacting plant personnel and equipment maintenance logistics, they wouldn't settle for just meeting government standards for occupational noise limits. They were on a mission to achieve even more stringent safety standards of their own, with no compromises. And they knew exactly who to call to tackle the acoustical engineering part of the journey.
Meet an Industrial Juggernaut
Rio Tinto is a multinational corporation highly involved in the mining and metallurgical sectors. It has an active presence in over 40 countries across six continents. The company specialises in the production of aluminium, copper, diamonds, gold, industrial minerals, iron ore, thermal and metallurgical coals and uranium. Rio Tinto's organisational structure is divided into four major groups: Aluminium, Copper and Diamonds, Energy and Minerals and Iron Ore. There is a fifth group focused on Research and Development.
In Canada alone, Rio Tinto operates in 35 locations, making it the largest mining and metallurgical company in the country. Nearly half of these industrial facilities are located in Quebec. In addition to production plants, the company operates many other different sites which deliver operational support to its core activities, such as R&D centres, power plants, refineries, ports, and railways.
Rio Tinto employs around 15,000 Canadians through its four major groups: Rio Tinto Alcan which is headquartered in Montreal, Diavik Diamond Mine, IOC Mining Company and Rio Tinto Fer et Titane. In Quebec, the aluminium sector predominates with one of its top players being Rio Tinto Alcan, whose operations are primarily based in Saguenay-Lac-Saint-Jean. Rio Tinto Alcan alone produces 1.1 million tonnes per year in total—around half of Quebec's entire aluminium production.
Dealing With Heavy Equipment Noise in One of the World's Most Modern Smelters
Rio Tinto's Alma plant is responsible for nearly 40% of Quebec's aluminium production alone. A true flagship facility for Rio Tinto Alcan, it's one of the world's most modern smelters and notably one of the most eco-friendly in the industry. The Alma plant operates with AP40 technology, a process that significantly improves the productivity and performance of electrolytic cells, meaning it consumes less energy. This strengthens Rio Tinto's position as a producer of low-carbon footprint aluminium.
Such large production facilities require a large range of industrial equipment, all of which require supplies of various energy sources to operate. In the aluminium sector, much of the industrial machinery needs a large supply of compressed air to function. The plant in Alma relies on some impressive compressors to generate the large quantities of compressed air that is needed on site. Unfortunately, these powerful compressors generate noise—a heck of a lot of noise.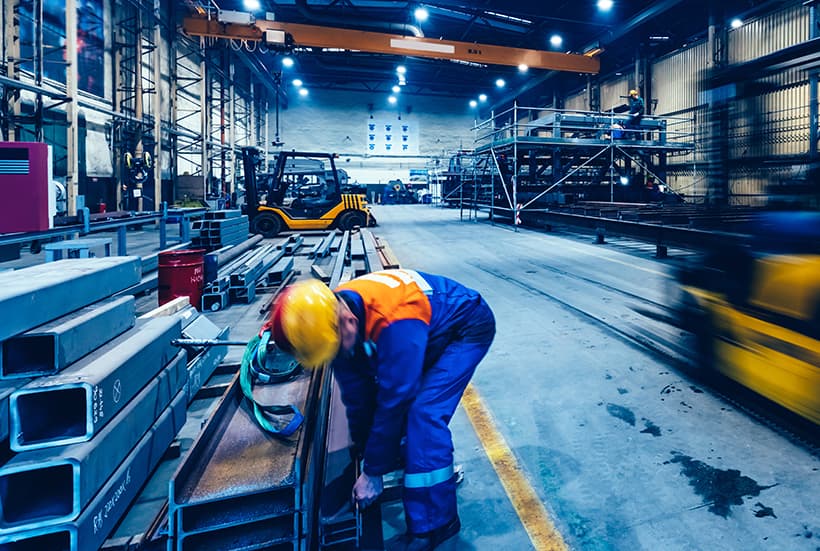 Occupational Noise Exposure: A Necessary Evil?
At Rio Tinto, the eight compressors at the Alma plant, which is also known as the AP40 site, operate non-stop. These compressors are used to supply compressed air to all of the plant's equipment, which produces nearly 472,000 tonnes of aluminium per year. This is what makes the Alma plant one of the top 5 aluminium smelters in the world. The aluminium plant's powerful air compressors are essential to its operations and growth. They are installed next to each other in a dedicated room. Whenever the compressors need servicing, plant personnel have to enter the room to perform maintenance duty. They innevitably get exposed to very high noise levels, reaching up to 96 decibels.
For health and safety reasons, we had to use double hearing protection and limit the number of hours of noise exposure in the compressor room to 4 hours maximum. After each visit, employees had to wait 48 hours before going back in the compressor room and being exposed to noise again, which caused enormous constraints for mission-critical equipment maintenance.
Yvon Tremblay, Plant supervisor, Rio Tinto Alma
The Challenge: Making the Industrial Compressors Quieter
For the sake of their health and safety, employees working near the loud compressors at the AP40 site had to wear double hearing protection at all times. They also had to limit the amount of time they were exposed to noise in the compressor room to a maximum of four hours per servicing intervention. Following any visit inside the compressor room, plant personnel had to wait 48 hours before going back in and resuming maintenance work. Obviously, these constraints posed considerable logistical challenges to conducting regular equipment maintenance.
A further health and safety consideration was that the compressors were so noisy that the employees working nearby could not hear the engine of an overhead crane moving relatively close to them. This posed a significant risk of accidents to the workforce. This ultimately led Rio Tinto's Alma smelter team to call on Soft dB's expertise to make the AP40 site facilities safer and more comfortable for its workers from an acoustic perspective.
The goal? Reducing the compressor room's maximum possible noise level from 96 down to 82 decibels, without compromising the ability to perform regular maintenance on the loud air compressors themselves.
The challenge was a tough one by any standard. We were facing peak noise levels of up to 96 decibels in the compressor room and we needed to limit maximum possible noise levels to 82 decibels in order to meet Rio Tinto's own stringent health and safety standards. We've exceeded expectations significantly by lowering our average maximum noise level from 92 down to 79 decibels.
Catherine Poulin, Project Manager, Rio Tinto Alma
The Rio Tinto Way: Going Above and Beyond Both Federal and Provincial Requirements for Minimizing Occupational Noise Exposure
The Canadian Centre for Occupational Health and Safety (CCOHS) sets occupational exposure limits (OELs) for noise. These limits are typically given as the maximum duration of exposure permitted for different noise levels at work. Additionally, each Canadian province has determined its own noise regulations and occupational exposure limit. In Quebec, the Occupational Health and Safety Regulations set the occupational exposure limit at 90 decibels for a full eight-hour shift. In most other Canadian and federal jurisdictions, these limits are 85 and 87 decibels respectively for the same exposure period.
Rio Tinto's objective to reduce their compressor room's maximum possible noise level to 82 decibels is nothing short of ambitious. Set by Rio Tinto as its own recommended safety standard, this number is well below any prescribed occupational noise exposure limit, as compared to both provincial and federal regulations. This means that this mining and metallurgical company is making exemplary efforts to preserve the health and safety of its workers. Needless to say that the performance of the soundproofing solution chosen for Alma Plant's compressor room was critical to achieving their noise abatement goal.
Isolating Noisy Industrial Equipment the Cost-Effective Way
There's no getting around it: whether they're used in industrial plants, mines, or construction sites, some machines are just too loud. Too loud for the safety and wellbeing of people working close to them, even if for just a few minutes or hours—and even with proper hearing protectors in place. It's been true for decades: Exposure to hazardous noise is one of the most common health & safety risks. Year after year, occupational hearing loss keeps ranking among the most frequent work-related illnesses across pretty much all sectors relying on heavy equipment to get things done. Thing is, very few of the inherently loud machines out there can be made quieter by design. It's often just not possible, both technically and economically. So what to do about mission-critical heavy equipment that inevitably comes with a necessary evil: very high noise levels?
Lightweight, Flexible, Custom-Fitted Soundproof Enclosures
An effective solution to significantly reduce noise coming from specific heavy equipment consists of imprisoning its high noise level at its very source and blocking further propagation by placing sound-absorbing panels all around it. But not just any type of sound-absorbing panels. To effectively isolate and quiet down the air compressors at the Alma plant, while ensuring that key equipment components remained easily accessible for regular maintenance, high performance ISOTEX-dB soundproof panels and curtains were custom-designed to perfectly fit each compressor size and shape. With the goal of achieving unprecedented noise reduction at the lowest possible cost—that is, without disrupting plant operations with unnecessary construction work and impeding maintenance teams by trapping the compressors inside rigid walled acoustic enclosures—ISOTEX-dB soundproofing system was a natural choice.
We chose to work with Soft dB because no other soundproofing solution was adaptable to our everyday processes and routine work. Soundproofing panels and curtains had to be custom-designed to perfectly fit our compressors and ensure maximum, leak-free noise reduction. In the past, when working next to the compressors, I couldn't hear the overhead crane moving above us, which posed serious dangers and accident risks. Gone are these health and safety concerns today! Soundproofing our compressors has changed our daily working lives.
André Bergeron, Industrial Mechanic, Rio Tinto Alma
ISOTEX dB: Heavy Equipment Soundproofing Reinvented
Soft dB's patented industrial soundproofing system, ISOTEX-dB, is one of the most cost-effective solutions for quieting down heavy equipment that generate high occupational noise levels. It consists of custom-made soundproof panels and curtains made of four different material layers, each with a key function:
Sound absorbing layer: high-performance mineral fibre insulation providing maximum sound absorption. Noise becomes much weaker there.
Sound blocking layer: mass-loaded polymer material preventing further equipment noise propagation. STC-33 soundproofing is achieved there.
Silicone-coated inner fabric layer providing industrial strength over a wide range of temperatures and contaminants.
Outer protective fabric layer with robust velcro straps preventing noise leakage while making the cover fully waterproof and UV resistant.
Unrivaled Noise Isolation Performance Meets Easy Installation and Flexibility
ISOTEX-dB soundproof panels and curtains are remarkably effective at reducing low-frequency noise—typically the most difficult noise to attenuate. They deliver STC-33 rated sound insulation while being much cheaper and simpler to install than rigid-walled acoustic enclosures. And by stopping noise right at its source—the loud equipment or vehicle itself—the tight-fitting, highly flexible acoustic enclosures created from these soundproof panels and curtains achieve superior machine noise isolation and reduced occupational exposure, all while effectively complementing personal hearing protection.
Imagine a rigid-walled noise enclosure that not only can be assembled and dismantled in a matter of hours, but also perfectly matches your equipment's specific shape—however geometrically complex—without actually touching it. That's an ISOTEX-dB noise enclosure for you: its high-performance soundproof panels are mounted together on flexible, lightweight yet robust stainless steel frames making soft contact with equipment surfaces through small magnetic anchors. Easily adaptable to all types of metal surfaces, this patented framing system makes it possible to rapidly deploy equipment-specific soundproof enclosures, in a modular fashion, without ever having to pierce and risking damage to the heavy equipment being silenced.
Learn more about ISOTEX-dB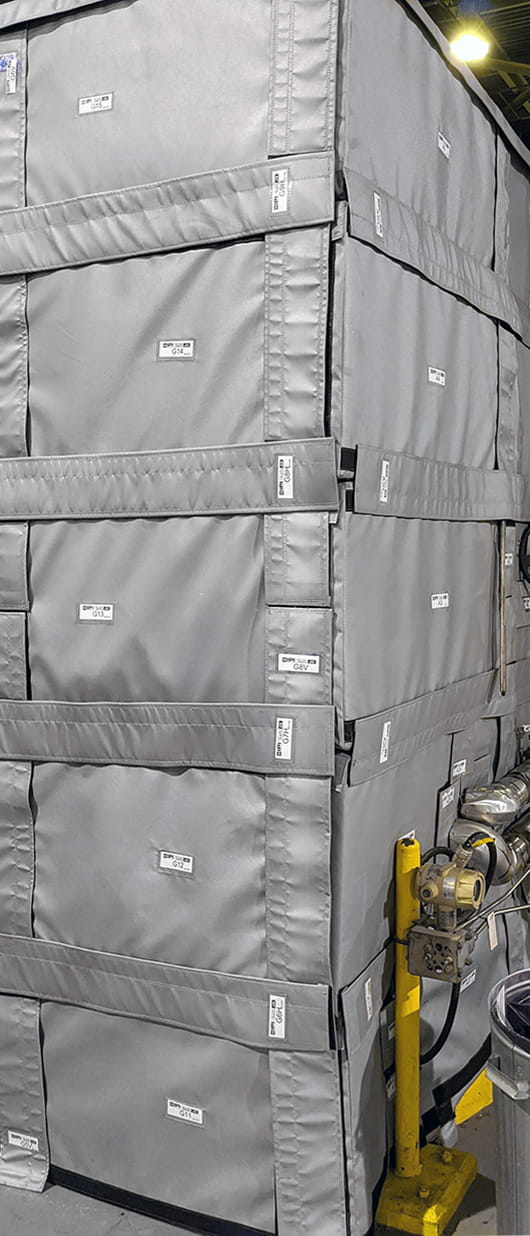 Success: How Solid Teamwork Combined With Custom-Designed Heavy Equipment Soundproofing Achieved Unprecedented Occupational Noise Reduction Without Compromises
Supported by both Rio Tinto's engineering teams and Soft dB's acoustical consultants, the custom soundproof enclosures made it possible to reduce the level of noise exposure for maintenance personnel in the compressor room from an average of 92 decibels all the way down to much safer levels between 79 and 83 decibels. This represents an occupational exposure reduction of up to sixteen times less noise. The reduction of up to 13 decibels is considered an excellent result by HSE specialists and acoustical engineering experts alike. In fact, a vast industrial compressor room successfully made 16 times quieter by implementing flexible noise enclosures around each piece of equipment was something practically unheard of before Rio Tinto's initiative.
Soundproofing the compressors has greatly improved the health and safety of Rio Tinto's AP40 site personnel, but implementation was not without its share of challenges. Although the ISOTEX-dB soundproofing panels and curtains are very effective once installed, the success of the solution depended on adapting the installation design to facilitate the daily work routine of plant teams. The latter worked closely with Soft dB's acoustical engineers to develop custom-designed panels and fixtures, achieving one of the most efficient and flexible heavy equipment soundproofing solution ever implemented.
It is this remarkable teamwork between the acoustics experts of Soft dB, the engineering departments and the maintenance team of the AP40 site, which has succeeded in delivering a level of noise reduction rarely achieved for an industrial site of this scale.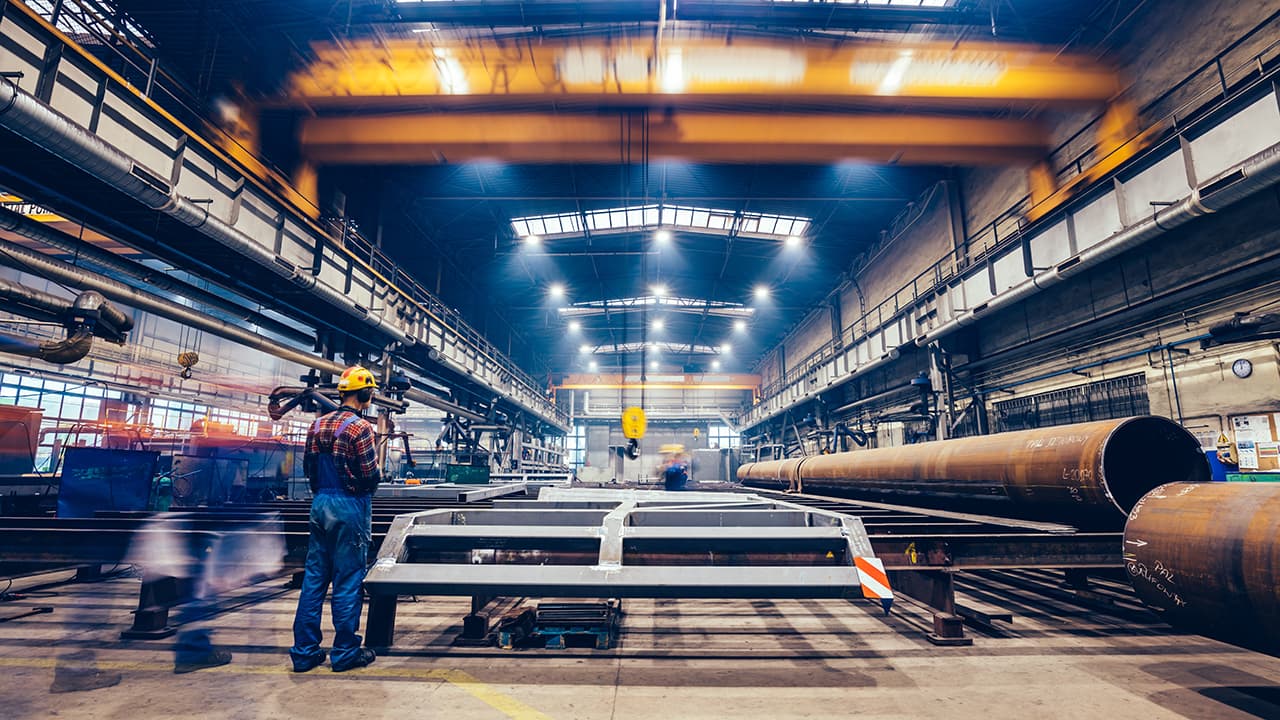 We had very good employee participation in making Soft dB's soundproofing solution deliver its full noise abatement potential on our industrial compressors, all while ensuring that regular maintenance work remained simple despite the panels and curtains installed around them. It was a big challenge to which key plant personnel have risen in an incredible way. It was the flawless teamwork between Soft dB's acoustical consultants, Rio Tinto's engineering services, and the plant maintenance team that made it possible to achieve a level of equipment noise reduction rarely seen before.
Réjean Tremblay, Plant Supervisor, Rio Tinto Alma
Want to Take Action on Loud Heavy Equipment to Make Working Conditions Safer and Quieter for Your Teams?
Loud industrial equipment is often a necessity. Our job is to ensure it never becomes a liability. The cost of achieving proper machine noise isolation will always be much less than the price to pay for letting high noise levels jeopardize your workers' health and safety. We're not your typical equipment soundproofing experts. We're a seasoned team of acoustical engineers delivering an integrated approach to occupational noise mitigation and regulatory compliance. And this often involves designing noise enclosure systems for loud equipment of all shapes and sizes. Tell us about your unique challenges: you'll get unique recommendations—and concrete results.
Ask our experts