SR-A810
Overview

SR-A810 Expansion Board for SR-MK2 & MK3-PRO
The SR-A810 have been design for SPM control application or High-speed control applications Advanced SPM features can be implemented using the 16 individually configurable GPIOs and the two 16-bit counters.
These counters are synchronized with the analog sampling and can be used as simple pulse counters or Quadrature Encoder Pulse (QEP) counters. With all these features, the kit SR-A810 + SignalRanger-Mk2 and the kit SR-A810 + MK3-PRO has the best performance/price ratio on the market for a SPM control system.
These kits are available mounted inside a rack-mount enclosure with 8 inputs, 8 outputs and 2 pulse counters inputs (see SPM Products).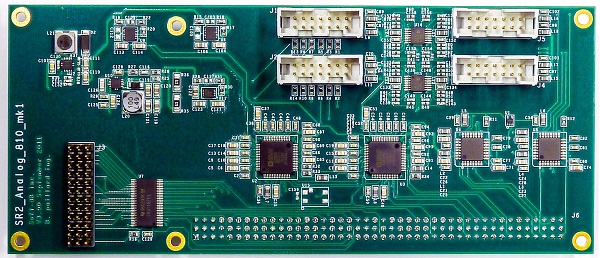 Specialized and Customized Digital Signal Processing (DSP) Boards
SignalRangerTM DSP board Series have been designed to perform a wide variety of signal processing operations to match your needs. Our boards are developed, tested and peer reviewed by specialists, professionals, teachers and individuals.
Get a quote