SR-MK2
The Signal Ranger MK2 is a fixed point DSP board featuring a 300 MHz TMS320C5502 DSP, a 400 kgates SPARTAN 3 FPGA, and a high-speed USB 2 interface. 
The DSP board may be used while connected to a PC or in in stand-alone mode, executing embedded DSP code (see Signal-Ranger DDCI interface). The Signal Ranger MK2 DSP board can be used with the expansion boards SR2_Analog_16 or with the SR2-A810 (see Optional extension board below).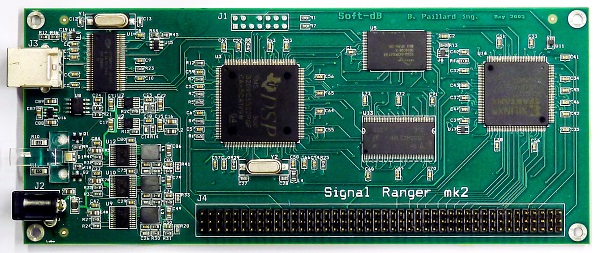 Main features
300 MHz TMS320C5502 DSP 16-bits fixed point
XC3S400 FPGA 63 user-configurable I/Os
High-speed USB 2 interface
64 Kbytes on-chip (DSP) double-access RAM
4 Mbytes external 75 MHz SDRAM
2 Mbytes external Flash ROM
Can be stand-alone unit or connected to a PC
high-speed USB 2 interface
DDCI Interface (Development to Deployment Code Instrumentation)
 
Documentation & Download
Developer package:
Data AcQuisition (DAQ) software & example:
Migration to SR2_NG (for a x64 compatibility):
SR-A810
8 analog I/O capable of operating at up to 150 kHz
±10V dynamic range
Low noise and very high DC stability
Very low input-output group-delay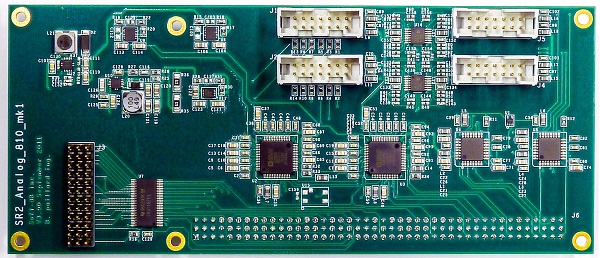 Specialized and Customized Digital Signal Processing (DSP) Boards
SignalRangerTM DSP board Series have been designed to perform a wide variety of signal processing operations to match your needs. Our boards are developed, tested and peer reviewed by specialists, professionals, teachers and individuals.
Get a quote