SR-MK3-PRO
Main features:

•    6424 DSP from Texas Instruments at 590 MHz (4800 MMACS: Millions Multiply-ACcumulate operations per Second)
•    XC3S400 FPGA with 63 user-configurable I/Os at 150 MHz
•    208 Kbytes on-chip RAM, 128 MB DDR2 memory and 32 MB Flash ROM
•    USB 2.0 interface (35 Mbit/s)
•    Ethernet interface (15 Mbit/s) (provided with software IP Stack that allows remote access to the board through the web)
•    Expansion connectors: PWMs, 76 GPIOs, McBSP, UARTs and Timers
•    Compatibility with SR-Analog32 and SR-A810 expansion boards.
•    Power supply connector (5VDC)
•    Size: 13 cm x 9.5 cm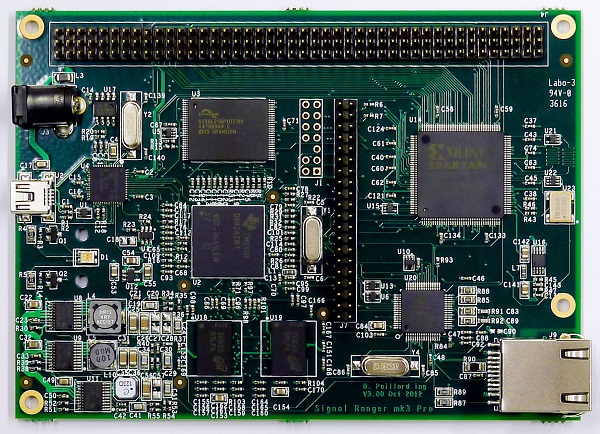 Software features:

•    USB driver for Win XP, Win Vista and Win 7 (32-bits (x86) or 64-bits (x64) platforms)
•    LabVIEW PC communication driver or standard API (DLL)
•    All necessary DSP/FPGA drivers for the board peripherals are provided in source code form, and documented: Flash ROM, analog I/Os expansion boards, Ethernet controller, etc
•    Self-test PC application to test the entire hardware on the DSP board
•    DDCI Interface (Development to Deployment Code Instrumentation) for an easy and fast application development (see SignalRanger DDCI interface description for more information). This software can be used with the USB interface or the Ethernet interface.
Developer package:

SR3_DDCI_Library_Distribution
SR3_Applications_Installer

Note 1: All these packages include an acquisition library in DLL (or VI) format and generic datalogger application example.
Note 2: LabView software can be used in Windows, MAC, and Linux operating systems. Readme.txt file for the LabVIEW distribution installation procedure
Documentation
Specialized and Customized Digital Signal Processing (DSP) Boards
SignalRangerTM DSP board Series have been designed to perform a wide variety of signal processing operations to match your needs. Our boards are developed, tested and peer reviewed by specialists, professionals, teachers and individuals.
Get a quote