We Provide Office Sound Masking Technology in Boston and All Across the U.S. Northeast
You Can't Cancel Out Office Noise, but You Can Drown It Out With Better Sound
If one of your goals is to provide a distraction-free workspace atmosphere that optimizes focus and promotes productivity while ensuring employee sonic privacy and acoustic comfort, sound masking is one of today's most cost-effective solutions.
Are You Concerned with Workplace Distractions and Lack of Acoustic Privacy?
Ever feel like employees get overly distracted by loud noises and conversations outside or within the office? Sound masking can help with that. Ever have meetings that need to be private without the fear of others listening in? Sound masking can help with that. In fact, sound masking is all about the following employee well-being factors:
The ability to stay focused on cognitively demanding tasks, even while sitting in the middle of a relatively busy open floor plan
Feeling comfortable discussing private, sensitive information, whether over the phone or with nearby colleagues, without being overheard across the entire office space
The freedom to collaborate effectively with teammates without disturbing others
Feeling unselfconsciously at ease in a pin-drop silent working environment, because there is such thing as an office that's too quiet
How Does Sound Masking Work?
We use specially designed speakers, typically hidden in the ceiling, to generate a soft, neutral sound that effectively muffles out loud conversations and other noisy distractions while seamlessly blending into the office soundscape virtually unnoticed.
Unlike white noise and pink noise machines which indiscriminately hide surrounding sounds behind a thick, staticky wall of noise, sound masking is specifically engineered to target and tone down human speech, making private office conversations and phone calls a lot less intelligible or distracting for other office workers trying to maintain focus. More importantly, sound masking succeeds, where white noise machines fail, at flattening the office soundscape while phasing out common distractions, without becoming a source of distraction in itself.
Your Open Plan Office Doesn't Have to Come at the Cost of Employee Privacy and Productivity
This is yesterday's news: lack of speech privacy and constant noise distractions in open plan offices are common problems affecting both employee productivity and well-being. We get that, you get that, and there are countless studies supporting this. But if there's one thing that many of our Boston area clients have in common, it's how they refused to let employee distraction and privacy issues get in the way of workspace collaboration, innovation and flexibility.
From major existing office retrofits to the creative design of new and substainable buildings, Massachusetts architects and commercial designers are champions at achieving more with less. With virtually no quality office space left vacant and the ever-growing cost per square foot in the Boston/Cambridge area, few would argue that open-plan offices and activity-based working make a lot a sense, both technically and financially.
Now while sound masking is a small piece in a much bigger puzzle, creating the perfect workplace that is, it's definitely the cheapest solution to provide office workers with a distraction-free environment and a greater sense of privacy, in the absence of walls and even cubicles.
How Can We Help?
Call us Monday to Friday from 9am to 5pm EST
Email us
Or use this contact form below:
merci
These Boston Area Industry Leaders Use Our Sound Masking System
For over 10 years, we've been helping companies across New England control their office noise the smart way. In Massachussetts alone, our sound masking technology is used in nearly 6 million square feet of office space, helping thousands of employees be less distracted, more productive, and experience a greater sense of privacy. Chances are you've visited a space covered by our sound masking system before without even knowing it.
Akamai Technologies
Kendall Square Headquarters
In 2019, Akamai Technologies, the global leader in Content Delivery Network services and cloud security solutions, decided to consolidate six of its local Boston offices into a single campus-like facility, allowing 2000 employees to work together under one roof for the first time in its history.
Located in the heart of Kendall Square, Akamai's new 453,768 square foot headquarters needed to strike the perfect balance between the need for frictionless interactions among colleagues and quiet time to concentrate on complex computer engineering challenges. In other words, they wanted a highly-flexible, open concept workspace that fosters team collaboration, but minus the typical drawbacks to such open layouts – noise, distractions, and lack of acoustic privacy between work areas.
An open office floor plan with a focus-friendly soundscape? Sound masking made that possible at the lowest cost. And Akamai wouldn't settle for anything less than the best sound masking technology available on the market.
Spreading across 17 floors of vibrant office space, Akamai's sound masking system consists of 1650 speakers, grouped into multiple zones, each of which independently fine-tuned, and powered by 48 centrally-managed controller units. What's more, the system continuously measures the amount of distracting noise in each zone and automatically adjusts the sound masking volume in real-time, providing a consistent soundscape that's comfortable for employees no matter how busy or quiet things get.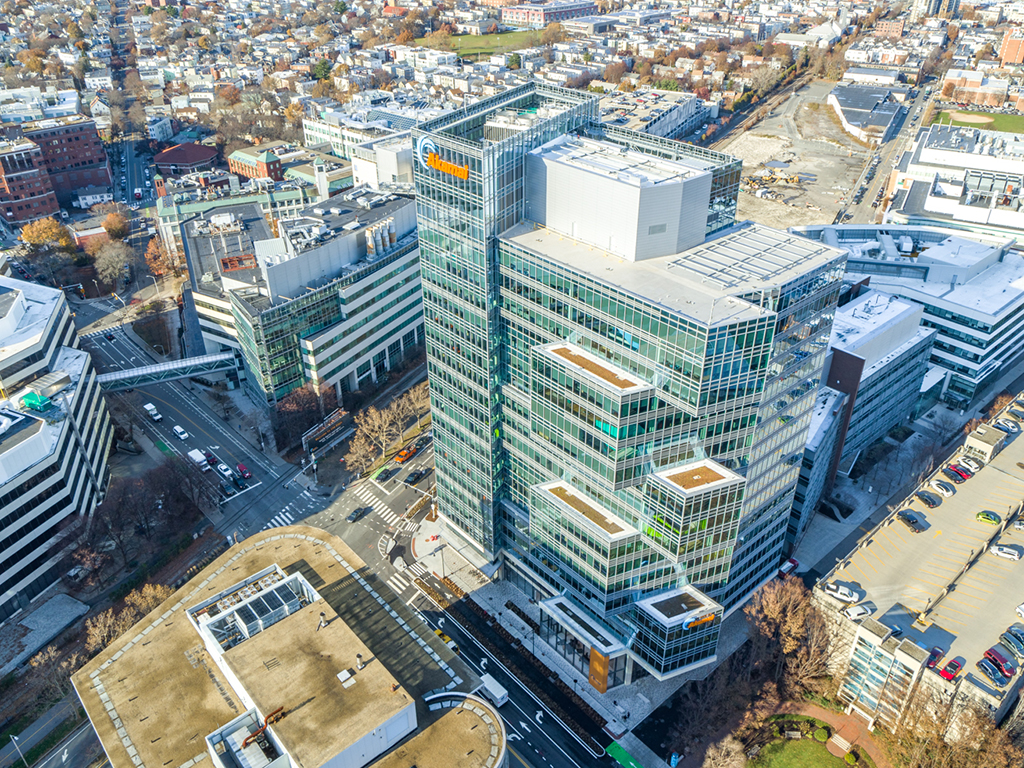 Partners Healthcare
Administrative Campus in Assembly Row
In 2016, Partners Healhcare, Massachussett's largest health system and biggest private employer, started bringing its administrative employees, who had until then been scattered across multiple offices in and around Boston, together for the first time into its newly constructed 825,000 square foot campus in Somerville's Assembly Row.
Designed by global architectural firm, Gensler, this juggernaut of a workplace was meant to perfectly reflect Partners' vision for a collaborative culture that puts employee well-being at the core.
So they went full-on with the open work concept with a premium on low-walled cubicles, large bright windows, and flexible, collaborative spaces for employee use. And since they wouldn't let more collaboration with less walls come at the cost of acoustics, confidentiality and the employees' ability to find focus indistracted, they decided to integrate our sound masking technology.
Through a network of near 3000 loudspeakers powered by 55 multizone controllers, Partners Healthcare's massive sound masking system continuously delivers a perfectly balanced soundscape, enhancing some 4200 employees' acoustic comfort and privacy amid the open work areas spread across 12 floors. Each floor features up to 16 distinct sound masking zones, all independently adjustable based on their unique architectural attributes and activity level.
This project became an archetype of how big and complex sound masking systems can get, while remaining remarkably cost-effective and very simple to manage for both facilities professionals and office occupants.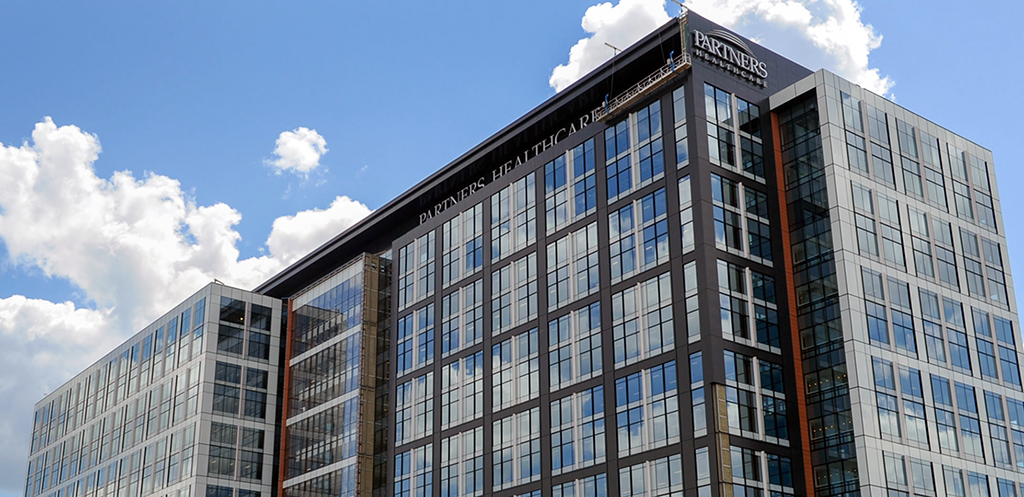 PTC and Alexion Pharmaceuticals
Headquarters in Seaport Innovation District
What do PTC, one of the biggest software companies in Massachusetts, and Alexion Pharmaceuticals, a maker of rare disease treatments, have in common? They're both residents at 121 Seaport, the landmark elliptical-shaped 17-story building located in the heart of Boston's booming Innovation District.
But more importantly, both PTC and Alexion's shift toward more flexible, collaborative workspace, with less partitions and more open floors, called for careful considerations of employee concentration, sonic privacy and acoustic comfort. Because what good is an office space, as cool as it can be, if one can't find focus and get the job done sitting in it? What is collaboration without productivity? What is comfort without privacy?
For PTC, an extra challenge arose from the fact that none of its 1200 employees, working on floors 11-17 in the top half of the building, had an assigned desk. This is called activity-based working. Employees choose where they sit (or stand) based on the type of task at hand. Such workplace model can truly pay off, especially if you're able to control noise levels and minimize distractions throughout open floors.
In the end, both PTC and Alexion integrated our sound masking technology at an early stage of their new office design, making it easier for them to set the base of background sound throughout the space, as well as more accurately specify the noise blocking and absorptive elements used in the design.
So what do PTC and Alexion really have in common? They both achieved superior workspace acoustics, reduced distractions and improved privacy, with less walls and less building materials. And they both run our sound masking system without their employees realizing it, except for the comfort it provides.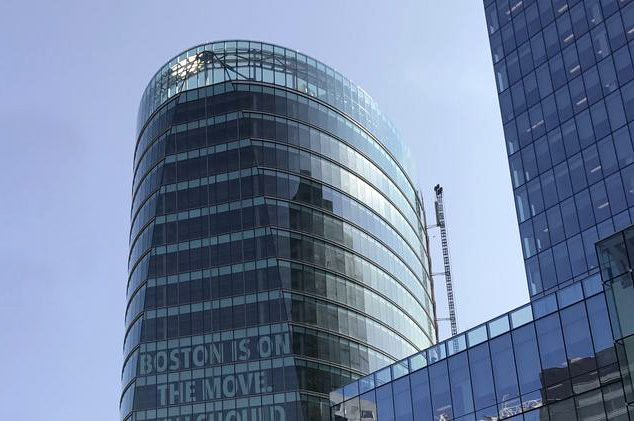 Microsoft
New England Research & Development Campus
Can a sound masking system be easily retrofitted to an existing space? You bet it can and Microsoft made a strong case in point in 2018.
Driven by the desire to promote team collaboration and inspire groundbreaking innovation like never before, the global technology leader decided to completely rethink the office environment of one of its six global R&D sites, the Microsoft New England Research and Development Center at 1 Memorial Drive, building on its well-earned status as a center of gravity amid Kendall Square's tech community.
And totally reinvent the workspace Microsoft did indeed. Tearing down walls, trading gypsum for glass partitions, redividing its space into wider areas, each meant for a distinct team-wide purpose, and each supporting various levels of interaction and individual focus. But given how open desk areas with no dividing panels aren't inherently focus-friendly, and how glass partitions typically don't work miracles on acoustics, designers knew that an office full of coders and engineers would really benefit from the neutral, distraction-free soundscape delivered by sound masking.
And so our sound masking system became part of the office renovation project, as Microsoft's NERD center went from 100% private offices to one of Boston's coolest, most vibrant, most welcoming open work environments, all while remaining in place and continuing operations.
The Sasaki-designed Microsoft's Kendall Square office won Best Workspace Over 80,000 square feet at the 2019 International Interior Design Association New England Design Awards. And we're proud to say that our sound masking system is silently helping this amazing workplace sound as good as it looks.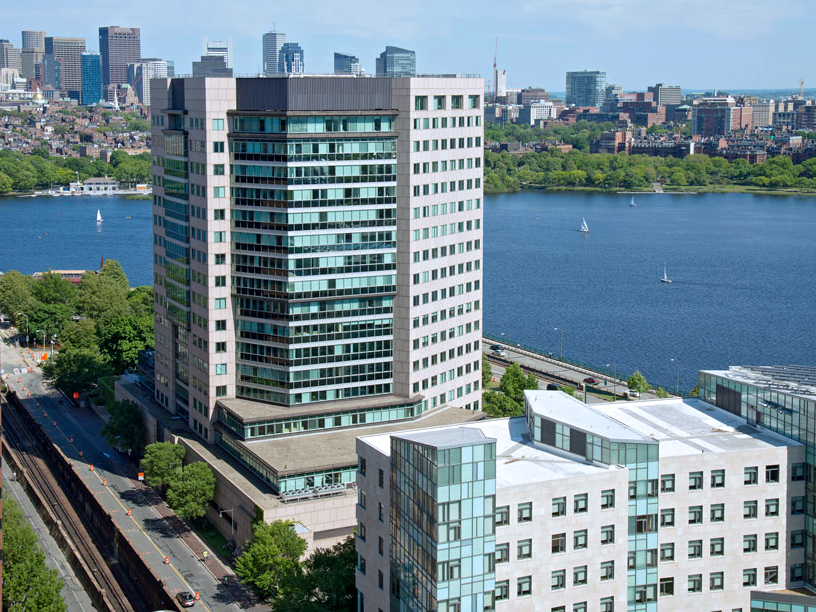 The Key Benefits of Sound Masking Technology
Better Acoustic Privacy
Lack of privacy is the biggest frustration in today's workplace. Sound masking improves speech privacy between work areas separated by low partitions and enclosed meeting rooms by increasing ambient sound levels just enough to make conversations less intelligible.
Fewer Office Distractions
Sound masking greatly reduces the radius of distraction in open-plan offices. Employees get a lot less distracted by conversations within 15 to 40 feet from where a sound masking speaker is located. Staying focused at work becomes easier and productivity increases measurably.
Lower Construction Costs
Sound masking reduces the need for plenum barriers, soundproof doors and extra drywall layers. It improves the acoustic performance of movable partitions without compromising their flexibility. New office construction costs can be reduced by up to $3 per square foot.
Why Choose Our Sound Masking System?
Automated sound masking volume adjustment based on fluctuating levels of distraction in the office
Automated system calibration process based on the unique room attributes and acoustic response
Can output your paging/background music programs and fully integrate with your mass communication systems
Complete system management software with simple graphical user interface and mobile volume control app
Multiple communication, networking and control options (Ethernet; USB and Wireless), and easy integration with Crestron automation systems
Exceeds LEED v4.1 and WELL v2 acoustic performance requirements
Learn more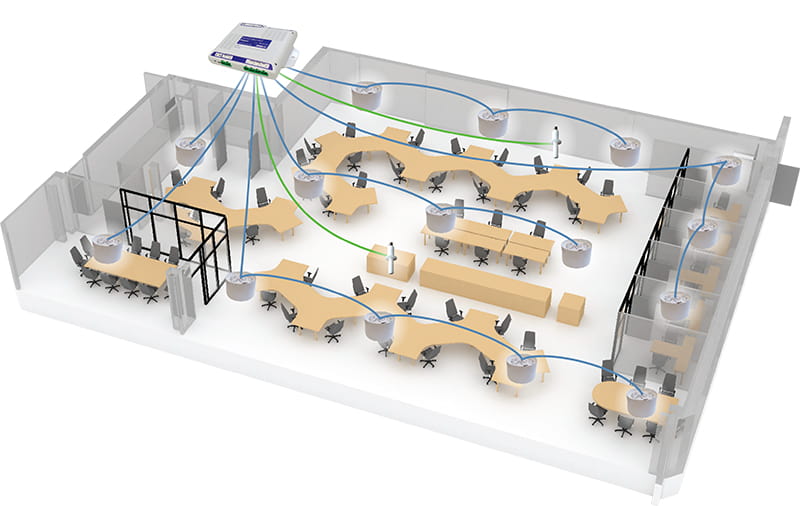 Sound Masking Technology Can Make Your Workspace a Better Place
With the right sound masking system in place, acoustic privacy and office distractions become one less thing to worry about. And when better acoustic privacy and comfort become possible with less walls and doors, you're one step closer to making the most of your bright, collaborative workspaces.
Ask our experts